Sweet Shelter Dog Helps Man Ask His Girlfriend A Very Special Question
She said yes — to both of them 💗
Adopting a new pet is always a meaningful moment — but last weekend, Iowa resident Conner Juilfs thought up a plan to make it even more special.
Juilfs and his girlfriend, Alison Hansen, had been thinking about adopting another dog for a while now. Knowing how much Hansen was looking forward to heading to the shelter, Juilfs thought it would be the perfect moment to also pop the question.
He contacted the staff at Animal Rescue League of Iowa with the unique request, and they agreed right away to match him with the perfect adoptable dog for them.
"We thought of Lizzie immediately," Stephanie Filer, director of development for the rescue, told The Dodo. "She was surrendered to animal control last month with a really bad skin condition and had lost almost all her hair. But you would never be able to tell from her personality that she'd been treated so poorly."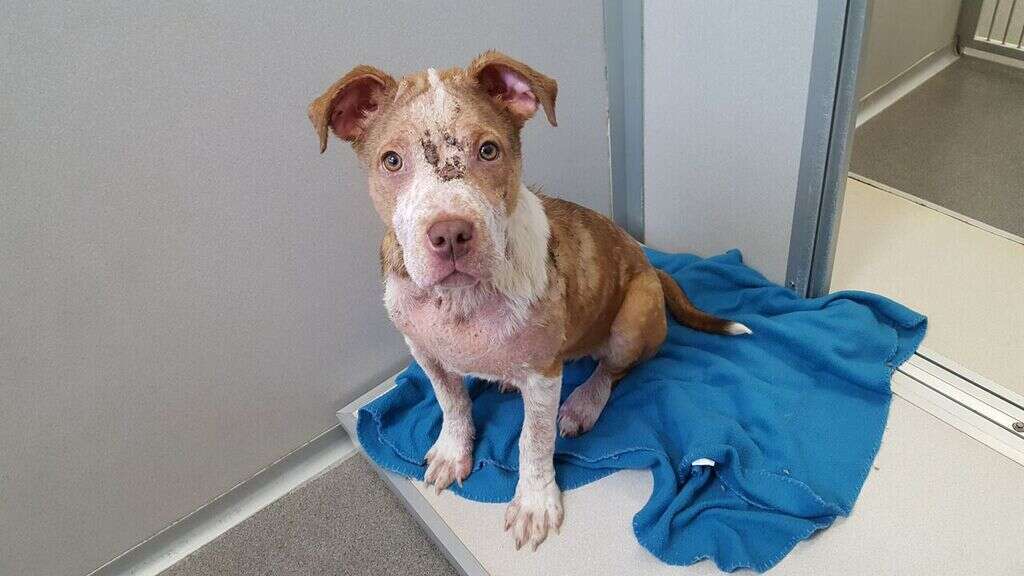 After a few more weeks of recovery, Lizzie was healthy and more than ready for her forever home. And after Juilfs sneaked off to the shelter to meet Lizzie himself before the big day, he knew she was the one.
When the couple arrived at the shelter last Saturday to "meet the dogs," Hansen was immediately drawn to Lizzie — and the entire shelter staff waited eagerly to see the moment unfold.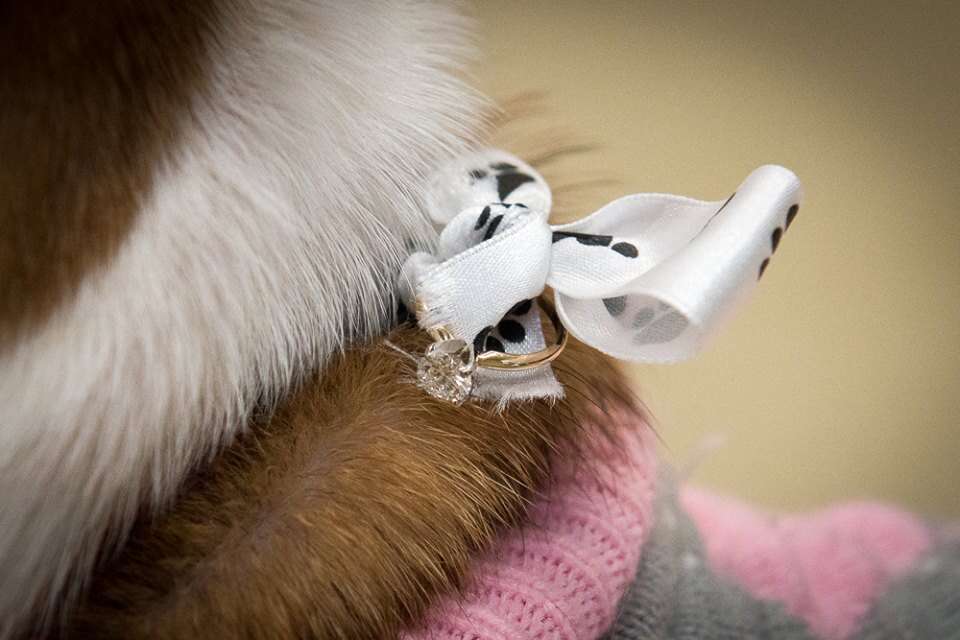 Getting down on one knee as Lizzie excitedly jumped around, Juilfs popped the question and beckoned to the shiny engagement ring that an employee had tied onto the dog's collar.
Hansen, of course, said yes — to both of them.
"It was exhilarating," Juilfs told The Dodo. "Seeing in her eyes how much she enjoyed the moment, knowing she was engaged and had a new puppy, is a sight I'll never forget."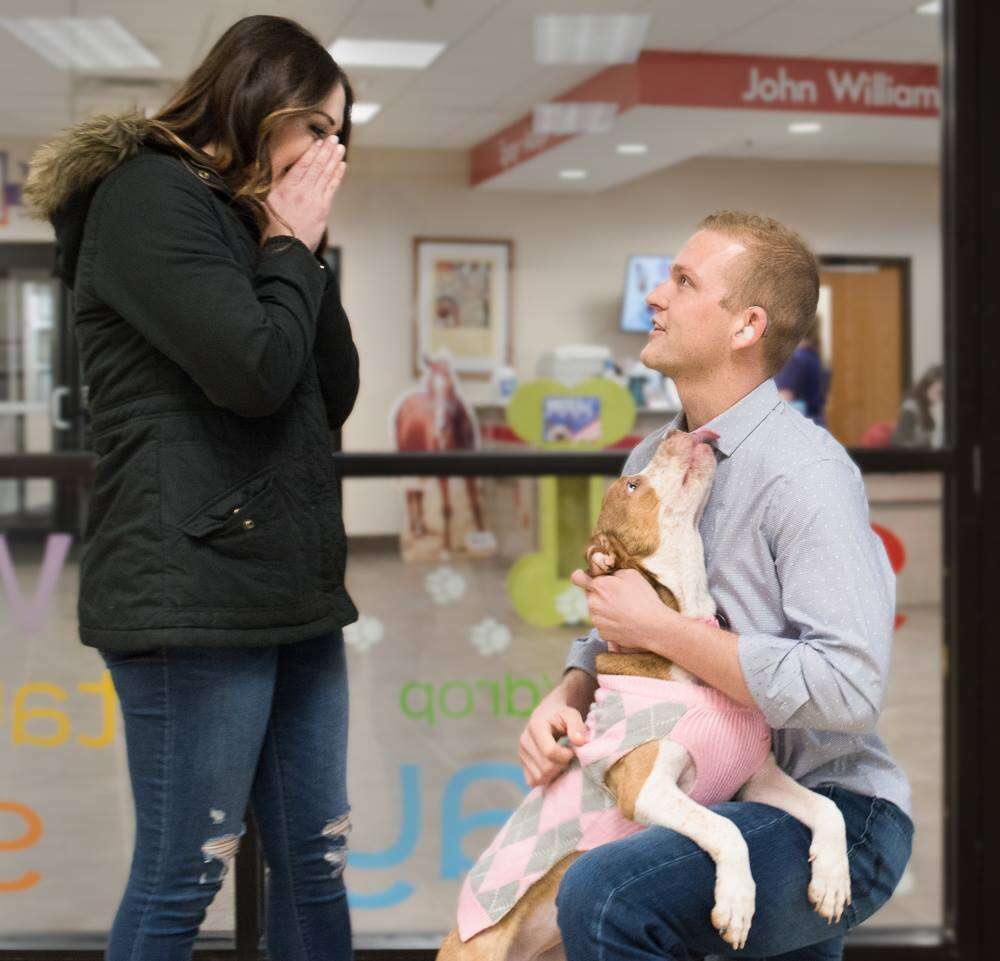 As the doting couple leaned in for a kiss in celebration, Lizzie couldn't stop hopping around and nuzzling them. Luckily, the shelter had even arranged for a professional photographer to capture every part of the special moment.
Although the shelter has been the site of many previous marriage proposals, Filer said this was the first one to result in an adoption.
"Lizzie's story is remarkable," Flier said. "The fact that she got adopted is already amazing, but to become part of the family at such an important life moment is so full-circle."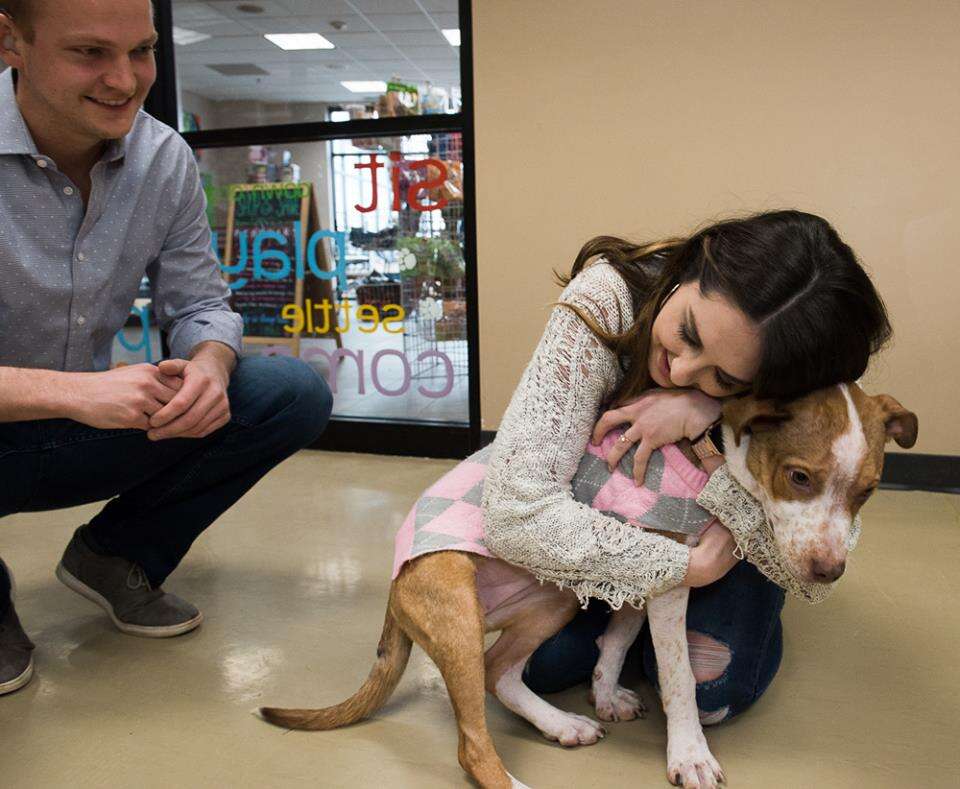 Since going home with her new family last weekend, Lizzie has already become a very important member of the household — and has fully assumed her role as little sister to the couple's year-old Labrador retriever, Charlie.
"She's the happiest dog," Juilfs said. "Her and Charlie love to wrestle and play with their toys. I think he really likes having a little sister."
Juilfs and Hansen have already begun wedding planning and expect to tie the knot by fall 2019.
In line with the proposal, they've also begun brainstorming ways to involve their canine family members in the ceremony.
"We've already joked about Lizzie being the flower girl and Charlie being the ring bearer," Juilfs said. "That would take hours and hours of training, but we'll see if we can make it happen."
To support the continued care of animals at the Animal Rescue League of Iowa, you can
make a donation
.