Dog Is So Obsessed With Her New Rescue Turkey
"They bring out so much happiness in each other."
Minnow the dog's first feathery love was Chickpea, a tiny rescue chicken whom Abbie Hubbard brought home earlier this year.
"He would sleep in Minnow's tail," Abbie Hubbard, deputy director at the Animal Welfare League of Alexandria, told The Dodo. "They were really cute together."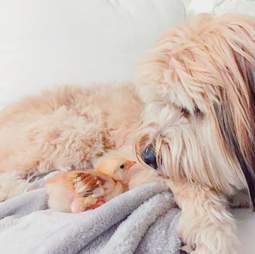 Minnow with Chickpea the rescue chicken

| Abbie Hubbard
Hubbard initially believed that Chickpea was a female. But as Chickpea started to crow, Hubbard discovered that "she" was a "he."
Hubbard lives in a townhouse in suburban Virginia, and the local county doesn't allow residents to keep roosters. So Hubbard made the difficult decision to rehome Chickpea at Burgundy Farm Country Day School, which has a small sanctuary for rescued farm animals.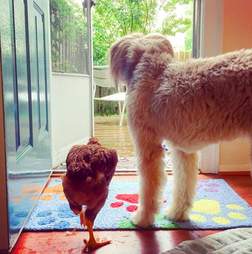 Minnow and Chickpea looking out the front door together

| Abbie Hubbard
"Giving Chickpea up was such a hard thing — it felt like ripping my heart out," Hubbard said. "On the other hand, he's so happy there. I visit him every week, and I get pictures from the caretakers on a daily basis. He's living the best life ever, but I was totally missing him."
Hubbard wasn't the only one to miss Chickpea — Minnow did as well. So when Hubbard got a call from a fellow rescuer, asking if she'd be interested in fostering a turkey named Blossom, Hubbard answered with an enthusiastic "yes."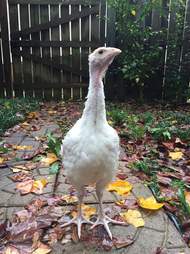 Blossom, the turkey rescued from a factory farm

| Abbie Hubbard
Blossom had been rescued from a factory farm in West Virginia. When she was about 5 weeks old, farm workers went to move Blossom and other turkeys to a "grow house," a facility that holds the turkeys while they fatten up in preparation for slaughter. But Blossom hid and got left behind — and a kind farm worker handed her over to a local animal rescue group.
Hubbard was at work at the Animal Welfare League of Alexandria when her rescuer friend brought Blossom to her. "Blossom spent the day in my office, just really worried and confused about what was going on," Hubbard said.
Abbie Hubbard
At Hubbard's home, Blossom's worry seemed to disappear. Minnow, who was rescued from a Korean meat farm in 2015, played a big role in making that happen.
"She walked right up to Minnow, and she got into Minnow's bed," Hubbard said. "It was so cute. She was like, 'Oh, this is a dog bed — well, this is great.' She started to fluff her feathers up in the bed, and she cuddled up to Minnow."
Minnow and Blossom cuddling together

| Abbie Hubbard
Minnow quickly fell in love with Blossom, the same way she fell in love with Chickpea. Hubbard's other rescued animals, including two African grey parrots, a hermit crab and a parakeet, also took to Blossom. "She just melted right into our house and family," Hubbard said.
Abbie Hubbard
Last month, Hubbard decided to dress Minnow and Chickpea up in Wonder Woman costumes — Minnow wore the dress and crown, and Blossom wore the cape.
Abbie Hubbard
"Minnow knows the deal with Halloween and she loves it," Hubbard said. "When the first group of kids came, Blossom was scared and she ran into the other room. But she saw that Minnow had stayed, and she was curious."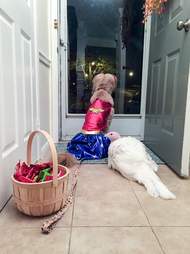 Abbie Hubbard
When Blossom eventually came out to greet the trick-or-treaters, everyone had lots of comments and questions.
"The most common comment I get is, 'Oh, are you going to have her for Thanksgiving?'" Hubbard said. "I know people aren't trying to be cruel if that's all they know. What I try to do is be really lighthearted about it. But I also make a point about it, saying, 'Oh no — absolutely not. She's part of my family.'"
Abbie Hubbard
Blossom is 10 weeks old now, and she and Minnow are becoming more playful.
"Minnow loves to just zoom around, and Blossom has picked up on the zoomies," Hubbard said. "So she runs around and acts silly, and her legs go out on the side, and her wings are going every which way. It cracks me up. It's so funny."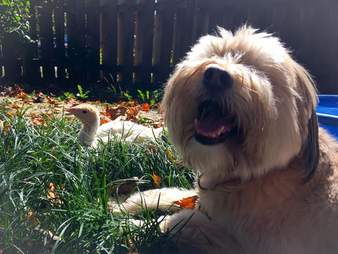 Minnow and Blossom enjoying the outdoors

| Abbie Hubbard
But as close as Minnow and Blossom are, Hubbard is considering rehoming Blossom at Burgundy Farm Country Day School, too. Hubbard believes a turkey like Blossom would be happier there.
"I would love to keep her, but I live in a townhouse and she lives inside," Hubbard said. "We're going to see how she feels at Burgundy Farm."
Abbie Hubbard
Rehoming Blossom at Burgundy Farm would also open up a space in Hubbard's home for another foster fowl — and Hubbard definitely plans on fostering more animals. But for now, Minnow and Burgundy are enjoying every minute they have together.
"They bring out so much happiness in each other," Hubbard said. "It's kind of neat."
To see more photos of Minnow and Blossom together, you can visit Minnow's
Instagram page
.