Rescuer Follows A Stray Dog And Finds A Whole Family Needing Her Help
There was more than one litter 🐶🐶🐶💚
As Jill Stafford was driving home from her parents' house in upstate New York on a Thursday in late July, she happened to see a loose dog walking along the road.
Stafford did what any animal lover would do: She stopped to help.
Pibbles & More Animal Rescue
The dog started walking up a hill, and Stafford decided to follow.
"I expected to maybe educate the owners on why it's important to keep their dog on their property due to risk of getting hit by a car and perhaps offer suggestions of how to do so," Stafford tells The Dodo. "What I ended up finding was much different."
It turned out there were 17 dogs — six adults and two litters of puppies. They were living outside and underneath a house that appeared to be falling apart, and was surrounded by garbage. Stafford describes their living situation as "shocking."
The dogs were in bad shape, too — dirty, skinny and covered in so many fleas "you could see them crawling through their fur," she says.
Pibbles & More Animal Rescue
Stafford called an animal control officer she knows. The two learned that the owner of the house had died, and the dogs were more or less fending for themselves — so they set out to get them to where they would be safe.
"I had to crawl under the house to remove the puppies one by one," Stafford says. "They were living under there in horrifying conditions with dirt, mold, pieces of flooring, nails, insulation and who knows what else."
It took three days to get what they thought were all the dogs. By Saturday, "to our knowledge we had wrapped up the rescue," Stafford says. "Then on Sunday, we received a call that more puppies had been discovered."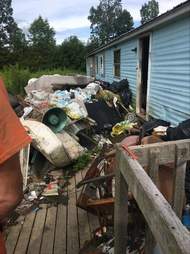 Pibbles & More Animal Rescue
Five of the adults were brought to a local nonprofit shelter, where they'd be readied for adoption. 
The sixth, who was clearly the mom to one of the litters, went to live at a foster home, along with the puppies — her eight, and the later-discovered three. (The dog thought to be those puppies' mother can't nurse for medical reasons.)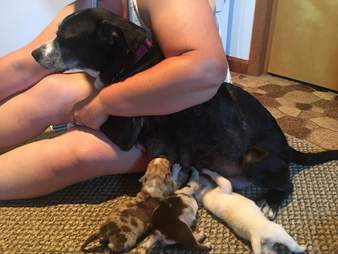 Pibbles & More Animal Rescue
Jemma Rauscher is fostering this family, through Pibbles & More Animal Rescue. When Rauscher learned about Mama Adeline, as the mom dog is now known, she didn't hesitate to volunteer.
She tells The Dodo that she's always felt a special connection with the dogs who've had a really rough time, and feels that fostering dogs instills important values in her two kids.
"I saw Adeline and her sweet face," Rauscher says. "I had to say yes."
Pibbles & More Animal Rescue
Unfortunately, because of the circumstances in which they were born, three of the puppies have died. The others are trying their best to stay alive. They are "infested with parasites," Stafford says, but are too small for the procedures that could otherwise save them.
"It is horrible," Stafford says. "But I am glad that they've been knowing what love is for a short time and I hope that some of them will be able to pull through it."
Adeline, miraculously, is doing great, despite what she's been through. She is starting to put on weight. She is tenderly taking good care of her eight remaining puppies — the ones she gave birth to and her adopted little crew, equally. And perhaps most incredibly of all, she is sweet, calm and loving. She craves being around people. She is, Rauscher says, "amazing."
"It makes my heart ache thinking of what she has been through," Rauscher says. "But I know that she will never be in that situation again."
Pibbles & More Animal Rescue