Dog Meets Her 'Twin' On The Street And Convinces Mom To Bring Him Home
It was love at first sight 🐶❤️️🐶
Bethany Coleman had no intention of adopting another dog. Already caring for a young rescue dog named Rogue and two senior cats at home, she and her boyfriend Tyson had their hands full.
"Tyson had mentioned getting another dog and I was like, 'no way,'" Coleman told The Dodo. "We were renting an apartment in Beacon Hill [in Boston] and already had two cats and one dog. If we moved, I kept saying no one in their right mind would rent a place to two humans, two cats and two dogs."
But fate intervened in October 2016, when Coleman took Rogue on a walk to the local farmers' market. It wasn't the produce that caught Coleman and Rogue's eye that day — but another dog, seemingly the mirror image of Rogue.
"Beast was a total oops baby!" Coleman said. "Another local shelter had a bunch of dogs there for adoption and one just happened to look just like Rogue. I remember calling Tyson saying, 'I found a dog I wanna rescue.'"
Coleman decided right then and there that the 8-month-old puppy, now named Beast, belonged with them. And Rogue seemed pretty convinced that the two were twins separated at birth.
"Rogue and I had love at first sight with him," Coleman explained. "He looked just like Rogue, same size (at that time), same coat ... they are both cairn [terrier] mixes. We get asked all the time if they're brother and sister."
But once Beast officially joined the family, Rogue began to miss her days as an only child. "We'd get Beast and Rogue the same exact toys at first but she would only want whatever Beast had and would always take it from him," Coleman said.
The two had their share of sibling spats, but quickly grew to be the best of friends and true partners in crime.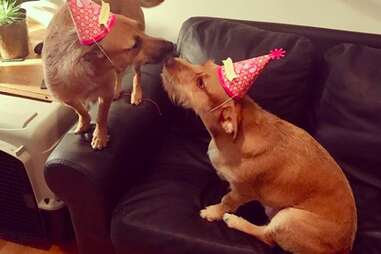 And though Beast is now double Rogue's size, he still thinks they're twins. "He thinks he's tiny like Rogue is, but he's not and he can't understand why he can't do the things that she does," Coleman said. "He's just a big lovable goober and definitely a mama's boy. He'll step on Tyson and on the cats just to get to me if I'm on the couch or bed."
Rogue's brains and energy are perfectly complimented by Beast's lovable, lumbering nature.
"Beast is the big baby and my cuddlebug who competes with the cats for lap space," Coleman added. "Rogue was super hyper when she was an only dog but has definitely mellowed out now that she's got a boyfriend."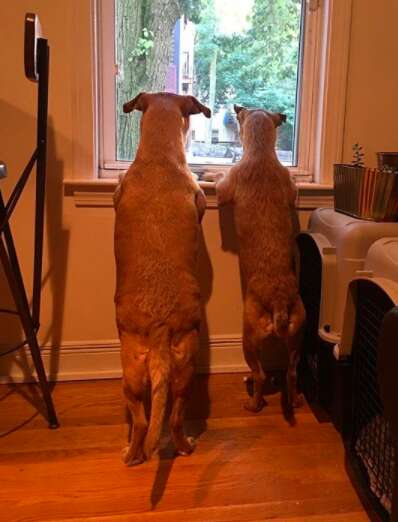 Now living in Hawaii, the little family has become even more close-knit, and the transition has been trouble-free.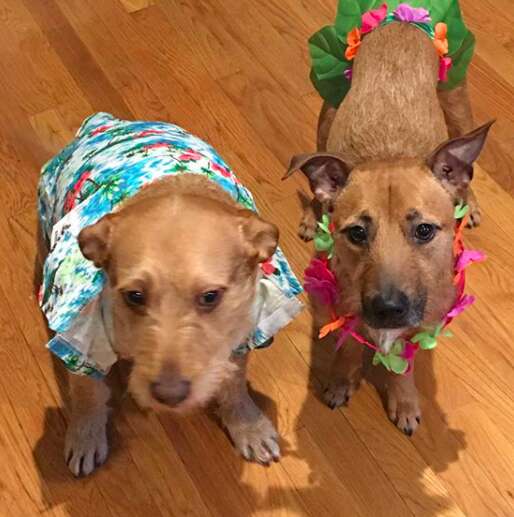 The dogs had to go into mandatory quarantine when they arrived in the state, and Coleman feared they would forget all about her, but when they were finally reunited it was like no time had passed.
"Our adventure across the country together proved this little family will always be together," Coleman said. "[We] will always appreciate each day for the unconditional love they give us and we can't wait for the next adventure."
"I jokingly say we're starting our [own] little Noah's ark," Coleman added. "Two humans, two cats and two dogs."
Thinking about adopting? Then meet Dodo Adoptbot, an interactive guide for new pet parents. Get
started on Facebook Messenger
or text HOME to 38349.