Meet Reg, the happiest dog in Australia.
The rescue pup has plenty of things to smile about, but the funny part is, he doesn't even know he's doing it.
In April, things looked bleak for the Staffordshire bull terrier-whippet mix. Separated from his family as a puppy and picked up on the streets as a stray, Reg was stuck in a kill shelter, his days numbered.
After three weeks in the pound, Reg's time was running out. The shelter needed his cage for more dogs who were coming in, and if he wasn't adopted in three days he would be put to sleep.
The shy puppy had all but accepted his fate when couple Samantha Hill and Luke Pearce walked past the bars of his cage.
"We were walking around looking at all the dogs and he was sitting against the cage door quietly while all the other dogs were barking," Hill tells The Dodo. "He looked up at us with his sweet face and wagged his tail like crazy."
Reg's quiet excitement pulled at the couple's heartstrings, and they knew they had to bring him home.
"When we got him out of the cage he was such a happy dog and gave us lots of kisses," Hill says. "Then we just knew we were going to be his forever home."
The couple made it official and Reg moved into his new home in Sydney, Australia. That's when the new pet parents first noticed their pup's hilarious quirk:
Reg's accidental smile.
"He was very nervous from the pound but it didn't take long for him to realize he was safe and loved and started to relax," Hill says. "So much so that he often gets in such a deep sleep that his lips fall back."
The unintentional grin also happens when Reg yawns, to hilarious effect.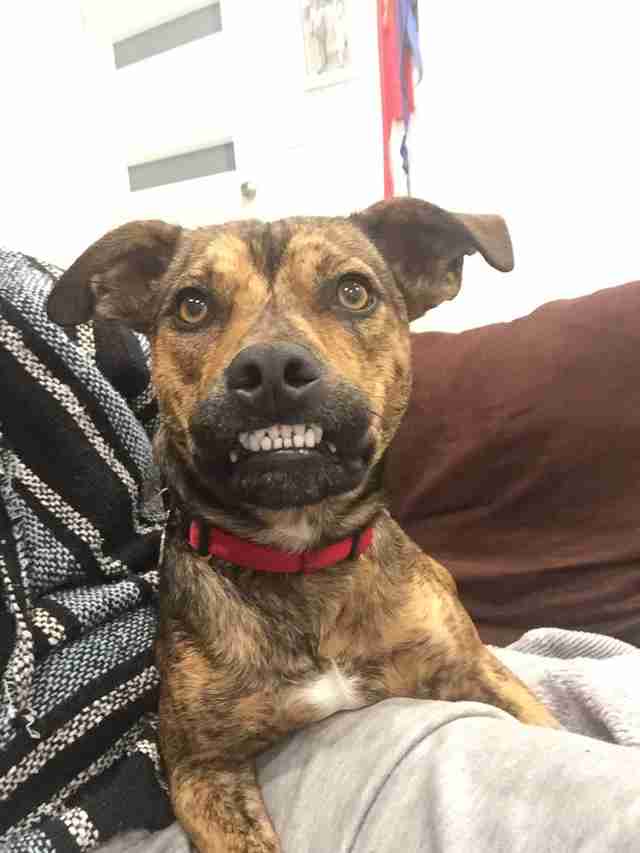 Whenever the pup is tired or relaxed, he makes the same funny face, but Reg himself isn't in on the joke.
"The first time we noticed Reg's loose lips was after a big long run at the park and he yawned and his lips got caught on his teeth," Hill says. "The funniest thing is that he has no idea when it happens so while we are cracking up, he just stares at us with a blank look on his face."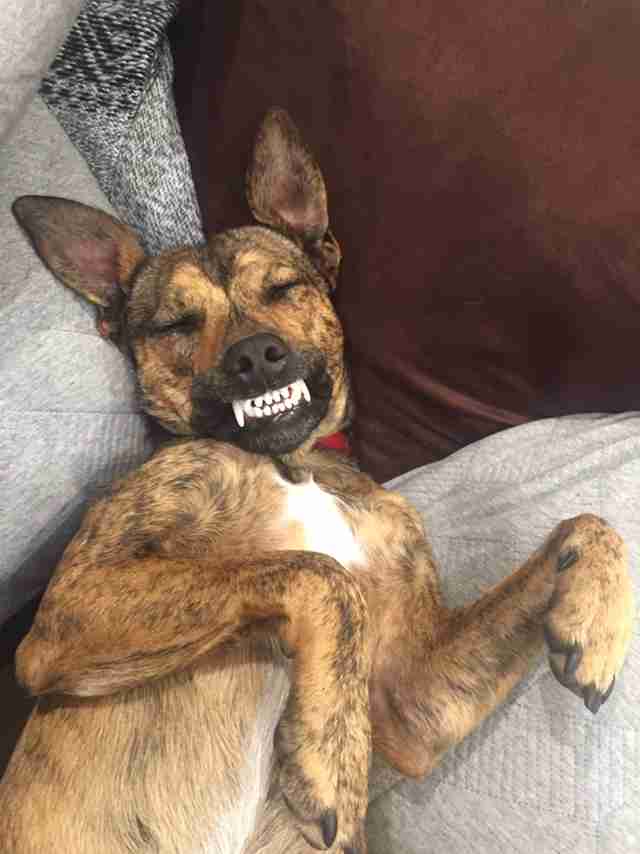 When Reg isn't baring his teeth, he enjoys playing fetch and snuggling up close with his new family.
Unfortunately for Reg, he's not very good at catching the balls, either — another quirk that his parents find adorable.
While he may not be smiling on purpose, it's safe to say in the six months since his adoption, Reg couldn't be more happy with his home, and his parents with him.
"We cannot imagine our lives without Reg," Hill says. "He brings so much love and happiness and we are so glad we saved him."