Rescue Kitten Is Obsessed With His New Mom's Roomba
"I don't even know if he realized he was actually moving across the floor."
Vicki Mayo knew Bailey was the feisty one in the group of kittens she rescued from a shelter in Texas this year.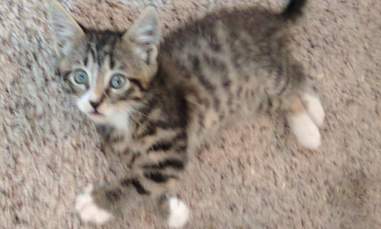 Vicki Mayo
"Bailey has always been very curious," Mayo told The Dodo. "He was the one in the litter that would always find a way to get out of the bed when all of the others were sleeping. He has absolutely no fear. He will get right in the middle of all of my big dogs, like he is one of them."
Vicki Mayo
When it came time to put the kittens up for adoption, Mayo's family decided they could not part with Bailey. They were about to become what rescue groups so fondly call a foster fail.
Bailey (hanging off the side) and the rest of his litter

| Vicki Mayo
"It was actually my husband who became attached. Bailey would follow him around like he was his buddy." Mayo said. "Then, slowly but surely, he moved into our room and started sleeping with us. The rest is history."
Vicki Mayo
As Bailey got more used to the Mayo household — and various Halloween costumes — he started exploring, and that is exactly how he met: the robotic vacuum.
Vicki Mayo
The vacuum has little side-spinning brushes that help collect dust and dirt. Bailey became obsessed with them, in that way only a little kitten could. "He was trying to catch them with his paw," Mayo said.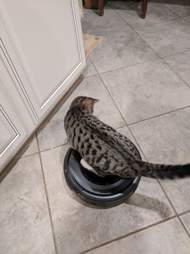 Vicki Mayo
Bailey was so motivated to try to get those brushes, one day he fearlessly jumped on top of the robotic vacuum, and just started riding along. "I don't even know if he realized he was actually moving across the floor, he was so obsessed with catching those brushes," Mayo said.
Vicki Mayo
Each time Mayo ran the robotic vacuum from that day forward, Bailey was lurking, hopping on the vacuum, hoping today would be the day he would catch those "evil side brushes," she said.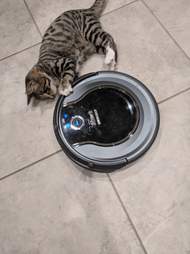 Vicki Mayo
And that's when the situation started getting frustrating, not only for Bailey, who could never get the brushes to stop moving, but also for Mayo.
Vicki Mayo
"He kept sitting on the power button and turning the vacuum off," Mayo said. "I actually have to run the vacuum when Bailey is in our room. If I run it when he is out, my house would never get vacuumed."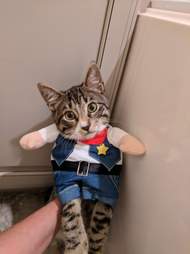 Vicki Mayo
Mayo said she does still let Bailey ride along on the vacuum occasionally. It's kind of win-win: The kitten gets tired and the floor gets cleaned. The process is just a little slower than normal.