Grateful Rescued Cat Constantly Pees In The Shape Of A Heart
It's his strange way of saying "thank you" 🤔❤️️
When Snowball first joined his foster family, he wasn't quite sure what to make of them.
He had been surrendered to A Mini Rescue after his original family had to move and couldn't take him with them. When his foster family took him in, they could tell the poor cat was so confused about why he wasn't with his original family anymore.
They tried to make him as comfortable as possible — but only two days after he arrived in his foster home, the distraught cat somehow opened up a window and slipped out.
"We searched everywhere, contacted local authorities and groups but without success," Ryoko Komine, Snowball's foster mom, told The Dodo. "Snowball was gone."
As the weeks went by, Snowball's foster family was heartbroken, and started to lose hope that their sweet, confused cat would ever come home.
Then, two whole months later, they got the call. Someone had found Snowball.
"Apparently, someone had heard a cat in distress but the cat had escaped from her and fallen into a drain," Komine said. "The RSPCA were called and they got him out, scanned his microchip and then called us."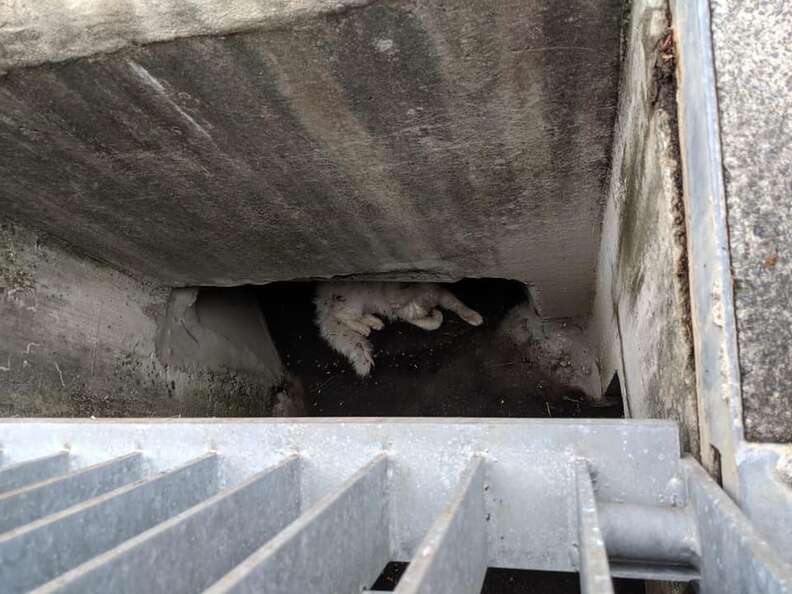 Snowball was found only half a mile away from his foster home, and unfortunately, it appeared that he hadn't eaten properly or been cared for the entire time he was gone. He was incredibly sick, and his foster family rushed him to the vet immediately. At first things didn't look good, and the vet gave Snowball a 50/50 chance of survival.
But throughout it all though, Snowball remained a fighter — and slowly but surely, he started to recover.
Snowball is doing so much better now, and a week ago, his foster family officially decided he was a foster fail and adopted him into their family so he'd never have to change homes again.
"He's finally getting used to us and our other animals, and he's so sweet," Komine said. "He always follows us around and loves to sit by the window in my home salon when my clients are there."
Despite his initial shock and confusion when he first arrived in his foster home, Snowball has now settled in well. He's so grateful to his new family for their patience and care on his long recovery journey, and every now and then, he likes to remind them just how thankful he really is.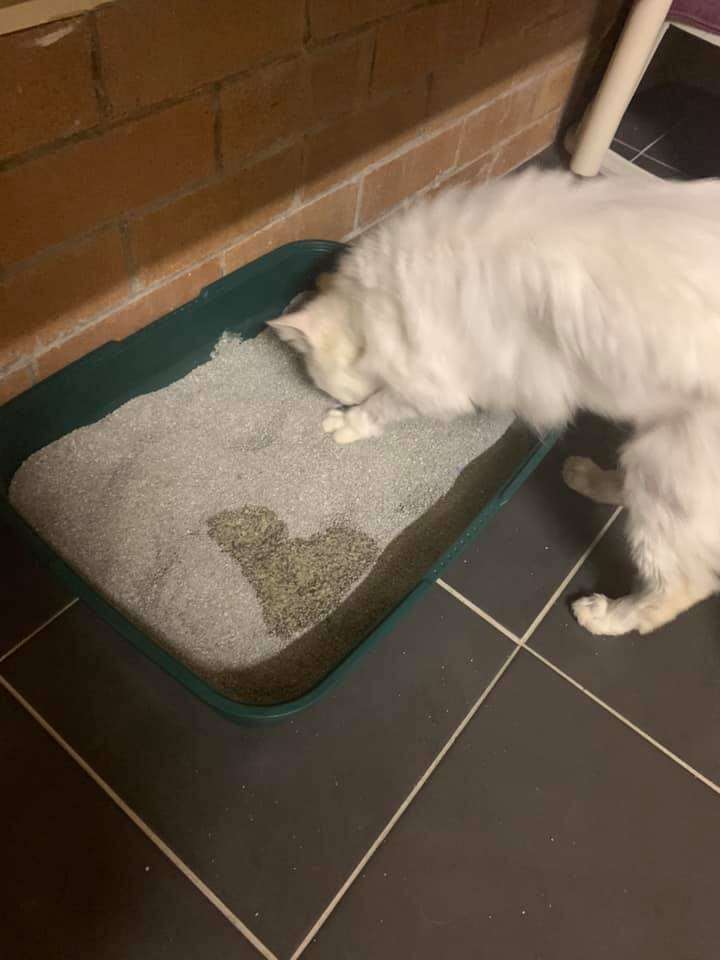 About a month after Snowball came home again, Komine was going about her business when she glanced down into Snowball's litter box — and discovered that he'd peed in the shape of a heart. At that point Snowball was still settling in so it was hard to tell how he was really doing, but his mom decided to take the heart as a sweet sign.
"I noticed this heart-shaped pee and thought it's his thank you letter," Komine said.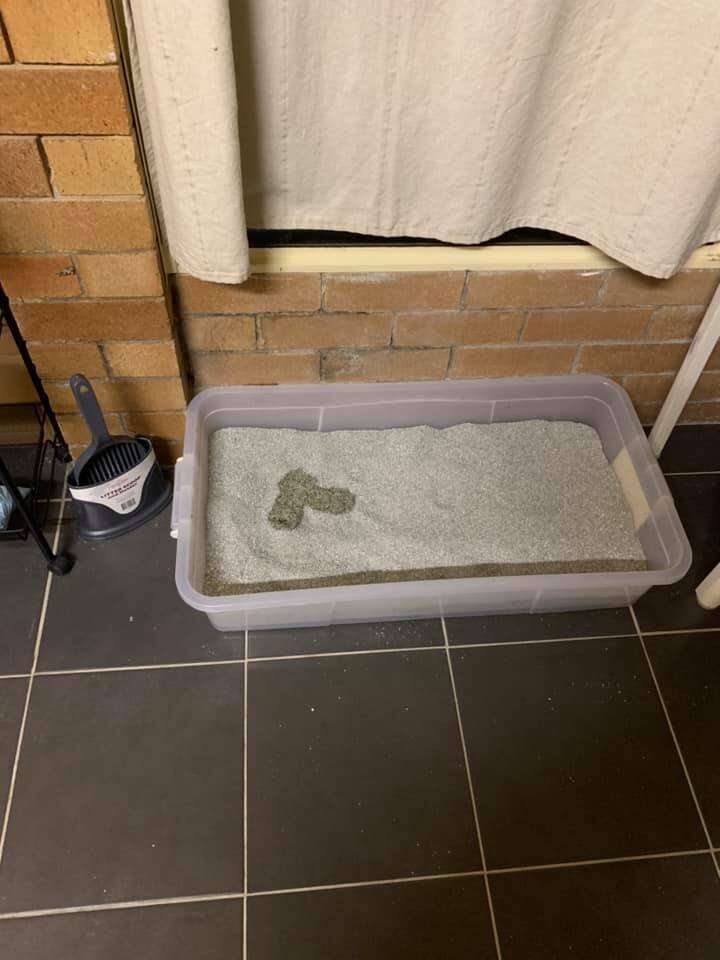 Now, Snowball pees in the shape of a heart pretty frequently, and his family absolutely loves it. They know how much Snowball loves them now and they love him right back, and it's almost as if he's sending them constant — but strange — reminders of how grateful he is for everything they've done for him, and for saving his life.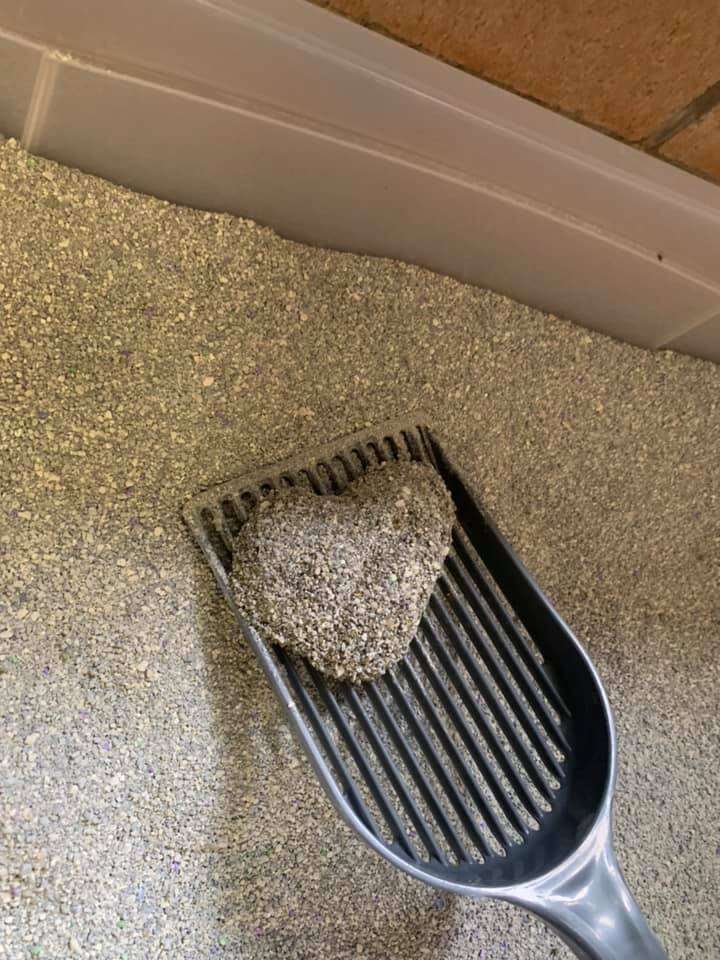 "It's not every single time," Komine said. "Just enough to remind me to say thank you and I love you."