Cat Shows Up At Man's Door — And Demands To Go For A Boat Ride
"As I was leaving [in my kayak], she came out to the dock and meowed until I turned around and picked her up" 😂🐱🚣
Matt Mitchell was making breakfast with his roommate in their tiny cabin they were renting in college on a lake in Michigan one morning in 2005 when they suddenly heard meowing coming from the back deck. Mitchell went to investigate, and found a tiny, skinny kitten staring back at him, looking for food and a little attention.
"She literally just showed up on my doorstep my senior year in college," Mitchell told The Dodo. "I think she was a stray or abandoned. I fed her and she hasn't left since!"
The roommates decided to name the kitten Spritzer, and officially adopted her into their home. When they first found her, she was so small and easygoing, and thought nothing of being carried around everywhere. Since they lived on a lake, Mitchell and his roommate had a small motorboat, and later a pontoon, that they liked to drive around in, and they began bringing Spritzer along with them. The little cat was completely unfazed by the boat trips and mostly napped or played with whatever she could find rolling around on the floor.
Mitchell also enjoyed kayaking, but never thought of bringing Spritzer along with him on those adventures — until one day, she invited herself along.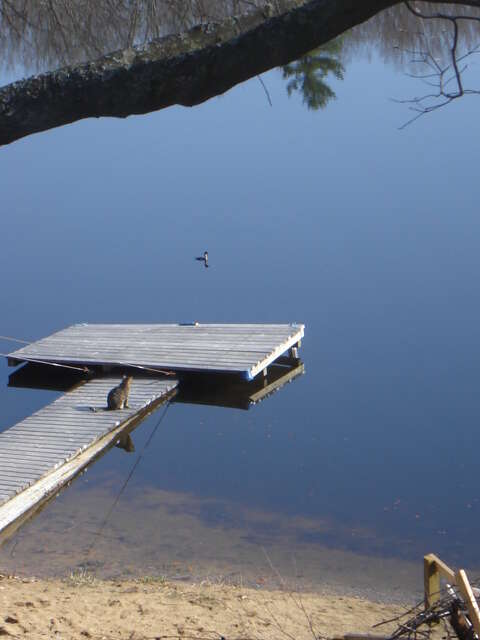 "Some friends and I were out on the pontoon and I forgot something at the house, so I paddled back in the kayak," Mitchell said. "As I was leaving, she came out to the dock and meowed until I turned around and picked her up! I think she even slipped and partially fell in that first time, but that didn't stop her!"
From that moment on, Spritzer has absolutely loved kayaking, and now rides along with her dad almost every single time he goes.
"[She comes] just about every time I go, which is usually a few nights per week," Mitchell said. "It's always her call, though; if she doesn't want to go, I leave her at home. Sometimes I have to go paddle around like I'm going 'without' her, and then she suddenly becomes interested."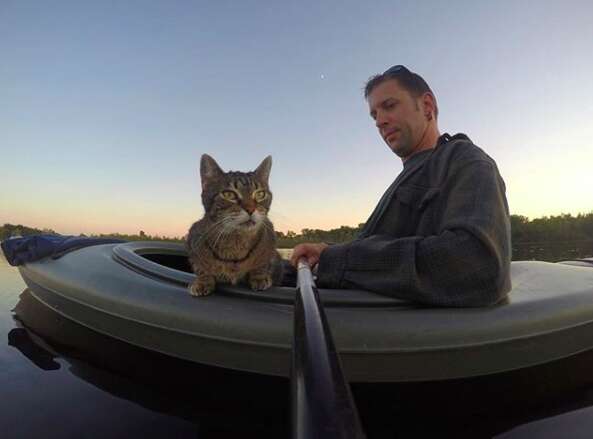 Even though kayaks are pretty small, Spritzer always manages to find plenty to do to entertain herself. She loves taking naps …
… doing laps around the tiny kayak …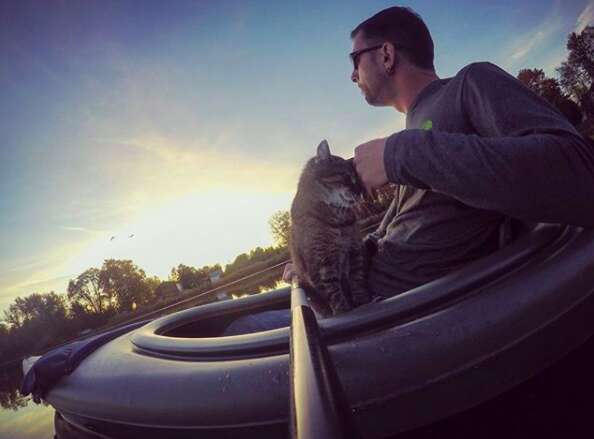 … and just sitting back and enjoying the view.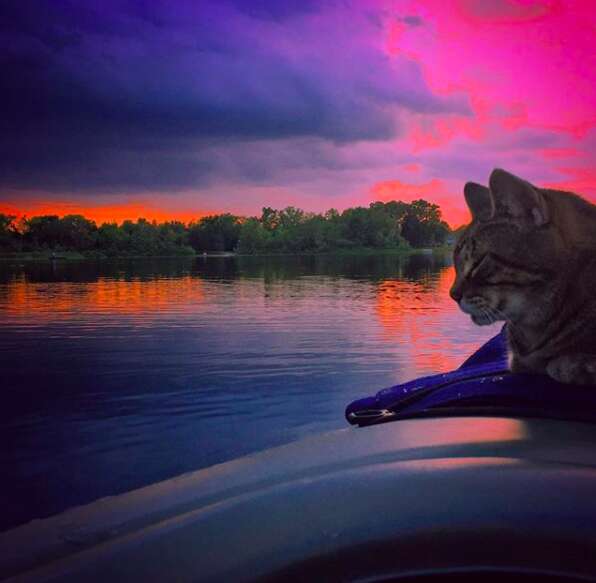 "She moves around the boat quite a bit, going from her blanket on the bow, walking around the edges, drinking out of the lake and cuddling in my lap," Mitchell said. "I think she genuinely enjoys it because she always climbs onboard herself. There are rare occurrences when I want her to go but she's not interested. Typical cat! She's kind of a spoiled little princess but is generally calm and especially affectionate on the water."
Spritzer is 13 now, and still loves going out on the water just as much as she did when she was a kitten. She loves getting to spend so much time with her dad, and has no plans to stop kayaking anytime soon.