Realtor Stops By Vacant Rental Property — And Finds Someone All Alone Inside
"She came trotting right up to me ... I honestly cannot imagine why someone would have locked her in and left her there."
Tim Johnson, a real estate agent in Illinois, is still relatively new to the job, but he's already helped one "tenant" in the most meaningful way possible — he saved her life.
On Wednesday, the property manager at the company where Johnson works received a phone call from a concerned neighbor. The person feared that a dog that a dog was trapped inside a nearby apartment in Rockford, Illinois, which had been left vacant for a number of weeks.
Fearing the worst, Johnson rushed to the property, stopping first to pick up a bag of kibble, a bowl and a water bottle.
"I immediately dropped everything and went over there," Johnson told The Dodo. "When I gained access, I found her there with no food, probably drinking out of the toilet."
Timothy Johnson
The young pit bull had lost so much weight in the two weeks since she had been abandoned that Johnson could count her ribs. Though she was weak, the dog was so grateful to see her rescuer.
"When I entered she came trotting right up to me," Johnson said. "The apartment was full of debris, and there was urine and feces everywhere — she had been in there for weeks with no way out."
After eating, the dog became shy and retreated back into the apartment. It took some coaxing, but eventually Johnson was able to put a collar and leash on the nervous dog and lead her out to his car.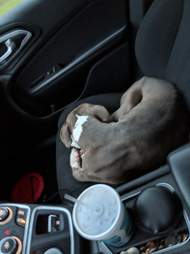 Timothy Johnson
At Johnson's home she seemed to relax, and even enjoyed playing with Johnson's two cats and rescue dog. He named her Lady Eliza after the character from "My Fair Lady." Like her namesake, the pit bull had come from nothing, but from that day forward, Johnson was determined that she would never know hardship again.
"There's no reason that any animal of any kind should be subjected to starvation, especially one that is as wonderful and kind-natured as this dog is," Johnson added. "I honestly cannot imagine why someone would have locked her in and left her there to die."
Kat Marner
The next day, Johnson drove Eliza to her new foster home in Dubuque, Iowa, where his friend Kat Marner, who works with animal rescues in the area, had agreed to take her in and nurse her back to health. A trip to the vet revealed that other than being half her normal weight, the young dog was surprisingly healthy.
Kat Marner
Now living with Marner's five other rescue dog and four cats, Eliza is quickly putting on weight and learning what it's like to be loved for the first time.
In just a few days, Eliza has had her slate wiped clean — becoming the carefree puppy that her rescuers hoped she could be.
"She's a normal, playful 1-year-old pit bull. She's very sweet, she's got a lot of energy and likes going for walks," Marner told The Dodo. "She's doing really well."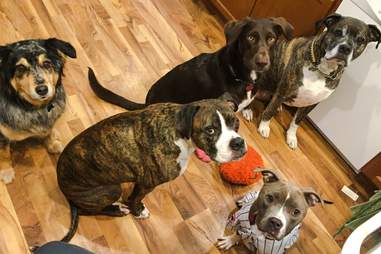 Kat Marner
Today, she loves getting three meals a day, and the only remaining wound from her time in the apartment seems to be clinging to the people and animals she lives with. "She does get very attached and doesn't like to be on her own," Marner said. "So when she's running around the house, she's always in a room with another person in it."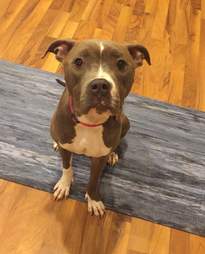 Kat Marner
In a month or two, once she has reached a healthy weight, Eliza will begin her search for a forever home. But, until then, she's taking time to enjoy her puppyhood.
"She's such a nice dog," Marner added. "She didn't deserve that"
Thinking about adopting? Then meet Dodo Adoptbot, an interactive guide for new pet parents. Get started on
Facebook Messenger
or text HOME to 38349.