When police officers in Chula Vista, California, were called out to a park last week, they were met with some perps who turned out to be much fluffier than usual.
Hopping and running around the park were 14 rabbits — but they weren't just wild bunnies.
They were domesticated rabbits, and their owner was nowhere to be found. They were likely dumped there to fend for themselves — which can be a death sentence for pet bunnies, who don't have the same survival skills as their wild ancestors.
The kind officers quickly got to work capturing the animals and successfully wrangled all 14. They then brought the 11 adult rabbits and three babies to Chula Vista Animal Care Facility, where employees were overjoyed to meet the entire group, now safe and sound.
It's all too common for people to abandoned their unwanted pet rabbits outside — but these adorable critters were lucky enough to be found before anything bad could happen to them.
"Unfortunately, some people get rabbits before they do their research and get quickly overwhelmed," Linda Septon, rescue coordinator for the shelter, told The Dodo. "They see wild rabbits in parks and think this may be their solution by letting their pets loose. We want to stress that releasing domestic animals into the wild is not the answer. Domestic rabbits lack the instinct and, as you can see in the photos, the camouflage to survive predators."
Thankfully, these rabbits are now settled into their very own pens at the rescue, complete with toys, boxes to hide in and plenty of fresh hay to eat. All they need is a family to call their own.
In the meantime, staff and volunteers are socializing and litter box training the rabbits to help them comfortably transition to life as family pets.
"Staff members decided to give all of the rabbits fairy tale names because they will now have happy endings," Septon said. "The 11 adults are currently available for adoption. They will be spayed or neutered and microchipped before going to their forever homes."
Thanks to the concerned citizens who found them and a compassionate group of police officers, these fuzzy little animals will only know love from now on.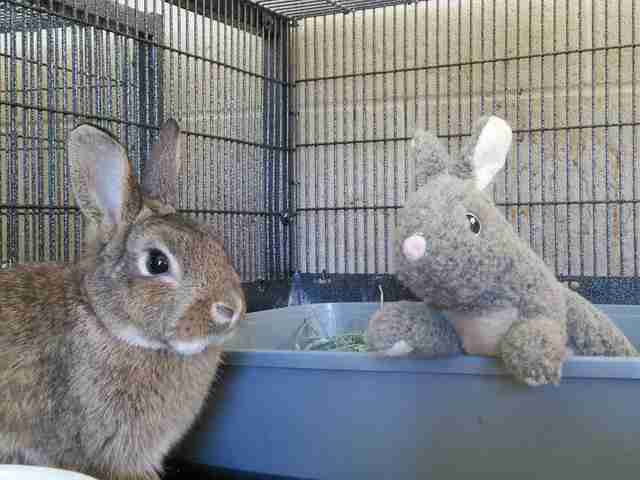 And by the looks of it, they're already pretty comfortable with that.