Bunny Abandoned By Owner Had Teeth So Long She Couldn't Eat
She looks so much happier now 💕🐰
When Tusks' owner decided they no longer wanted her, they didn't turn her into a shelter right away — they just ignored her for a while and left her to her own devices. When Tusks was finally surrendered to the RSPCA, she'd been neglected so long that her fur was completely matted, and her teeth were so long, they'd grown halfway down her face.
The staffers at the shelter were absolutely shocked when they first laid eyes on poor Tusks, and their hearts went out to her, as they knew she was probably in so much pain.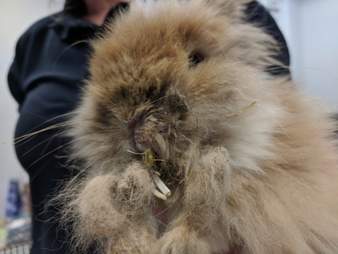 RSPCA
"She was in a horrific state," Cheryl O'Keefe, animal welfare administrator at the RSPCA Middlesex North West branch, said in a press release. "We honestly don't know how she was coping. Her teeth were so overgrown and tangled in matted fur, which meant eating was a huge challenge for her. In addition to this, her back end was so bad we were unable to confirm if she was a boy or a girl for a few days due to swelling and infection."
RSPCA
Almost as soon as she arrived at the RSPCA, Tusks underwent a dental procedure to fix her teeth, and was also given some much-needed grooming for her matted fur. Tusks seemed to feel better and perked up almost immediately, as she was suddenly so much more comfortable, and is now loving life in her foster home.
"She is happy and healthy now, so we are looking for a new home for her with a neutered male bun for company," O'Keefe said.
RSPCA
June 2 through 10 is Rabbit Awareness Week at the RSPCA, and everyone involved with the organization is working hard to educate people, so that other rabbits don't end up neglected and suffering like poor Tusks, just because of improper care.
"Tusks is one example of how badly overgrown a rabbit's teeth can become, but it is important for all owners to be checking their rabbit's teeth at least weekly to ensure they aren't overgrown or misaligned," Dr. Jane Tyson, a rabbit welfare expert with the RSPCA, said in a press release. "Sadly, rabbits are one of the nation's most misunderstood animals. Lots of rabbits are still kept in small hutches without access to an area in which to exercise, many rabbits are housed alone instead of in pairs and not all are having their nutritional needs met."
RSPCA
To avoid a rabbit's teeth becoming overgrown, it's important to give rabbits unlimited access to hay, as it helps to wear down their teeth and keep them at the correct length and shape.
Rabbits can make wonderful additions to a family, and the RSPCA hopes to continue to raise awareness about how to properly care for them so that Tusks and many other rabbits can go on to find incredible forever homes.
If you're interested in adopting Tusks, you can
contact the RSPCA
for more information.