Tiny Rabbit Dumped At Shelter For Being 'Too Affectionate'
He's obsessed with kissing people 😍
When Ryann Sadler saw two baby rabbits being left at the SPCA of Texas in December 2017, she rushed over to meet them.
A longtime shelter volunteer and rabbit mom, Sadler was heartbroken to see the condition of the newcomers; they were so small, and had extremely overgrown nails. Sadler scooped up the little male rabbit in her hands to start trimming his nails — and to her surprise, he started kissing her all over with his tiny tongue.
Sadler had no idea bunnies liked to give kisses — but there she was, being smooched by one.
"I was holding him and he just started licking my hands," Sadler told The Dodo. "I said, 'What on Earth!?' My rabbit Pepper has never done that. We were just blown away with how sweet and friendly he was."
Sadler instantly fell in love with the loving little rabbit, and when she read why he was surrendered, she was officially set on bringing him home.
"The owner said Peter was 'too affectionate' and 'needed too much attention,'" Sadler said. "He was the snuggliest bunny ever — I couldn't believe anyone would give him up!"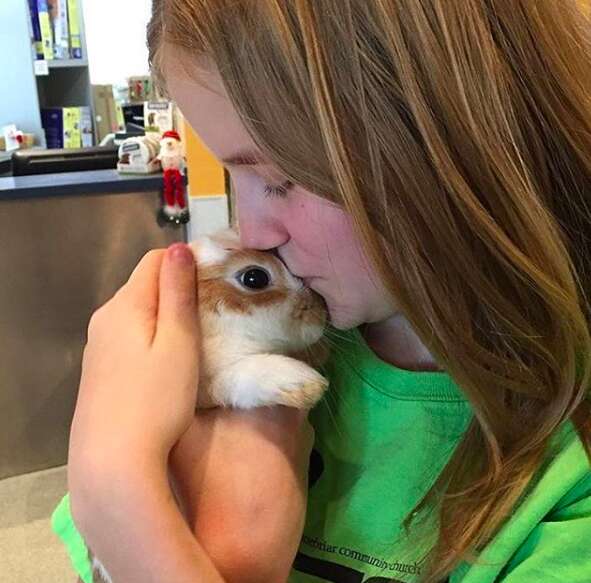 Although her family wasn't exactly looking to adopt another rabbit, Sadler and Peter chose each other at first sight. Peter was only 5 months old then, but he already had so much love to give.
While much about Peter's past is a mystery, it was clear that he was just looking for the perfect person to understand his loving personality. (And luckily, the female bunny Peter arrived with at the shelter found her forever home soon after, too.)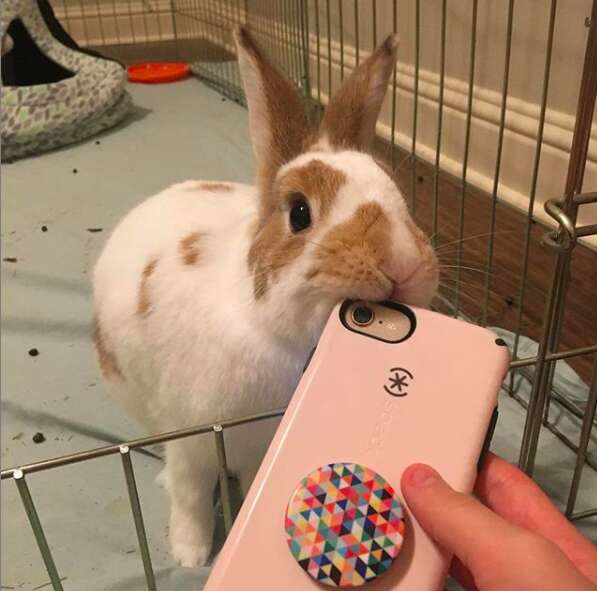 "He is so affectionate, loves being held and will just sit on my chest kissing my face," Sadler said. "It's the sweetest thing in the world."
Rabbits will groom other bunnies whom they enjoy being around — but not every rabbit chooses to show this delicate sign of affection toward people. Unsurprisingly, it's one of Peter's absolute favorite things to do.
In addition to kissing people, Peter loves doing laps around the house and jumping up into the air.
He gets so excited around visitors and the family's Yorkshire terrier sometimes that he won't stop skipping and leaping around in celebration, Sadler said.
Peter also loves tossing his toys around and playing ball.
He often roams free around the house when his family is home, which means he knows all the prime places to go for some fresh veggies.
Peter is a ray of sunshine for the family, who shares regular posts on Instagram about him and his rabbit sister, Pepper.
Sadler admits that Pepper is much more on the grumpy side — but that doesn't stop sweet Peter from trying to brighten up her mood.
"Their pens are right next to one another, and Peter always tries to make friends with her," Sadler said with a laugh. "They peacefully coexist that way, but Pepper still prefers her own space."
From the moment little Peter joined the family, he's made sure that everyone knows how much he loves them — and is also showing people around the world just how special bunny love can be.
"A few years ago, we knew nothing about rabbits," Sadler said. "They are a big responsibility and require a lot of special care. But like Peter, they're some of the funniest and loving animals ever. He makes us smile every single day."