People Band Together To Give Sick Puppy Hundreds Of Hugs
All he wants is love — so they gave him a lot of it 💕
Logan was taken in by a rescue in Washington when he was just a tiny puppy. After some routine checkups, the rescue realized that something wasn't quite right with Logan's heart — and soon discovered that he had a very serious heart defect. 
The German shepherd puppy's heart condition was incredibly severe and the rescue felt unequipped to deal with it, so they transferred him into the care of Rescued Hearts Northwest, a rescue in Ferndale, Washington, that has a lot of experience dealing with puppies with special medical needs. They took Logan back to the vet for some more exams and tests, which unfortunately confirmed his initial diagnosis. 
Rescued Hearts Northwest
Due to the severity of his condition, little Logan was only expected to live one month to a year, and there didn't seem to be anything anyone could do about it.
"After his echocardiogram we had no hope to fix his two faulty cables," Lindie Saenz, Logan's foster mom, told The Dodo.
Rescued Hearts Northwest
Despite his grim diagnosis, Logan's new friends were all determined to stay positive. They got him settled into his foster home and marveled at what a spunky, playful little puppy he was. It weighed on their hearts that he had so much less time than he deserved — and then his foster family came up with the best idea.
"My kids, they wanted to take Logan places before he passed away," Saenz said. "Going to the beach, ice cream, cheeseburger, swimming, play in the snow, etc."
Rescued Hearts Northwest
Logan's foster siblings began taking him on as many adventures as they could think of, and what started as a small, casual list began to grow and grow. They wanted Logan to have as many experiences as they could possibly fit into his short life. Everywhere they took him, people loved meeting Logan, and Logan in turn loved meeting them. He was such a social little puppy — and suddenly, Logan's foster siblings realized what would be the best bucket list item of all. 
They decided to embark on a mission to get Logan at least 100 hugs.
Rescued Hearts Northwest
With the help of everyone at the rescue, Logan's friends and family planned an event called Hugs for Logan and began advertising it all around the community. They hoped that their goal of getting Logan 100 hugs was reasonable — and were absolutely over the moon when well over 200 people showed up to the event.
Rescued Hearts Northwest
People came from all over the place to support little Logan …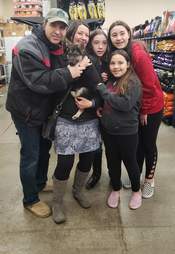 Rescued Hearts Northwest
… and one couple even drove all the way from Oregon, just to give Logan some hugs.
Rescued Hearts Northwest
Everyone on Logan's team was overwhelmed with joy and gratitude at just how many people wanted to help make Logan's life a memorable one filled with so much love. They made sure he got lots of breaks so as not to overwhelm him, and everyone who came out that day was patient and understanding as they waited for their turn to meet Logan. The event was filled with laughter and tears, and Logan seemed to love meeting all of his new friends, the young …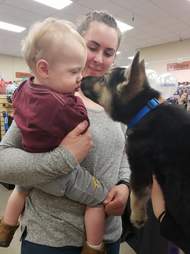 Rescued Hearts Northwest
Rescued Hearts Northwest
Rescued Hearts Northwest
… and everyone in between.
Rescued Hearts Northwest
"They loved meeting him and you could feel it when they would hug him and wish him well," Saenz said.
Rescued Hearts Northwest
The event was a huge success, and inspired Logan's foster family to keep adding items to his bucket list. They were determined to keep going until Logan's final day — until a doctor reached out and said he may be able to save Logan's life.
Dr. Brian Scansen of Colorado State University (CSU) Veterinary Teaching Hospital emailed Rescued Hearts Northwest one day to say he was confident that, if they could get Logan to Colorado, he could perform a surgery to fix Logan's heart and ultimately save his life. Everyone was thrilled at this turn of events, and the rescue quickly began raising money to fly Logan out to Colorado for the surgery.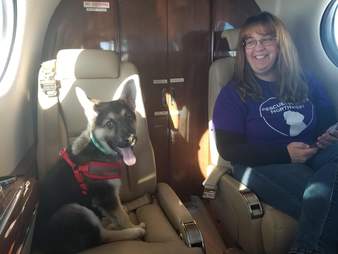 Rescued Hearts Northwest
On January 31, Logan underwent surgery in Colorado — and while it didn't go exactly as planned, everyone at CSU is still incredibly hopeful that Logan will be able to beat this.
"Dr. Scansen found yet another abnormality in Logan's heart and after four hours of trying he was not able to get the catheter/balloon in place to fix the defective valve," Rescued Hearts Northwest wrote on its Facebook page. "While this is disappointing for all of us including the wonderful staff at CSU there is still hope for Logan. This surgery to repair the pulmonary valve was just going to buy Logan some time until he can have the second surgery which is the open heart surgery. So now our job is to help Logan grow!" 
Rescued Hearts Northwest
Logan needs to be at least 6 months old to undergo the second surgery, and since he's currently only around 12 weeks old, all of his countless friends and supporters are determined to do everything they can to get him there. In the meantime, his foster family is still taking him on plenty of adventures and giving him lots of love, and at this point, people all over the country are cheering from Logan's corner.
Rescued Hearts Northwest
"We are not giving up on Logan," the rescue wrote.