Yuko was found abandoned on the streets of Puerto Rico with his three siblings. The little family was rescued by All Sato Rescue, and immediately placed in a foster home where they could get all of the love and attention they'd never had before.
The puppies were in pretty rough shape when they were first rescued, but over time they began to gain their strength back. The group became just like normal, healthy little puppies — except for Yuko.
As his siblings began to grow and heal, Yuko's foster mom noticed that there was something different about him. His breathing and heart rate didn't seem normal, and even after taking lots of naps, he was still always tired and easily fatigued. She arranged for him to see a vet, who discovered that little Yuko had a birth defect in his heart. Without surgery, the puppy was unlikely to survive to adulthood.
Unfortunately, the surgery Yuko would need to fix his birth defect was incredibly expensive, but his rescue family wasn't ready to give up on him. His foster family started a GoFundMe campaign, and in no time at all, they raised the $5,000 needed to help Yuko.
In April, Yuko underwent the heart surgery needed to fix his birth defect, which ended up being completely successful. After several months of recovering in his foster home, Yuko finally healed into a healthy, happy little puppy just like the rest of his siblings, and is now ready to find his forever family.
Yuko was transferred into the care of the Animal Refuge League of Greater Portland, and officially became available for adoption on Friday. After a long recovery period after being discovered on the streets of Puerto Rico, Yuko is more than ready to head off to his forever home, and everyone at the rescue is positive that he will make the absolute best dog for one lucky family.
"As far as his personality goes, he's a typical puppy," Jeana Roth, of the Animal Refuge League of Greater Portland, told The Dodo. "Young, fun and energetic. He likes bouncing around the yard, playing with toys and kissing his human friends."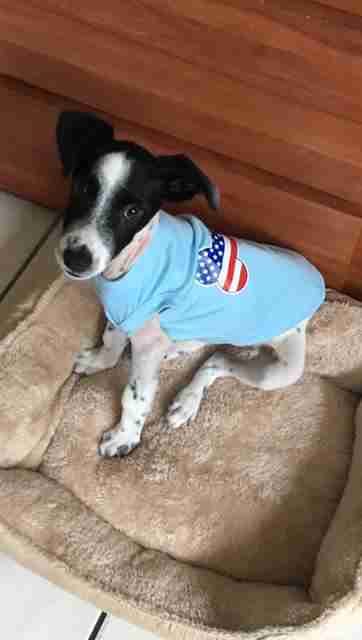 While the surgery did fix Yuko's issues and will allow him to live a long and happy life, his future family will have to be aware of his medical issues and take him for regular checkups to make sure his heart is still working properly. Other than that, all Yuko needs in a potential family is lots and lots of love.