Puppy Found Stuffed Inside Purse With His Paws Tied Together
He was abandoned outside a store in London 😞
A woman was passing by a shop in London around 2 a.m. on Monday morning when she noticed a red purse hanging from the handle on the front door. Confused, she went over to investigate, and was shocked to find a tiny puppy inside the purse, with his front paws tied together with a hair band.
RSPCA
The puppy, later named Radley, was crammed inside the purse along with a can of dog food and a note that read "found this puppy." The woman immediately contacted the RSPCA for help, and the puppy was taken to the RSPCA's Putney Animal Hospital for immediate medical attention.
"Poor little Radley must have been very stressed and frightened being stuffed into that handbag and abandoned in the middle of the night," Phil Norman, an inspector with the RSPCA, said in a press release. "The hair band would also have caused him some pain and restricted his movement, adding to his distress."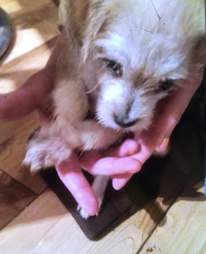 RSPCA
After the animal hospital staffers examined him, it was determined that little Radley was only around 8 weeks old, and was thankfully in fairly good health despite his ordeal. He has been suffering from mild diarrhea, and his condition is being closely monitored.
"There's absolutely no excuse for leaving a young, vulnerable puppy like this in such awful circumstances and Radley is lucky he wasn't more seriously injured," Norman said.
RSPCA
Radley is incredibly tiny, and everyone at the animal hospital has quickly fallen in love with his adorable face and sweet disposition. Radley is extremely friendly and playful despite all he's been through, and loves playing with his toys and all of his new friends while he continues to recover at the hospital.
RSPCA
"He's now winning over the hearts of all of the staff here," Caroline Allen, veterinary director at the RSPCA's Putney Animal Hospital, said in a press release. "He's doing really well and is such a cutie. He's not available for rehoming yet and we're still running tests and checks on him so he'll be with us a little longer yet."
The RSPCA is launching an investigation into how Radley came to be tied up and abandoned in a purse, and is asking anyone with any information about the incident to please contact them.
RSPCA
Radley will not be available for adoption for a little while, as he is still very young and staff at the hospital want to make sure he is completely healthy before he heads off to his forever home. The RSPCA will let everyone know as soon as he is ready to be adopted, and can't wait to find the best family to care for him for the rest of his life.
If you have any information regarding who may have abandoned Radley, you can contact the RSPCA at 0300 123 8018.
If you'd like to help other animals in need, you can
donate to the RSPCA
.