Puppy Stuck In Tire Has No Idea How She Got There
Her dog BFF stayed with her the whole time for support.
Jasmine Williams has four dogs, but 4-month-old Jade is usually the one who stays out of mischief.
"She's the one where I know the other dogs have got into something because she'll come and jump on me and cuddle as if to say, 'I had nothing to do with it,'" Williams told The Dodo.
So Williams was more than a little surprised when Jade got herself into some trouble.
Williams was a work when she got a call from her boyfriend, Rayshawn Campbell, earlier this week.
"He said, 'I need you to come outside, but I need you not to freak out,'" Williams said. "And I'm like, 'What's going on?'"
When Williams went outside, she saw for herself — a tire sat in the back of Campbell's car, and stuck inside the tire was a very unhappy looking Jade.
Campbell explained that Jade had chased after a kitten, who hid in a spare tire on their Philadelphia property. When Jade poked her head in to look, her head got stuck between the rails.
Thankfully, Williams' supervisor gave her the rest of the day off so she could figure out what to do. But the problem was, Williams couldn't figure out how to free Jade, and no one else seemed able to help.
First Williams called the SPCA, but they advised her to call the police station. Then the police station told her to call 911.
"When I called 911, the dispatcher was like, 'A dog in a tire? We can't send anybody out for that,'" Williams said.
Next Williams drove to a fire station in south Philadelphia, but the firefighters ultimately said they couldn't help either since they didn't have a tool to cut the tire off of Jade, according to Williams.
"At this point, I'm going crazy on Google and I'm crying," Williams said. "And that's when I found a number to an emergency animal specialist, so I called them."
Williams had called the Blue Pearl Veterinary Clinic in Philadelphia, and the staff there told Williams to come in with Jade and promised that they'd find a solution. Veterinary technician Jenny Davis was on duty when Jade arrived.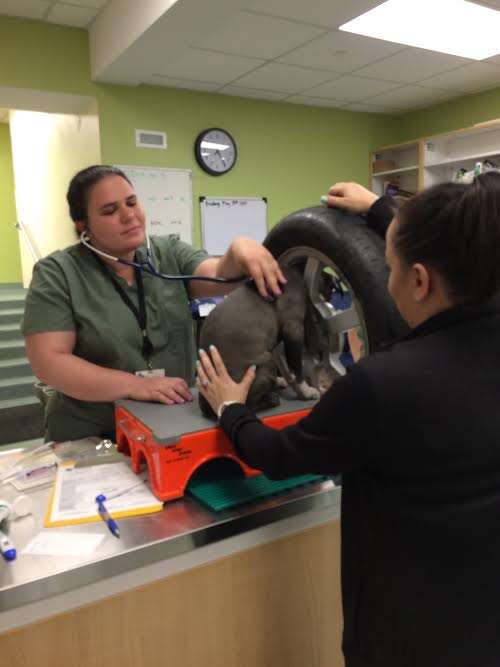 "They showed up about an hour later, and you could see that Jade was stuck in there for a long time," Davis told The Dodo. "Her eyes were all bloodshot — she was just very tired from trying to get herself unstuck."
Williams had actually brought along Jade's littermate and sister, Freya, and she stayed glued to Jade's side, according to Davis.
"[Freya] was extremely exhausted, too," Davis said. "I think that she was actually staying with her sister to try and help her with moral support. They were really cute, both of them."
Davis and the vet team checked Jade's vitals and made sure she was stable. Then they gave her a sedative to help her relax. About 20 minutes later, they just "jimmied her out" of the tire, according to David.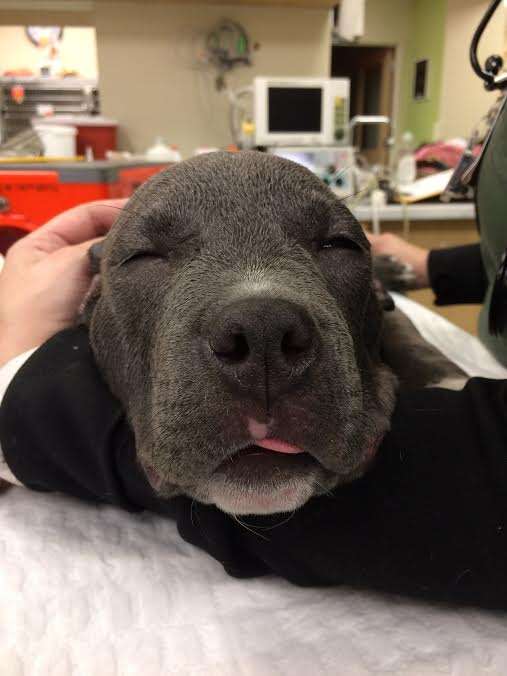 "Everything that goes in must come out," Davis said.
Surprisingly, this isn't the first dog Davis has had to free from a tire. She'd personally helped free one other dog, and she's heard of multiple other cases.
"It happens more than we like," Davis said. "Dogs will get stuck in everything."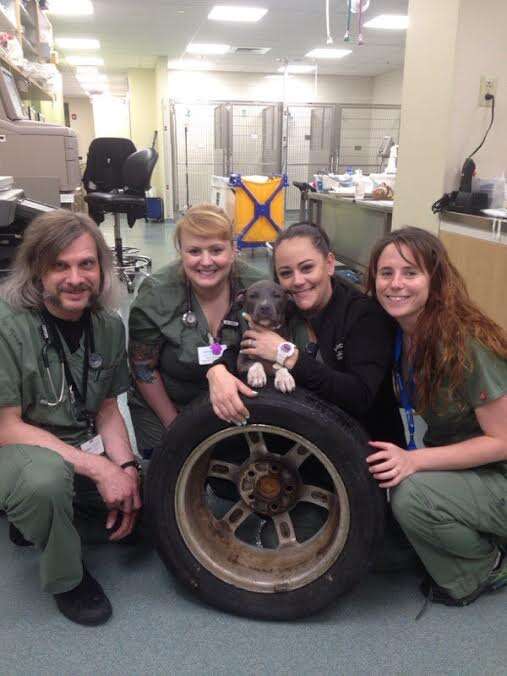 Everyone could tell that Jade was incredibly relieved to finally be free.
"She gave us lots of kisses," Davis said. "And as you'll see in the photos, she kind of posed with the tire like she defeated it."
Jade went home that night, and she was quickly back to her old self, Williams said.
"As soon as we got home, she jumped out of the car and ran into the house — up and down the steps, playing with the other dogs," said Williams. "She was like back to her happy routine like nothing ever happened."
If your dog or puppy ever gets stuck in a tire, or in another strange object, make sure to call your local vet right away.