Puppy Is So Excited To Run Into His Brother At The Dog Park
They hadn't seen each other for nine weeks 🐶❤️️🐶
For most of our pets, leaving littermates behind is all part of transitioning from pupper to doggo — but sometimes, just sometimes, fate brings you back together.
Sevro au Barka, a German shepherd-border collie mix, was walking through the park with his owner Calvin Crook one crisp fall day when he saw a familiar face across the lawn. To the surprise of his owner, the 4-month-old pup immediately took off, sprinting across the grass toward the other dog.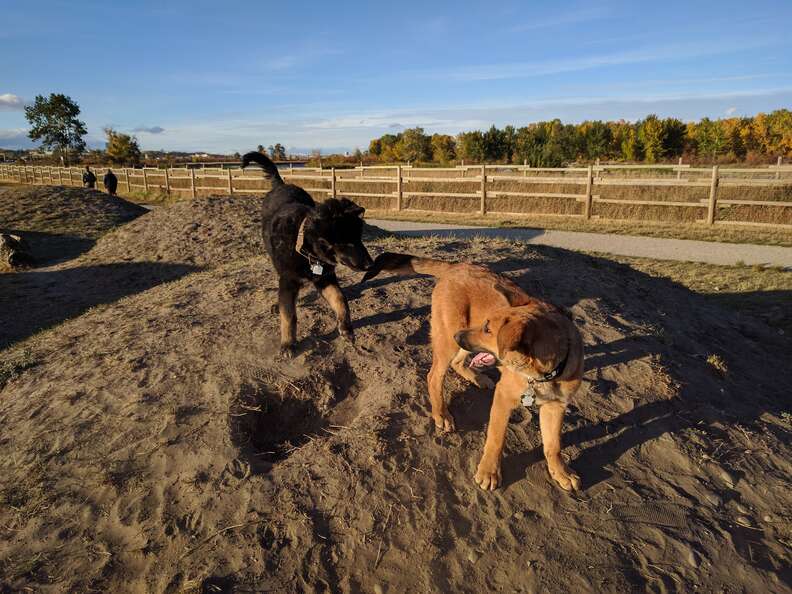 "The two dogs ran right for each other and began a full-on wrestling playtime instantly," Crook told The Dodo. "They seemed very similar and comfortable right away."
The chances of Sevro running into someone he recognized were slim, especially at the expansive Sue Higgins Park in Calgary, Alberta, Canada. But Crook knew something special was happening when he saw the unique way the dogs played together.
"There is definitely a distinctive way they play with each other compared to other puppies they meet," Crook said.
On a typical hour-long walk, Sevro meets between 10 and 30 dogs, explained Crook, but rarely will they receive such a warm greeting. Sometimes Sevro will start to play and othertimes, after a cursory sniff, he moves on.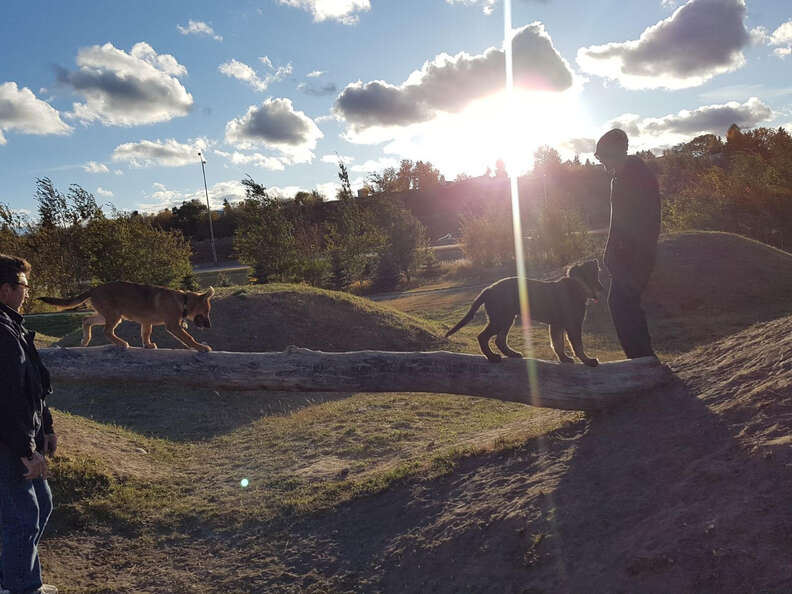 As Crook watched his dog jump with excitement, he struck up a conversation with the owners of the mysterious new playmate, who he learned was named Harley. "We began noticing the similar traits of the dogs — both shepherd-collie mix, nearly 4 months old," Crook said.
"[Sevro] looks like he is a furry black bear, with brown socks on," Crook said, while Harley is a golden brown, and yet, there was something so familiar about them together.
Crook had saved a few photos of Sevro's parents on his phone, and pulled them up to show the other dog's owner. "It was then we found out they were siblings," Crook said.
Harley, as it turned out, was Sevro's brother and littermate. They had only been apart for nine weeks, but were clearly overjoyed to see each other again.
Adjusting to life without your first wolf pack can be lonely — especially when you come from a rambunctious litter of nine.
"When he first got to his new home, he seemed happy and playful, but the first night was tough for him," Crook said. "It was hard for him to go from having eight furry bedmates to alone on the floor."
Luckily, Crook found a way to make Sevro feel at home with his new family. "I know you aren't supposed to have them sleep in the bed with you, but now he has his own little corner of the bed that makes him really happy," Crook explained.
Now, Sevro and Harley get to play fairly regularly at the same park where they reconnected.
"Sevro is a ball of energy," Crook added. "He will never stop playing as long as there is someone willing to wrestle." And when they see each other, Harley is always happy to oblige.