Dogs Trapped In Puppy Mill Couldn't Wait To Be Saved
"When they're finally able to curl up on cuddly beds with fresh linens, they look so happy."
It was the stench that gave the dogs away — a thick, nauseating scent of ammonia emanating from a buildup of urine and feces. It was so strong, the police officers smelled it from the street. They also heard the barking.
Earlier this month, officers from the Hunt County Sheriff's Office in Texas were visiting a property after a complaint had been called in — not about the dogs, but for a separate matter that involved child protective services.
Officers investigated this metal building and found 117 animals trapped inside

| SPCA of Texas
But when the officers caught a whiff of the ammonia, they decided to investigate a large metal building attached to the main house on the property.
They knew there were dogs in there — they could hear them crying and barking.
When the officers asked the homeowner to let them into the building, the owner refused, although he admitted to keeping dogs for breeding purposes.
Dogs and cats were being kept inside tiny, filthy cages

| SPCA of Texas
Fearing for the animals' safety, the officers submitted a report to a judge and got a search and seizure warrant. A few days later, they returned with a team from the SPCA of Texas.
When they opened the building's doors, they were shocked — they found 93 adult dogs, 22 puppies and 2 cats locked up in tiny, filthy cages.
SPCA of Texas
"In some cases, there were three or more animals in each cage," Maura Davies, vice president of communications at the SPCA of Texas, told The Dodo. "It's definitely not a good living situation for dogs to be packed into little bitty kennels."
SPCA of Texas
The building also wasn't air-conditioned — not only did this make the building unbearably hot, but it made the smell even worse.
SPCA of Texas
"It was very, very hot, to the point where investigators had to come out every once in a while because of the heat, and also because of the intense smell of ammonia," Davies said. "There's actually a photo that shows a constable coming out of the metal building, covering her mouth and gagging."
SPCA of Texas
There were fans in the building, but they didn't seem to be doing much good, Davies explained.
"The fans were encrusted with hair or other debris, and it's questionable about how effective the fans were," Davies said. "It's hard to imagine how hot it must have been in this area for these animals."
SPCA of Texas
The rescue team got the dogs and cats out as quickly as they could, placing them in clean, comfortable kennels in an air-conditioned rescue vehicle. The animals seemed to let out a collective sigh of relief, according to Davies.
SPCA of Texas
"I've been with the SPCA of Texas for the last 16 years, and I've noticed over time that at some point during the rescue, the animals get quiet, and they relax a little and take a deep breath," Davies said. "I'm not sure if that's gratitude or just exhaustion. But when they're finally able to curl up on cuddly beds with fresh linens, they look so happy."
After removing all 117 animals from the property, the rescue team transferred them to a care facility.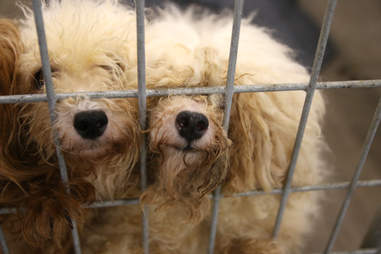 Two newly rescued dogs from the puppy mill

| SPCA of Texas
"Right now, they are receiving all the medical and behavioral care that they need," Davies said. "They're also they're getting lots of love and care from our volunteers. They all have comfy beds and large kennels in an air-conditioned building."
"They're also getting lots of snuggles, and we have play yards, so they're able to go outside, and run around in the grass," Davies added.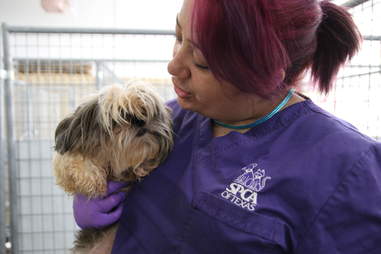 SPCA of Texas
On Monday, a hearing will take place to determine the animals' fate — if all goes well, the animals will be legally placed into the care of the SPCA of Texas. In the meantime, the rescue team is doing everything it can to make the animals comfortable.
"Our staff is there to cuddle all of the animals — to comfort them and to make sure that they have everything they need to be comfortable and happy until the custody hearing can take place," Davies said.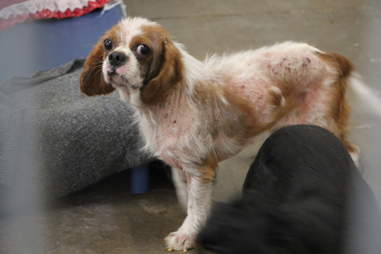 A dog rescued from the Texas puppy mill, still looking a little traumatized

| SPCA of Texas
"The only way the SPCA of Texas can learn about cases like this is people giving us a call," Davies added. "In this case, it was law enforcement that called us, but we also ask that the public reach out to us if they see something like this."
To help the SPCA of Texas rescue more dogs and cats in puppy mills, you can
make a donation
. You can also follow the organization's work on
Facebook
.