Woman Dedicates Life To Saving Sick Dogs From Puppy Mill 'Hell'
"I will tell the stories of these dogs until the day I die."
National Mill Dog Rescue
National Mill Dog Rescue
In the past 10 years as executive director of the National Mill Dog Rescue, Theresa Strader has undoubtedly met a lot of puppy mill survivors — more than 12,000, to be exact.
Strader's circle grew by 107 this past weekend, when she and a team of dedicated volunteers hit the road in all different directions to save dogs being surrendered by puppy mill breeders. Three separate vans left rescue headquarters in Colorado and drove a combined 5,000 miles through the midwestern Dust Bowl states to stop at 18 different mills along the way.
The majority of rescues over the course of the weekend were senior dogs, who had lived their entire lives in cages at the mills, having litter after litter of puppies to be sold to pet stores or private buyers. When dogs reach the age where they're no longer able to produce puppies, Strader said, mill owners will often kill them since they're not a source of profit for their businesses.
"These dogs spend their lives being mistreated to the most awful degree just to make money for someone — and the thanks they get most of the time is to be put to death," Strader told The Dodo. "We connect with these breeders and get them to surrender the dogs to us, because they have so much more living left to do."
After living a life of solitude, inbreeding and minimal care, senior mill survivors are often battling countless physical and psychological conditions. One of the most heart-wrenching examples of this from the weekend's rescue, Strader said, is Harmony, an 11-year-old Sheltie with congestive heart failure, rotting teeth and patchy hair.
In a video taken after Harmony arrived at the rescue, the shy dog cuddles up to Strader, allowing her to stroke her head, give her a kiss and examine her damaged, decayed teeth and mouth. In another video, Harmony walks in circles in front of her new plush bed — quite possibly the first bed she's ever had.
"When you bring a puppy mill survivor into a place where they get to be a dog for the first time in their life, you'll never see a deeper bond," Strader said. "Looking at the hell they came from, their ability to rise above represents what we love so much about dogs — their resilient and loving nature."
Many of the senior dogs rescued are just like Harmony, riddled with decaying teeth and infection due to years of not receiving proper dental maintenance. These are the same conditions faced by Lily, the then-7-year-old greyhound and mill survivor who inspired the start of National Mill Dog Rescue back in 2007.
In addition to the senior dogs, the team brought a number of puppies to safety, including a special needs French bulldog puppy named AJ. Since he's believed to have a spine defect, he will be living with a private foster so he can grow big and strong. Fourteen beagle puppies will also be going to private fosters over the next few weeks until they are well enough to be adopted.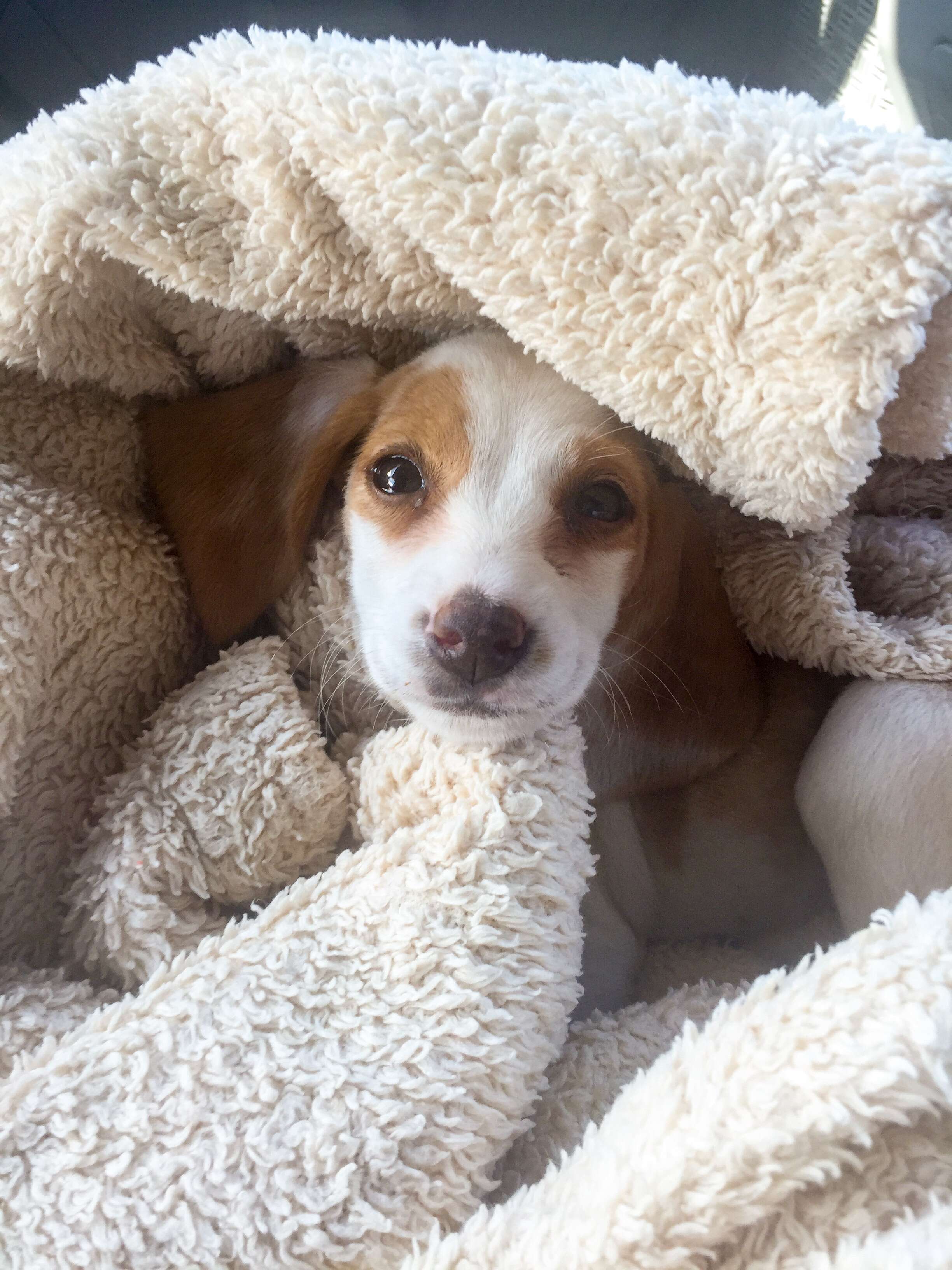 "We rarely get puppies, but when we do they're always in bad shape," Strader said. "When we got a call earlier in the week about the beagle puppies, there were 30 of them. Over half of them died before we got there to pick them up. Most of them were only 5 to 6 weeks old."
In most states, large-scale breeding operations can legally keep hundreds of dogs in cages for their entire lives for the sake of selling puppies, as long as the animals have basic food, water and shelter. This makes mill rescues a "tough balance," Strader said, as rescue organizations can't technically try to shut down or raid a mill that is considered legal under USDA standards, even when the dogs' welfare is compromised.
And those are just operations that sell wholesale to pet shops — facilities that sell their dogs face-to-face to the public are not regulated under any federal humane care facility standards. However, the team can still report breeders in more serious cases.
"We have connections with close to 200 breeders now that have surrendered their dogs to us. We support change on every level, but we also want to save as many dogs as possible," Strader said. "I will tell the stories of these dogs until the day I die."
The 107 dogs rescued — including special needs puppies, purebreds of all shapes and sizes, and seniors — are currently receiving needed medical care and rehabilitation before they will be
available for adoption
. To support the ongoing costs of this rescue, you can
make a donation
. You can also
take a pledge
against puppy mills and
donate to investigations
that help shut them down.