Woman Rescues Hairless Puppy Covered In Mysterious Dye
"My heart struck, and I thought, 'I have to rescue this dog.'"
The 3-month-old puppy was hairless and covered in a strange purple dye — and Neda Saghafi immediately knew she wanted to foster him.
In April, Saghafi, who runs a small rescue group called Simba's Paw Dog Rescue, had gotten tagged in a Facebook post about the puppy, who'd been picked up as a stray and taken to a busy shelter in Fresno, California.
Neda Saghafi
"It's a very high-kill shelter, and when dogs like that come in, they have a very hard time getting out unless a rescue steps in," Saghafi told The Dodo. "So when I saw the picture posted on Facebook … my heart struck, and I thought, 'I have to rescue this dog.'"
While it was clear that the puppy had a bad case of mange, Saghafi wasn't sure what to make of the purple paint.
Neda Saghafi
"At first, I thought it was spray paint, and kids spray-painted him or something like that," Saghafi said. "Also, when people get puppies for bait dogs, they spray them different colors so they can make bets on them — so that's another thing that popped into my head."
But when Saghafi got the puppy, whom she named Prince, and took him to the vet for a checkup, the vet had another theory.
Neda Saghafi
"They said it's an old-school medication that they use on farm animals for infections — like cows and chickens and horses," Saghafi said. "So I guess that people had sprayed him with this, thinking it was going to help him. But it was weird because they'd sprayed a cross on his forehead, and it wasn't sprayed all over his body — it was just lines randomly all over."
Neda Saghafi
Whatever the paint was, it didn't come off very easily — and it didn't ultimately disappear until Prince's fur grew out. It also took a lot of time for his mange to heal.
"He had demodex mange, and he had a secondary skin infection," Saghafi said. "He was covered in scabs, and he was bloody and itchy. If you touched him, it was like you were touching a lizard or snake. He was one of the worst mange cases I've ever taken in, and I've taken in a lot of mange puppies."
Neda Saghafi
But after two months, Prince had regrown most of his fur.
"He still has patches missing in his face, but … he looks amazing, and he's bloomed so much from this sick, scared puppy," Saghafi said.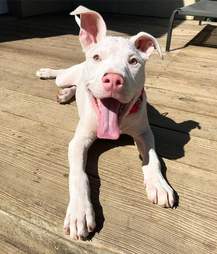 Neda Saghafi
It took far less time than that for Saghafi to fall madly in love with Prince, whom she also calls Chicken Nugget.
"Prince is very affectionate and very loving," she said. "He plays with all of my dogs — I have my pack, and then I have foster dogs. He just wants to be friends with everybody. And he's the best cuddler. When you hold him, he just melts in your arms and gives you kisses."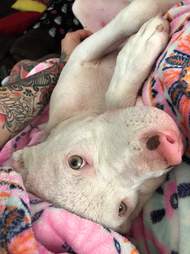 Neda Saghafi
In June, something unexpected happened — Saghafi found who she believes to be Prince's sister. This other puppy looks exactly like him, and she had a similar case of mange. She was also deaf.
"I got a message about another dog who was found in the same area," Saghafi said. "A family took her in, and was basically caring for her and paying for her medical needs, but she was living in the boarding facility. So I instantly messaged [the family], and said, 'This looks like a sibling to Prince. This has to be the sister.'"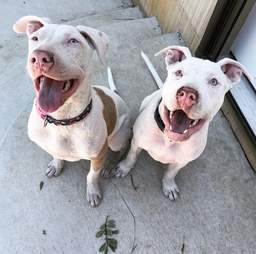 Prince reunited with his sister Cleo

| Neda Saghafi
Saghafi offered to foster the puppy, named Cleo, as well — a decision Prince seemed very happy about.
"They reunited and it was crazy," Saghafi said. "They just love each other, and they play with each other nonstop. Cleo follows him because she's deaf, and wants to be next to him."
Now both Prince and Cleo are looking for forever homes, but Saghafi admits that it's going to be hard to give Prince up.
"Prince has been one of my favorites," Saghafi said. "I'm definitely going to cry when he leaves my house. I kept going back and forth about whether or not I wanted to keep him, but we need to be able to keep saving other dogs, and I foster nonstop."
Neda Saghafi
Saghafi doesn't just want any home for Prince — she wants the right home.
"I know the perfect home is out there for him, and I'm very patient, and I'll wait as long as it takes until we find the right home," Saghafi said. "I'm not going to send him to another state or somewhere far away. We want to keep him pretty close to us."