Puppy Abandoned In Box Outside School With The Saddest Note
"Sorry it didn't have a home, and it was cold."
It was evening at a school in Detroit, Michigan. The children had gone home, and a janitor was cleaning the building. At one point, a knock sounded on the door.
The janitor peered out a window and saw a young boy racing away from the school. When the janitor went to the door and opened it, he found a cardboard box with a handwritten note taped to it.
"Sorry it didn't have a home, and it was cold so were going to give it to you," the note said. "Please do let it go find it a new home. Thank you."
Inside of the box was a tiny, frightened puppy.
Detroit Pit Crew Dog Rescue
The janitor immediately got in touch with a teacher who was known throughout the school as a big dog lover. The teacher retrieved the puppy, and she and her son gave the puppy a name — Snowflake. But they didn't keep Snowflake for long. The teacher contacted Detroit Pit Crew Dog Rescue, an organization that helps injured, sick and homeless dogs in the Detroit area, and she arranged for rescuers to take Snowflake into their care.
"She was so cute," Theresa Sumpter, founder and director of Detroit Pit Crew Dog Rescue, told The Dodo. "I guess this child had wanted a better life or a home for the puppy. We've never been able to make contact with him, but it looked like he was trying to take care of the puppy."
Detroit Pit Crew Dog Rescue
"In the box was a blanket for the puppy," Sumpter added. "There was some dog food and some slices of lunch meat. He actually poked holes in the box so the puppy could breathe."
Initially, Snowflake, who's about 7 and a half weeks old, didn't want to leave the safety of the cardboard box. Sumpter allowed her to stay in there, and even put in an extra blanket to keep Snowflake warm.
Detroit Pit Crew Dog Rescue
"She really likes the box — I don't know why," Sumpter said. "She likes to sit in the box, she likes to lie in the box, she likes her toys in the box."
Eventually, Snowflake did need to leave her box to get dewormed and vaccinated at the vet. Then Snowflake went into foster care, although she's not up for adoption yet, Sumpter explained.
Detroit Pit Crew Dog Rescue
"We never know what the backstories are with these dogs," Sumpter said. "So for safety's sake, we have her on stray hold just in case someone comes forward and says, 'Hey, that's my lost puppy. I didn't know what happened to it — it got out of the yard.' And maybe the child picked it up, and the only thing they knew to do was put it in a box and take it to the school."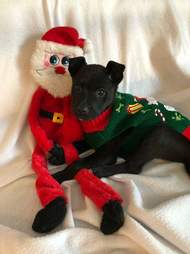 Detroit Pit Crew Dog Rescue
If no one claims Snowflake, Detroit Pit Crew Dog Rescue will make sure she finds the best possible home. But for now, Snowflake is enjoying life with her foster family.
Detroit Pit Crew Dog Rescue
"She's doing wonderfully," Sumpter said. "They have some dogs there that are really mothering to her, so she's enjoying life in her foster home."