Littlest Puppies Find Themselves In VERY Sticky Situation
"It was thrilling to see these sweet pups come back to life."
A group of puppies was huddled up on the streets of Tirur, India, in the middle of the night when suddenly a barrel collapsed on top of them, spilling tar all over the tiny pups. Unable to move and barely able to breathe through the sticky substance, the puppies whimpered and struggled until, finally, morning came and someone heard them. By that point, the puppies had likely been stuck for around eight hours.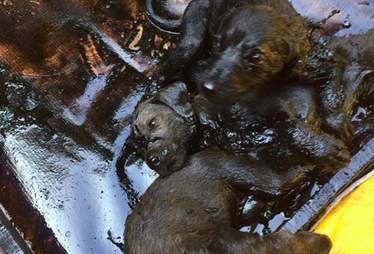 HSI India
As soon as people in the area realized what had happened, they began rallying together to try and free the puppies from the toxic tar. Humane Society International (HSI) India was called to come and help, and rescuers drove two hours out to Tirur. When they arrived, they were amazed to find that all of the locals were still working hard and had yet to give up on the very stuck little puppies.
HSI India
"This was such an awesome community effort because there is absolutely no doubt that these puppies would have died had the local people not come to their rescue," Sally Varma, education and awareness officer for HSI India, said in a press release. "These tiny puppies had been trapped in the tar for many hours, and were exhausted as well as overwhelmed by the noxious fumes. They had tar covering their eyes, and in their noses and mouths, so they would surely have perished were it not for these compassionate people."
HSI India
Eventually, the puppies were freed from the tar, but their journey was far from over. The rescuers from HSI India took the puppies with them back to their facility in Nilambur, where they worked for hours cleaning the puppies with vegetable oil to get the tar out of their fur. It took a lot of work and patience …
HSI India
… but finally, all eight puppies were completely clean, and could at last be reunited with their worried mom.
HSI India
"HSI's animal welfare officers refused to give up, and worked tirelessly to remove the tar," Varma said. "It was thrilling to see these sweet pups come back to life and suckle from their mother after their ordeal."
HSI India
The puppies are still recovering in the care of HSI India, but are doing well so far, and everyone is so thrilled that they were found in time to save their lives. They'll remain in the care of their rescuers for two more weeks, and after that they'll be taken back to the town they came from, where the locals are all anxiously awaiting the chance to love and care for them.