Guy Hears Crying Coming From Deserted Island And Can't Believe What He Finds
They were so confused and hungry — and no one knows how they got there.
On Sunday night, Junior Cook and his friend, Leon Colombe, were relaxing in Cook's yard in Cross Lake, Manitoba, in Canada, when they heard some unusual sounds.
Cook lives right on a lake, so he reached for his binoculars and peered out across the water. He could see some small shapes moving in the distance, and brushed them off as wolves fighting on a nearby island, according to Deborah Vandekerkhove, director of Norway House Animal Rescue, a rescue based in Winnipeg, Manitoba.
"They didn't think anything of it, and then the next morning when they woke up they heard the sounds again," Vandekerkhove told The Dodo. "They took their binoculars and they saw some dark figures on an island so they thought they would boat over to see what was going on. As they got closer to the island, they started videotaping because they realized the animals were puppies."
Deborah Vandekerkhove
As their boat approached, seven fluffy 4-month-old puppies ran up to the shore to greet their saviors, tails wagging. But when the men dismounted from the boat, they could see that, under their thick coats, the puppies were starving.
From their scrawny appearance it seemed the little castaways had been stuck on the island for at least a few weeks.
"It's just some fir trees and rocks, and a lot of high, thick grass," Vandekerkhove said. "There's nothing — no food, no water."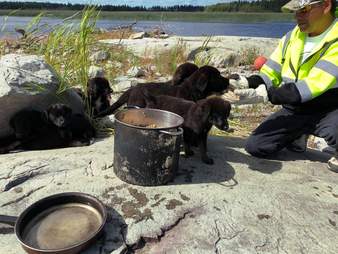 Deborah Vandekerkhove
The two men gave the puppies the small amount of food they had with them, but the dogs were frightened of getting too close. Upon returning home, Cook and Colombe got in touch with Vandekerkhove and began to work on a plan to save the mistreated puppies, whom they named after characters from the TV show "Gilligan's Island" — Gilligan, Skipper, Ginger, the Professor, Mary Ann, Thurston Howell III and Mrs. Howell.
But first they had to earn their trust.
Skipper (left), Gilligan (right)

| Deborah Vandekerkhove
"You could see from the videos that if you touch them they would scream," Vandekerkhove said. "So they had had human contact in their life, but it had been a while."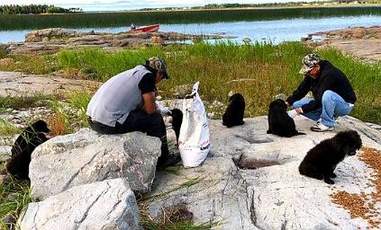 Deborah Vandekerkhove
And so "Operation Gilligan's Island" began.
For two days, the men ferried food and fresh drinking water over to the island, along with medical supplies and dog kennels. Cook even dragged his own doghouse across the lake so the nervous dogs would have some protection from the elements.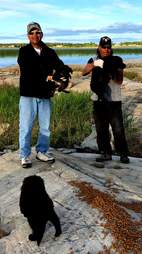 Deborah Vandekerkhove
By Wednesday, the puppies were finally comfortable enough around their caretakers to be safely rescued and brought to a foster home.
Now that they're easing into their new life, most of the pups are all too happy to leave their painful past behind.
"Two of the girls are still a little bit shy, but the rest of them, now that they're inland, it's like nothing ever happened," Vandekerkhove said. "They were playing with toys right away."
"It took two days to gain [their] trust — and the two girls will just need a little more work to know that humans aren't there to hurt them — but the other ones are just doing terrific, they're very social," she added. "There are a couple of boys, Skipper and Gilligan, who are almost inseparable."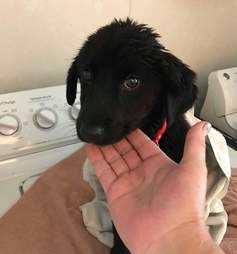 Deborah Vandekerkhove
While it is still unclear how the puppies got to the island, the important thing is that they are safe.
The puppies are being transferred to Winnipeg Pet Rescue, where they will be under veterinarian care for a few weeks until their rescuers can confirm that they are healthy, safe and properly socialized enough to be ready to find their forever homes. Vandekerkhove is optimistic that all the puppies will make a full recovery.
"They're doing great," Vandekerkhove added. "Every day they're just getting better and better."