Pug Wears Pajamas And Socks So He'll Always Feel Safe When He 'Walks'
"He's just such a great, resilient little boy. No matter what has been done to him, it hasn't affected his spirit as well."
Frankie the pug came into Izabella St. James' life the way most dogs do — injured, neglected and in dire need of a loving home.
St. James, a pug rescuer and the woman behind The Pug Queen, first learned about Frankie through a friend.
"It was a couple weeks before I was supposed to move, and I had so many dogs and I was totally overwhelmed with the amount of rescues," St. James told The Dodo. "But a friend reached out to me and said, 'FYI, there is little boy pug who is completely injured.' There was a post somewhere on Facebook that someone had got him, and he needed help and couldn't walk, and they didn't know how to help him. And she said, 'Would you be willing to help him?'"
Frankie before being rescued by The Pug Queen

| The Pug Queen
St. James couldn't say "no," so she and her friend organized to pick up Frankie as soon as possible.
But when St. James met Frankie, her heart broke. The little pug was only about 4 months old, but his little body was already badly broken.
"I took him to my vet to do some scans and testing and X-rays, and [the vet] told me that not only was his pelvis broken, but his hips were broken, his femur was shattered and his knees were out of place," St. James said. "He also had a break in his front leg and a major ulcer in his eye."
An X-ray showing Frankie's broken bones

| The Pug Queen
There was also a mysterious burn on Frankie's back. "It looked like a hot water burn or something like that," St. James said.
The origins of Frankie's injuries may always remain a mystery — the only information St. James has is what her friend read on the Facebook post about him.
"The story was that he belonged to some backyard breeder," St. James said. "They sold some puppies, and they gave [Frankie] to their cousin's boyfriend. I don't know if he was a pug person, but his intention was to keep him in the garage and breed him when he gets older. How you put a tiny little puppy into a garage and keep him there is beyond me."
Frankie being treated at the vet

| The Pug Queen
Not long after that, Frankie became severely injured and unable to walk — and the man returned the pug to the breeder.
"The guy who had him claimed that it was a spider bite," St. James said. "But, as we found out, nearly every single bone in his lower body is broken. Clearly, we know that spiders don't break bones."
If Frankie had indeed been kept in a garage, there was a more likely scenario. "My vet ventured a guess that it's possible they ran him over in the car ... and dragged him," St. James said.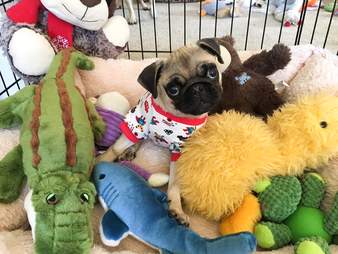 Frankie in his playpen at home

| The Pug Queen
Whatever had happened, Frankie was in desperate need of medical attention — he's already had one surgery, and he will need at least one more, as well as constant physical therapy, according to St. James. Even so, the little pug will probably never be able to properly walk.
"I can't even fathom the amount of pain and suffering this little baby has gone through," St. James said.
St. James plans to get Frankie a wheelchair, but first he needs to get through his next surgery. So for now, Frankie drags the lower part of his body around.
St. James holding Frankie and Chance, two of her special needs pugs

| The Pug Queen
"I got him a bunch of 'drag bags,'" St. James said. "Literally, it's a bag that you put the lower half of the body in, and you kind of fasten it around his legs. So when he drags his legs around … it protects the skin from not getting scraped."
But Frankie wasn't a fan of the drag bags. "He doesn't want to walk around in them," St. James said. "Or the other pugs pull on it — they think it's a toy."
So St. James tried something else — she put Frankie into doggy pajamas and socks to protect his injured legs and skin.
Frankie modeling one of his many pairs of pajamas and socks

| The Pug Queen
"We have different colors and different styles," St. James said. "It's all about protecting him."
He also clearly looks adorable.
The Pug Queen
"I can't even when he sits there in his little sockies," she said. "Sometimes he doesn't want me to put them on — he'll put his little pawsies up and it's really funny. But once they're on, I think he knows that it allows him more movement when he has them on."
Despite everything he's been through, nothing has broken Frankie's spirit.
Frankie and Chance sharing a dog bed

| The Pug Queen
"He just wants to be a normal pug," St. James said. "He wants to get out and play with the others. He tries so hard to be part of the group."
"He's very feisty," she added. "When the other pugs are playing, he rushes over and gets in the middle of everything. So my nickname for him is 'The Supervisor.' If there's any action, Frankie is there."
Frankie wearing his pajamas in his playpen

| The Pug Queen
St. James does hope Frankie will eventually have more mobility — and she's doing everything she can to try and make that happen.
"My hope is that he will be very mobile and independent with the wheels," she said. "And if he could stand and walk and go potty on his own, that would be amazing. Because he tries. When he's eating his food, he tries to get up. Sometimes I hold his little tushy up. And I know when he goes potty, he tries to stand up."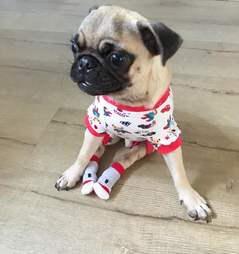 The Pug Queen
But Frankie never gets discouraged — and he's full of love for everyone, especially St. James.
"He's extremely loving," St. James said. "Every time I take him out and pick him up, he instantly starts kissing me, and he will give me a million kisses."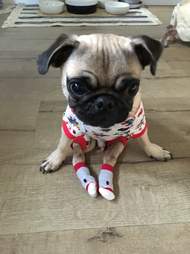 The Pug Queen
"He's just such a great, resilient little boy," she added. "There's a lesson there for all of us to overcome and keep going. No matter what has been done to him, it hasn't affected his spirit as well."