Woman Flies All The Way To Iran To Save A Sick Pug She's Never Met
"I saw the dog, and he was in very bad shape. He was just skin and bones. I was crying the entire flight back."
Before Chance got his name, the tiny pug didn't seem to have a chance in the world. Not only was he injured and disabled, but he was also living in a place where he couldn't get the help he needed.
But in the most amazing chain of events, Chance got a second shot at life — and he has two women to thank.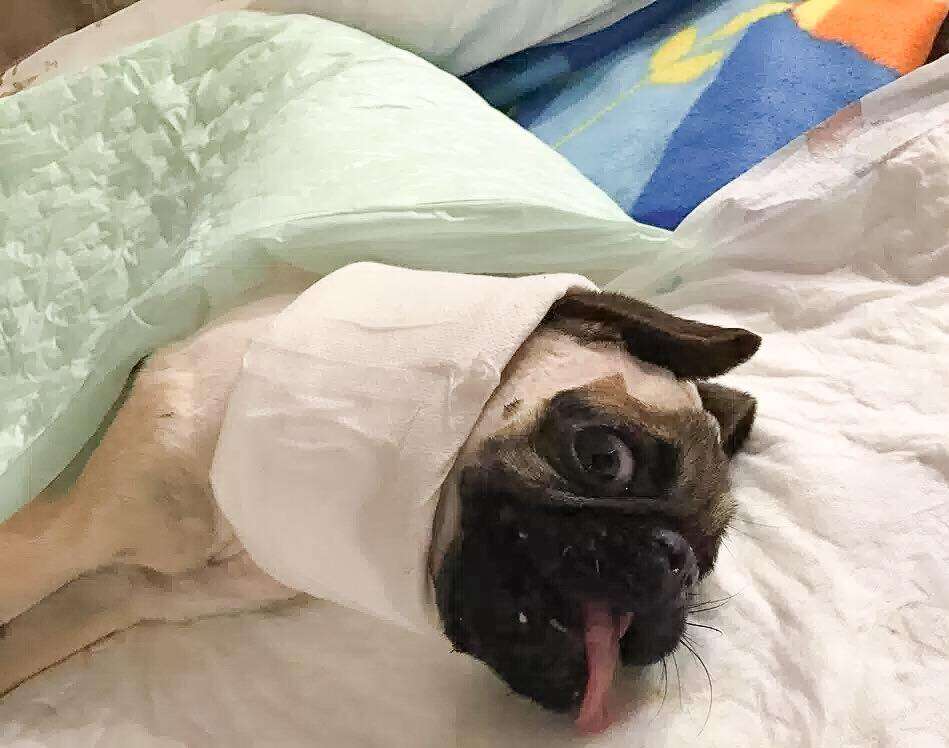 Izabella St. James first learned about Chance when an Iranian woman, Katy Kargosha, who lives in New Orleans, sent her a private message on Instagram.
"She sent me a video of a pug who was crippled, and when I saw his little face, I was crying," St. James, a pug rescuer and the woman behind The Pug Queen, told The Dodo. "He was lying still with this horrendous neck brace on him, and he was just crying and barking, and he couldn't move."
"She asked me if doctors could do anything for this pug," St. James added. "And I said, 'Yes. Send him to me. I'll pay for his flight.'"
But Chance wasn't in the United States — he was in Iran. So getting him medical help was going to be difficult.
St. James and Kargosha continued their correspondence, and St. James tried to get as much backstory as she could about Chance. From what she'd been told, Chance had been abused by his original family in Tehran, which caused a life-threatening injury to his neck. However, his family didn't seek help, according to St. James.
"They didn't take him to the vet," St. James said. "They just let him be disabled and injured as he was, so things healed in a bad way."
A local Iranian animal lover, however, saw Chance at the family's home, and took the video of him that eventually made its way to St. James and Kargosha.
St. James offered to pay for Chance's flight to the U.S., and also for the surgery he desperately needed. But when St. James and Kargosha tried to find a volunteer to fly Chance from Iran to the U.S., they had a lot of trouble — it had a lot to do with President Trump's travel ban, which prohibited citizens from Syria, Iran, Libya, Somalia, Sudan and Yemen from obtaining visas and entering the U.S.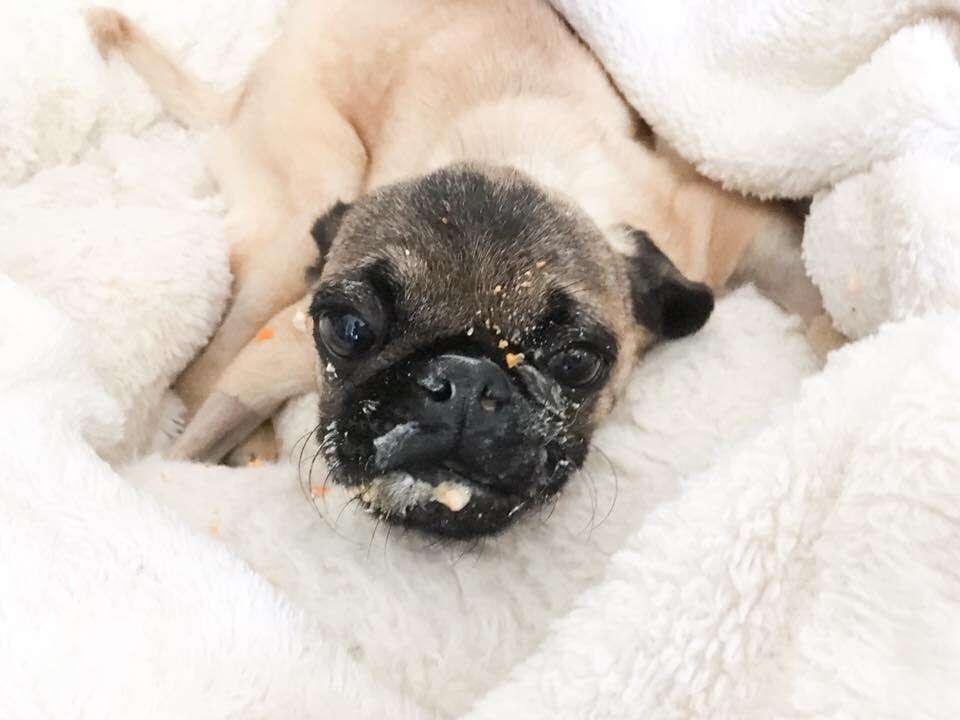 "We couldn't find anybody," Kargosha told The Dodo. "Iranians were canceling their flights because everybody was scared to leave the country ... they didn't know what was going to happen. They thought maybe they wouldn't be able to get back to the United States."
But Chance didn't have that much time — he desperately needed surgery if he was going to live. Since St. James and Kargosha couldn't figure out how to get Chance to the U.S., a local family offered to pay for his surgery in Iran, and then keep him in foster care.
The surgery, however, didn't go well, and Chance seemed to have less mobility than he did before, according to St. James.
"He couldn't walk on his own," St. James said. "They had to hand-feed him and help him go to the bathroom. They had to make sure he didn't move and hurt himself after that surgery — he could hurt himself."
The foster family may have been well-intentioned in the beginning, but they ultimately decided that Chance was too much work, St. James explained. They tried to find him another place, but ended up giving him back to his original family — the same people who caused the neck injury in the first place.
Not surprisingly, this turned out to be a terrible decision. A few days later, Chance's original family dumped him on the side of the road.
"They didn't want him, so they left him on the side of a road in a dirt patch right by the curb," St. James said. "He had no food or no water, he was just laying there in the dark."
Luckily, people found him — and they recognized him. "The animal helping community is very small there," St. James explained.
They took him home, and through social media, Kargosha found out what happened to Chance. She reached out to St. James again, begging for her help.
"She said, 'No one in Iran wants to help him. You are his only chance,'" St. James said.
But when St. James and Kargosha tried to figure out how to get Chance to the U.S., they ran into the same problems as before — they couldn't find anyone to fly with him. St. James considered going herself to pick Chance up, but getting a visa for even a short trip would be difficult for a U.S. citizen. So Kargosha said she'd go.
"She booked a flight that day," St. James said. "It was a Thursday night, and the flight was leaving Saturday. So she flew from New Orleans to D.C., D.C. to Frankfurt, Frankfurt to Iran. She was literally at the [Tehran] airport for four hours, and the people who had him brought him to the airport because she didn't even have enough time to go into the city and get him."
When Kargosha eventually got to the Tehran airport, she broke down at the sight of Chance.
"I saw the dog, and he was in very bad shape," Kargosha said. "He was just skin and bones. I was crying the entire flight back."
But despite Chance being in a horrible condition, he made it to Los Angeles, where St. James was at the airport to greet him.
"I still didn't really believe until the moment that I saw her and she pulled him out of that bag that it was really going to happen," St. James said. "What are the chances of working on something for four months for this disabled little pup from Iran."
Chance may be in the U.S. now, but his journey is far from over. When St. James took Chance to a specialized veterinary hospital, the neurosurgeon didn't have good news.
"She basically said that she couldn't believe that he was able to move at all, or even that he's able to breathe," St. James said. "The only chance he has of walking and having a normal life is surgery — if he survives it. If he doesn't have the surgery, she said, 'I don't know what kind of quality of life he will have and you may want to consider euthanizing him.'"
Euthanization, however, was out of the question for St. James. So she took Chance in for the surgery, despite the procedure carrying a lot of risks.
"They [the vets] had said, 'If he's going to die, he'll die within those first 12 hours,'" St. James said. "But he survived the surgery, and he survived the first 12 hours."
Once Chance has recovered from the surgery, he'll have more mobility and a better quality of life. But his recovery process will be long and arduous.
"We hold him as much as possible," St. James said. "We have a stroller that we use around the apartment. We take him to get Puppuccinos at Starbucks. He never cries or barks unless he moves in a way that hurts him."
Chance still has his bad days, but he's got one thing going for him — the will to live. And St. James is amazed by how well he's doing.
"He's just the most incredible dog with the strongest spirit to survive," St. James added. "I've never seen anything like it."
"I let my followers name him Chance because he came here to get a second chance, and he came here to America to get a chance to live," St. James said. "He's just become this international symbol for the pug community. He has such a determination to live, and he has the most gentle, innocent sweet little soul."