Senior Dog Who Misses His Dad Learns To Cuddle Dummy Instead
"He slept through the night wrapped in the dummy. It was truly remarkable."
For 11 years, Shorty and his dad Marc have been inseparable.
Since the day Marc rescued Shorty from a Philadelphia shelter, the pug has followed his dad everywhere. But at 15 years old, Shorty isn't as spry as he once was — which means staying home more and more.
"Shorty and Marc have a very special relationship," Kristen Peralta, Marc's wife, told The Dodo. "Marc calls Shorty his 'angel dog.' Shorty is just so happy when Marc is holding him."
However, age doesn't make the pug miss his dad any less — which has become a bit of an issue lately.
"He's been having a lot of separation anxiety in his senior years and, unfortunately, Marc has to travel a good amount for work," Peralta said. "Shorty will bark and cry when Marc is gone and nothing seems to calm him."
"He won't even settle when I am holding him now," Peralta added. "He just wants his dad."
The Peraltas run Vintage Pet Rescue, a retirement home for senior dogs and hospice dogs located in Rhode Island.
When it became clear that even the loving attention of his mom and his many senior buddies wouldn't distract Shorty from his dad's absence, Peralta started getting creative.
Peralta tried putting one of Marc's shirts on a pillow, but Shorty immediately saw through the ruse and refused to be comforted.
It seemed nothing could replace Marc's warm embrace — until Peralta's mom had a brilliant idea.
A week ago, Peralta's mom secretly ordered a life-sized dummy from a Halloween store.
When the dummy arrived, Peralta was skeptical, but she was willing to try anything to ease the pug's suffering.
"I put one of Marc's already-worn shirts on it so it would have his smell," Peralta said. "I sat Shorty down on the lap, wrapped the arms around him, and he was asleep within half an hour."
"He slept through the night wrapped in the dummy," Peralta added. "It was truly remarkable."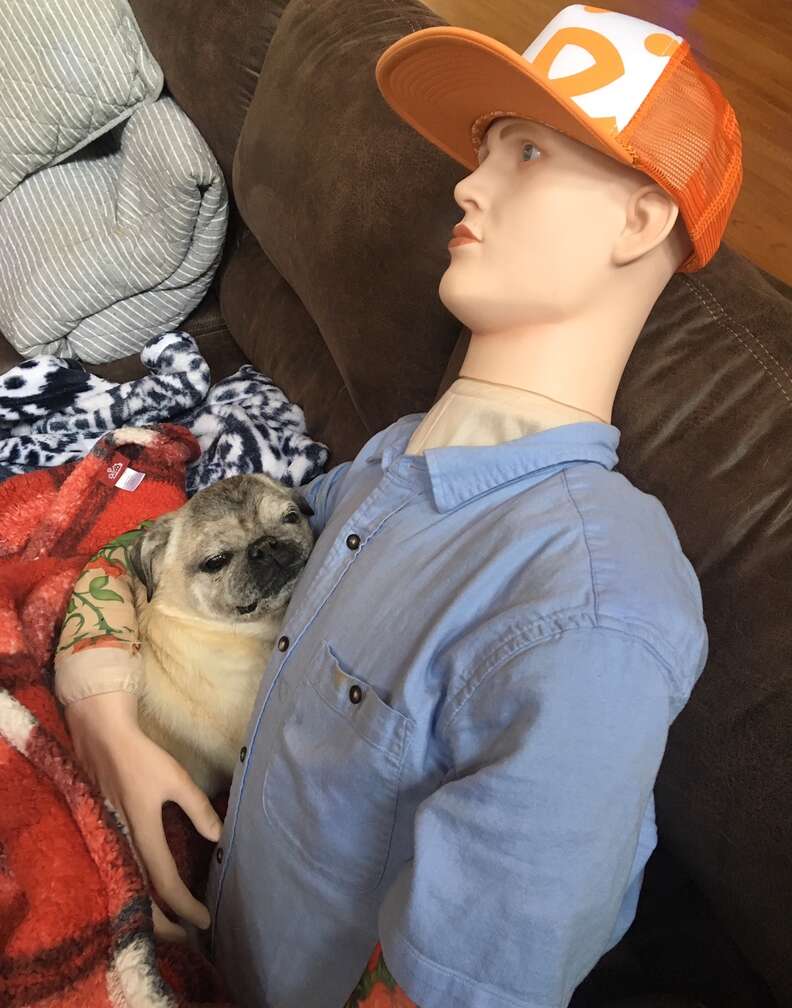 And Shorty isn't the only one who enjoys the latest stuffed addition. The dummy is so convincing, that Shorty's younger brother, Bug, believes that it will come to life and play with him.
"He thinks it's a real person so he was all over it," Peralta said, "licking the face and pulling on the hands. It was hilarious."
While Marc is glad Shorty no longer suffers when he's away, he's also hurt by the dog's new allegiance.
"Marc is a little upset that he is so easily replaced," Peralta wrote in a Facebook post, "but I told him not to worry. The dummy is not nearly as handsome or as smart as he is."
In fact, the stylish dummy has quickly become the most popular "volunteer" at the rescue.
"It's actually been completely adorable," Peralta said. "The other pups will lay next to the dummy or on its feet. Last night, five of them were huddled around the dummy."
Marc still doesn't see the resemblance — but he's happy that Shorty's happy.