Two Months Ago This Pregnant Abandoned Dog Had Nothing
"Who was wondering how Marie and her seven pups are doing? Look at this ... "
No one knows exactly how a dog named Marie ended up in the most dire situation.
Two months ago, the dog was found all alone on the porch of an empty house in Costa Rica. She had no food or water — and she was pregnant.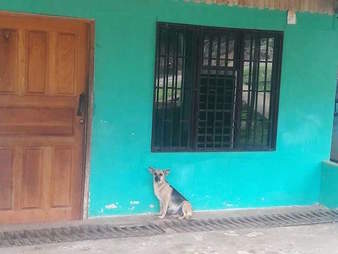 CAARCR
Someone who lived in the next house over took photos of Marie waiting there and contacted Tania Cappelluti, a woman who moved from Berlin, Germany, to Costa Rica several years ago to start a yoga retreat and ended up starting Charlie's Angels Animal Rescue Costa Rica (CAARCR) as well.
According to the neighbor, Marie's family had moved away and left her behind.
CAARCR
"They moved away and left their pregnant dog behind," Cappelluti wrote in August when she first heard about Marie. "No food or water. On her own, with a big belly. The poor girl is sitting now day and night in front of the door waiting for her people to come back home."
It was hard to imagine how Marie could recover from such a sudden loss — but, with a little help from Cappelluti (who rushed to find her a foster family before she gave birth) Marie showed just how resilient she really was.
CAARCR
After just a few days at local foster extraordinaire Wynn Mackey's house, Marie was feeling safe and loved — and she gave birth to seven healthy puppies.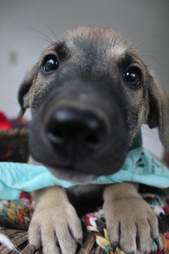 CAARCR
​​​​​"Who was wondering how Marie and her seven pups are doing?" Cappelluti wrote on Facebook earlier this month, updating all the people who had taken an interest in Marie's last-minute rescue. "Look at this ... They are doing JUST FINE."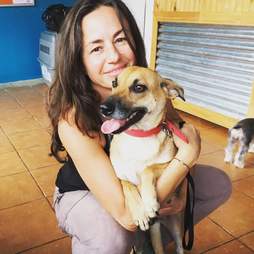 Tania Cappelluti with Marie

| CAARCR
Marie has been raising her six boy pups — Benny, Buster, Guido, Hansel, Luca and Tino — and one girl — Ani — at Mackey's house since she gave birth.
Marie's foster, Wynn Mackey, holding two of her puppies

| CAARCR
The whole happy-go-lucky family has passed the last couple of months running around the yard and playing.
CAARCR
But as anyone familiar with animal rescue knows, the story can't end here — each member of this lucky little family needs to find forever homes.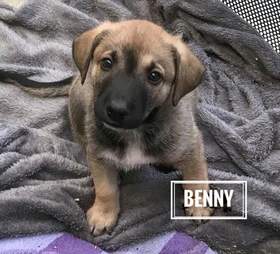 CAARCR
One family has already stepped forward to adopt Marie, which is unusual — most of the time, the mother dog has the hardest time getting adopted out, since people generally prefer puppies.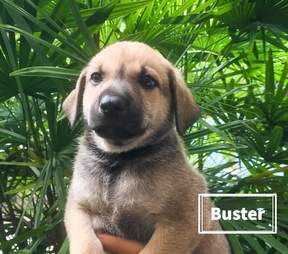 CAARCR
Luca was the next dog to have the stroke of luck of finding his forever home.
CAARCR
But the six remaining puppies still need homes. And this can become difficult, given the small community there, but Cappelluti is determined that each dog finds a wonderful home.
CAARCR
Because CAARCR is a small operation, it's difficult for the rescue to find flight escorts for the dogs back to the U.S. for people who may want to adopt them.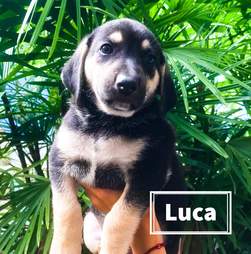 CAARCR
But Cappelluti said suggested that people vacationing in Costa Rica may want to come by CAARCR and consider bringing one of their rescue dogs home with them.
"If people could come get them here, we can accommodate them for a night in our rescue center," she said.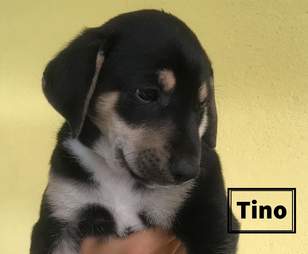 CAARCR
Even people who aren't looking to adopt a puppy right now can help this family find homes by sharing their story — Cappelluti has built her whole rescue around forming grassroots connections and networking with other people who love animals.
So far, such an approach has worked beautifully, and helped individuals like Marie — for whom fate took a turn for the worse — have a whole bright future ahead.