Cat Has Best Reaction To Finding Out She's Pregnant
Surprise! Kittens! 😸
Greenland's long winter season can be difficult for stray animals. The snowstorms and bitter cold can last well into spring — which means that, for cats and dogs fending for themselves, finding a safe haven is essential.
In mid-April, a young tabby cat was picked up off the streets of Nuuk, Greenland's capital, and brought to area shelter Dyrenes Venner (which translates roughly to "Protector of Animals in Greenland").
"Stray and lost cats have a really tough time during the winters up here," Inunnguaq Christiansen, a board member at Dyrenes Venner, told The Dodo. "With freezing temperatures and frequent storms, they often have to seek shelter in the basements of older buildings."
Volunteers named the friendly cat Ulla, and it was clear from the start just how grateful she was to be safe and warm. Ulla immediately made herself at home, cozying up to her rescuers, as well as the other cats, dogs and guinea pigs in the shelter.
"She's very lovely and caring," Christiansen said. "I brought my own dog, Yaris, to the shelter one time and Ulla immediately jumped on the cage."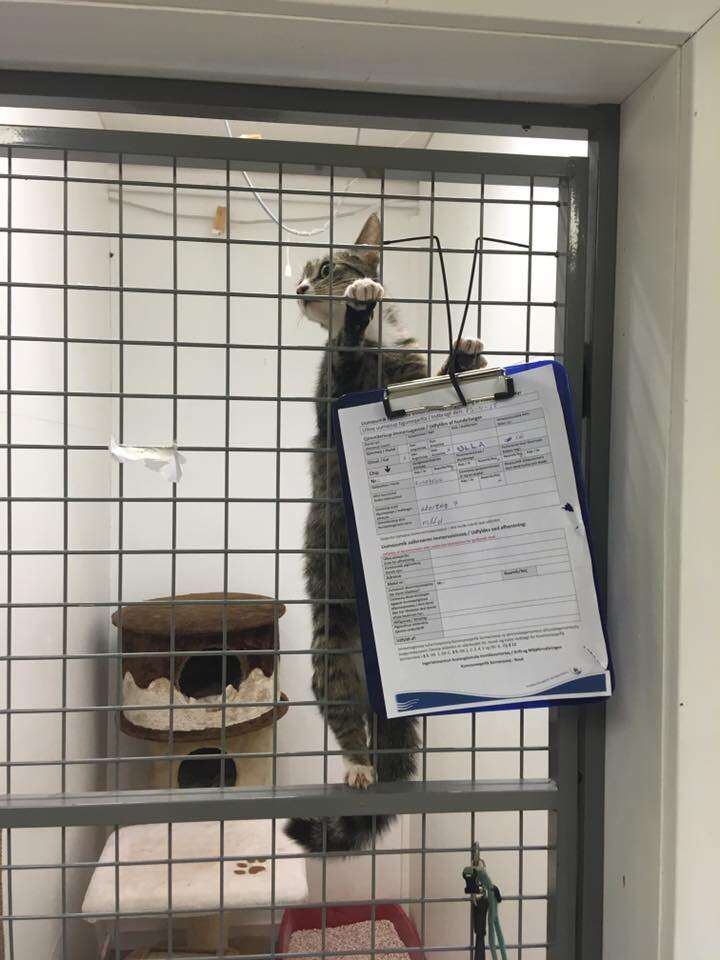 At just over a year old, Ulla's motherly nature might have been a hint to her rescuers that there was something unusual about the new arrival. But no one guessed that the little cat might be hiding a secret.
As the weeks passed, the once-thin cat appeared to be putting on weight at an alarming rate — stranger still, Ulla was packing on the pounds in one specific spot.
"One of the volunteers came with the comment that Ulla was getting pretty big," Christiansen said. "Upon closer inspection, it was only around the belly area, and her nipples were getting pretty stiff."
Ulla was taken to the only veterinary facility in Greenland and given an ultrasound.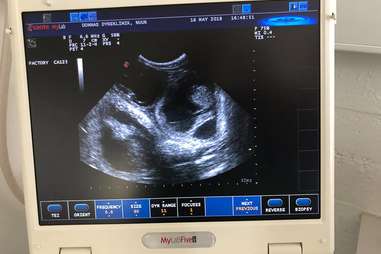 The news of the impending birth not only caught her rescuers off guard, but Ulla's shock was evident as well. Tone Frank, a board member at the shelter, snapped a few pictures during Ulla's procedure, capturing the little cat's wide-eyed surprise perfectly.
Frank shared the news and pictures with her fellow board members, and before she knew it, Ulla had gone viral on Reddit.
"The pictures were so funny I decided to post them on /r/aww during my lunch break to see if a couple of people would share my amusement," Christiansen said. "A few hours later and the post was exploding with 90,000 upvotes and over 900 comments. I spent the entire evening trying to reply to people … We got some really sweet PMs [private messages] from people thanking us for our efforts; it really lifted the mood for the volunteers at the shelter."
Not only has Ulla's hilarious reaction to her pregnancy brought her internet fame, it also helped her find a real home.
"She's been living at a foster family since Thursday on a trial period, and they really want to keep her and all of her kittens," Christiansen added. "With any luck, it's going to work out for them."
For now, Ulla is spending her time getting to know her new cat sibling, Sofus, and preparing for the arrival of her kittens.
"They're doing quite well, and the family has patience and understanding that Ulla needs a little extra space right now," Dyrenes Venner wrote on Facebook.
In just a few days, Ulla will be able to give birth in the comfort of a home instead of the cramped, noisy shelter. And though the kittens may have been a surprise at first, Ulla and her new family are prepared to give them a great start to life.