Woman Finally Discovers How Her Dog's Been Escaping His Yard
"We just thought he was jumping the fence … but no, he's jumping the house."
Like any other eager-to-please pup, Bo, a 1-year-old poodle from Missouri, couldn't wait to show off a new trick he learned all by himself.
Kim Breeden, Bo's mom, went outside to start her car earlier this week after letting her four dogs out into their fenced-in backyard. When she turned to go back inside, to her surprise, Bo was perched up on the roof smiling down at her.
Kim Breeden
"I looked up to see him looking down at me like he was the king of the castle," Breeden told The Dodo. "I was laughing, but at the same time, my heart was pounding, afraid for his safety!"
It turns out this wasn't Bo's first time taking his alternate route to the front yard. Breeden often finds him at the front door when she knows she just let him out back — but she never realized how he got there until now.
"He is enormous and can jump over just about anything," Breeden added. "We just thought he was jumping the fence … but no, he's jumping over the house."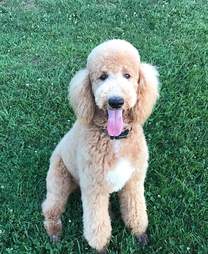 Kim Breeden
Since the house's roofline is shorter in the back than the front, Bo can hop up there in one swift motion and jump back down once he's past the fence.
While Breeden's dogs are trained to stay in the yard, the family will be keeping a close eye on Bo to make sure he isn't putting himself in danger with his new trick — and paying extra attention to any sounds they may hear coming from above.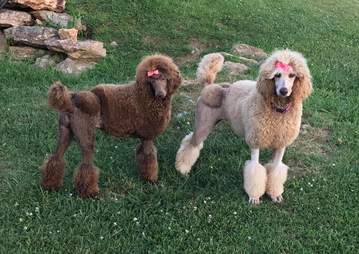 Two of Bo's little sisters, Lily and Fran

| Kim Breeden
"Sure enough, last night as we were cooking dinner, Bo ran out the back door and we heard paws on the rooftop," Breeden said. "A few seconds later he was standing at the front door."
Since Bo is the oldest dog in his family, Breeden said she hopes the others won't catch on to his high-flying antics. But with three other poodles in the house, only time will tell.