Cop Stops For Something Furry On Highway And Ends Up With New Family Member
Her name is Bella ❤️️
A police officer who found himself on an urgent rescue mission just before Christmas is now finding his home a little fuller in the new year.
Officer Jason Smith, of the North Kansas City Police Department, was driving in his squad car down the left lane of I-29 when he saw a ball of fur stuck on the barrier wall that split the multilane highway.
Radioing for help with traffic control, Officer Smith pulled over in the far left median and got out of his car.
From the first few seconds of the footage from Officer Smith's body camera, it becomes clear that this particular policeman also has a natural way with animals.
"Here kitty kitty kitty," he can be heard saying as he approaches the scared little kitten. And as Officer Smith scoops up the ball of fur in his hands, the kitten's high-pitched and pointed meow can be heard answering Smith's calls.
Back in his squad car, Officer Smith puts the kitten on his passenger seat. Promptly starting to explore, the kitten briefly sets off the siren before Officer Smith turns it off and decides to hold her.
The kitten then settles down and gladly accepts her rescuer's head rubs.
Thanks to the kind policeman with a quick eye, the kitten was safe.
But that wasn't the end of the story.
After Officer Smith brought the kitten to a local shelter for a checkup, she spent a few days there to make sure no one claimed her as theirs.
Then, Officer Smith went back to the shelter — and adopted her.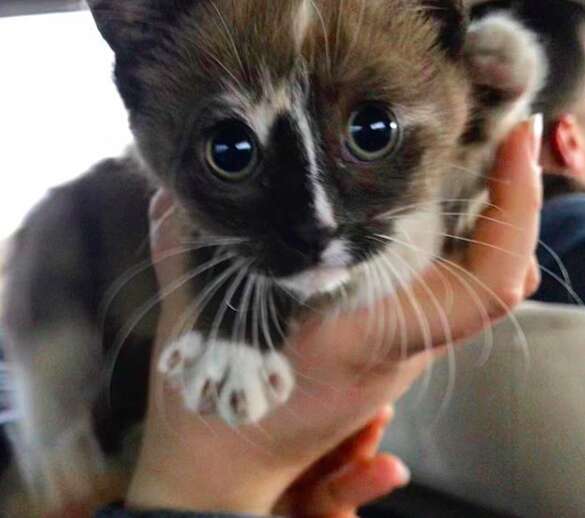 "Bella has been a great fit for our home ever since the rescue," Joshua Smith, Officer Smith's son, told The Dodo.
Bella joins the Smiths' small herd of rescued pets — which is comprised of a terrier mix named Zoey, a Chihuahua mix named Charlie, and another rescue cat, a Maine Coon named Jasper.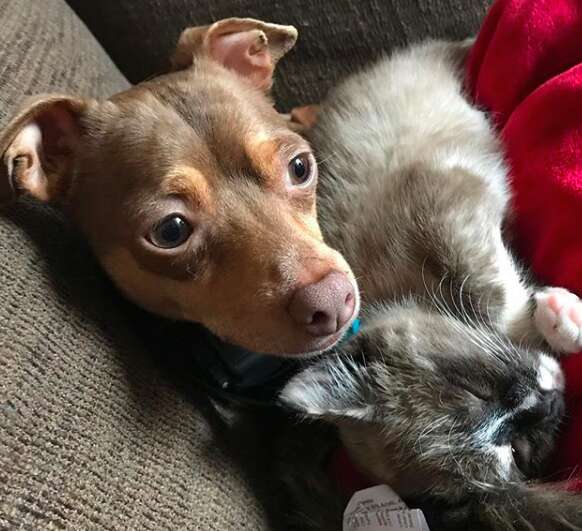 "Bella gets along with our two rescue dogs and other rescue kitty, but ONLY when she feels like it," Smith said. "She is definitely getting more and more comfortable with them every single day."
Jasper is a little more wary of this new cat in the home, but is slowly coming around to her. "[He] has been showing her some of the best spots to peek out the window, or sunbathe throughout the day," Smith said.
Jasper's reticence might have something to do with a loss the family suffered a few months before Bella arrived: The Smith family had had to say goodbye to Jasper's brother, Mocha, who passed away.
"There had been something missing in our house ever since," Smith said. "Bella coming into our lives gave us an extra touch of love that we have been missing."
You can follow all of Bella's adventures on
Instagram
.