Heroic Little Police Dog Performs CPR To 'Save' His Fallen Partner
Such a good boy ❤
Have no fear — Poncho the police dog is here.
(And he's adorable.)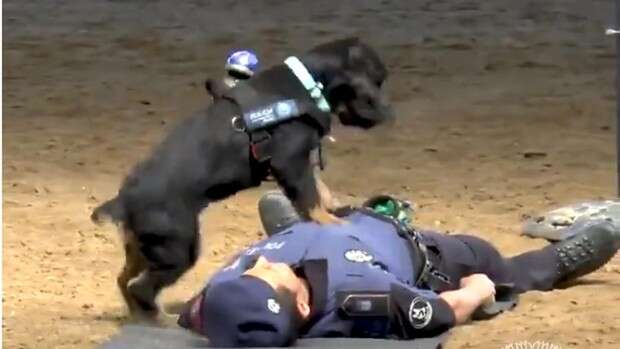 The very talented little dog is the star of a recent video shared by the Municipal Police of Madrid, Spain. In it, Poncho's human partner is seen simulating cardiac arrest during a training exhibition — prompting the sweet pup to show off how he's been taught to "resuscitate" him.
"'Heroic' performance of our four-pawed companion, Poncho, who did not hesitate a moment in 'saving the life' of the agent, practicing CPR in a masterful way," the police department wrote.
Here's Poncho in action, complete with a tiny blue siren on his back for good measure:
It isn't known what official role Poncho serves (or will serve) in the force — or how effective his CPR efforts would be in a real emergency — but judging from his eagerness to help someone in need, he's clearly found his calling.