The Bittersweet Story Behind These 10 Empty Dog Collars
"Despite everything, they know how to love."
When Kelly McLaughlin and her team from Bark Nation went to pick up 10 pit bulls from a shelter last weekend, the first thing she did was remove their old, tattered collars.
It doesn't seem like much, but to McLaughlin, it was the first step toward a new life for the dogs — who were seized from a dogfighting ring that spread across two counties in Michigan over the summer. The dogs had been held as evidence at a county shelter ever since.
"Getting those old, musty, sour-smelling collars off of those dogs was the best feeling," McLaughlin told The Dodo. "It's the moment that they change from a dog bred into dogfighting, to a pet."
Bark Nation
Investigations into the dogfighting rings began this spring, when authorities found 32 dogs chained in the backyard of a Kalamazoo, Michigan, home. The pit bulls were covered in wounds and scars — and a ring with fighting paraphernalia was discovered in the basement of the home.
Since then, officers have raided multiple other properties connected to the offenders and the suspects face multiple felony charges. A total of 52 dogs were seized — and as their former owners continue to be prosecuted, the dogs are being transferred to experienced rescue organizations through Bark Nation.
Bark Nation
In between bringing the dogs to various rescues in and out of state, McLaughlin and her staff have been fostering some of the dogs to continue to build their confidence in a home setting. And so far, they've been loving the chance to be a dog for the first time in their lives.
"The bulk of them are around 1 to 2 years old, and are just happy, healthy goofball dogs," McLaughlin said. "All they want is to play in the yard, lick your face and cuddle. We became smitten with these dogs right away. Despite everything, they know how to love."
Bark Nation
Like other dogs released from the case, the latest round of dogs, McLaughlin said, were kept in county shelters throughout the court proceedings — meaning that very little could be done to change their appearances except for veterinary care. So the old, thick collars from their previous owners remained for months.
Now they have new collars, new names and are learning how to play with toys and have fun.
Bark Nation
This is a far cry from the fate of many dogfighting survivors, who, under Michigan law, must be euthanized if a behavioral evaluation deems them unfit for a home. In some cases, fearful dogs in need of rehabilitation may be put down.
"Michigan has very strict dogfighting laws — which is really great — but it also makes it very difficult for crowded county shelters to place the dogs after they're seized," McLaughlin added, noting that an owner of a dogfight survivor can face unusually hefty fines if their dog ever bites someone. "The grand majority of survivors can be successfully rehabilitated, but they need to be given the opportunity to do so, not be put to death because of what they're born into."
When McLaughlin first heard about the dogs, she got in touch with the county shelter to see if Bark Nation, which specializes in placing dogfighting survivors, could evaluate the dogs.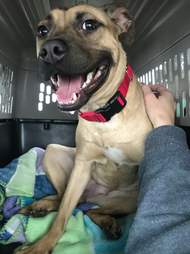 Bark Nation
The shelter agreed, and over the course of the past few months, Bark Nation has evaluated and placed the dogs with rescue groups who can continue their rehabilitation and training. Only 25 now wait to be transferred to a rescue — and four have already been adopted.
"These rescue groups can go at their pace and teach them what the world is," McLaughlin said. "The world got very big for them very quick — many were yard dogs, not house dogs. So they're learning how to live in a house, learn that positive interaction with people brings good things and, most importantly, that they're safe."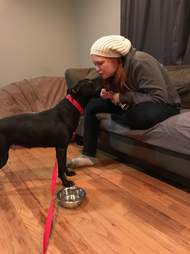 Bark Nation
While McLaughlin was not on scene to see the conditions of the dogs when they were first seized, she said many of them now show common signs of dogfighting — like scars, broken teeth and low body weight, alongside typical nervousness from never being in a traditional home environment.
"Because most of them were bred into fighting, they simply don't know what it's like to be a normal dog," McLaughlin said. "They're learning how to climb stairs, and walk through an open door without being scared. These are things they would've learned as a puppy, but they're learning now at 2 or 3 years old."
McLaughlin and her team have been visiting the dogs who still await release from the county shelter on a regular basis to provide them with a variety of enrichment sources like bones, toys or tasty Kong toys filled with treats.
Bark Nation
Soon enough, they'll be released and ready to be put up for adoption — and find a home that will give them all the love they deserve.
"At the end of the day, we just want to show people these are just dogs," McLaughlin said. "They were purposefully bred to fight — there was a plan for every one of these dogs, and every one of them included them in a life of pain and misery from the most barbaric act possible. They might be American pit bull terriers, but they just want to live their lives and be happy like us. It's our duty to have lifesaving avenues for them while we fight to end dogfighting."
To help Bark Nation continue transporting the dogs to new rescue groups, you can
make a donation
.
For information about adopting one of the rescued dogs,
contact Bark Nation
.