This Adoptable Dog Is Special Needs — But You Can't Tell From Looking At Her
Dogs with all types of stories need a little more love ❤️️
Special needs are not always obvious. Sometimes dogs seem perfectly typical at first glance, but underneath the surface they need a little extra support, and a little extra love — and one of those dogs is a pit bull named Lily.
Lily was rescued from a backyard in Staten Island, New York, when she was just 4 months old and was taken in by Fur Friends In Need, who quickly placed her in a foster home. The sweet little pit bull puppy was just a bundle of love from the very beginning, and everyone knew it wouldn't be long before her forever family came along and scooped her up.
Lily's foster family had two dogs of their own, and she absolutely adored playing and cuddling with them during her time there — so when a family with a dog applied to adopt Lily, it seemed like the perfect fit. Her foster family said their goodbyes and little Lily went off to her forever home in what seemed like the perfect happy ending.
Unfortunately, 5 months later, Lily was back with her foster family — because the sweet dog had some hidden special needs that no one had known about before.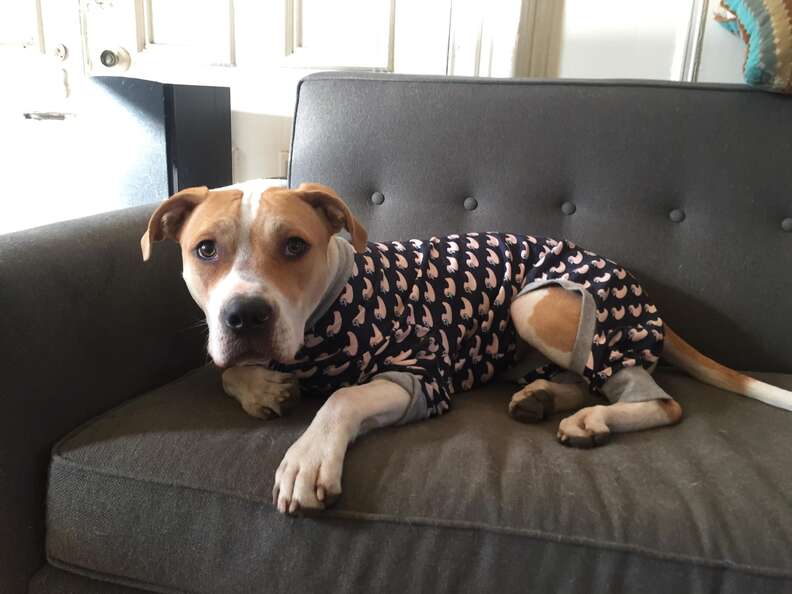 During her time with her new family, Lily started showing aggression towards other dogs when new dogs approached her suddenly, and her family didn't know how to handle it. They ignored the problem until it got worse, and they finally decided to return Lily to the rescue.
Now, Lily needs a new home again, with a family who understands her challenges and is willing to work with her on them, every single day.
Over the past six months Lily's been in foster care, she's been working hard on her training to become more secure around dogs in new situations and be less reactive on the leash. She LOVES her training and has made great progress. Her foster parents along with The Franklin Angus Fund raised money to send her to a month long training program at Instinct Dog Behavior and Training, a positive reinforcement program — and already her time there has made a world of difference in Lily's life.
As soon as Lily arrived at the training camp, her new trainers started figuring out what was causing her behavior issues. They observed that Lily became fearful and avoidant whenever a new dog approached, which caused her to become reactive. She's also is an extremely excitable, sensitive dog and has trouble calming herself down. While her fear of other dogs was clearly intense and she needed a lot of help dealing with her it, Lily's trainers could immediately see how eager she was to please the people around her, and were overjoyed when that eagerness translated into a beautiful desire to learn.
"Lily responded so well to the training," Amber Byleckie, Lily's trainer at Instinct, told The Dodo. "She was absolutely amazing! Training Lily was an absolute joy because she picked up on things SO quickly, she was so willing to learn, and she will do anything to make her human happy. Training possibilities with Lily are limitless!"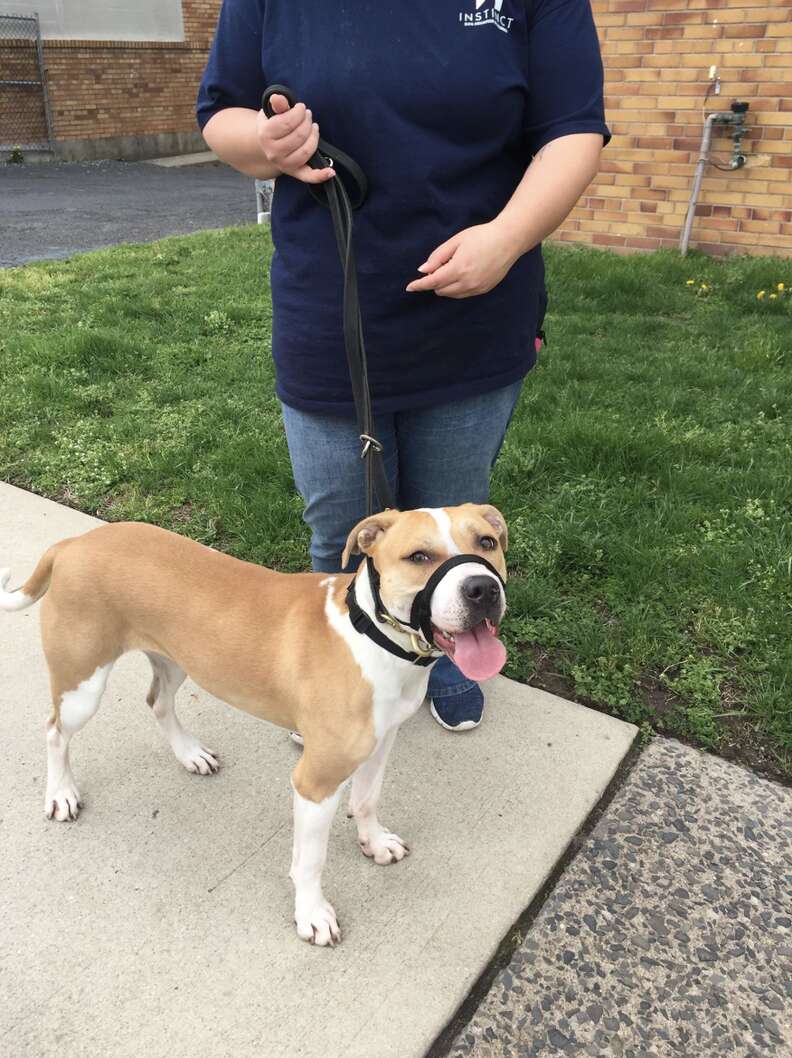 To help her get used to being around other dogs, Lily's trainers would offer her positive reinforcement, such as pets and treats, whenever a new dog was close. They also worked on establishing trust with whoever was handling her, so that she could learn to focus on her human and ignore the other dogs around her. By the end of her training, Lily had made huge strides, managing to do things that had seemed impossible for her before.
"In the first day of camp, Lily would be reactive towards dogs from a large distance (about half a block)," Byleckie said. "By the end of camp, Lily was able to calmly be on leash with other dogs within just a few feet of her and even went for pack walks with groups of dogs!"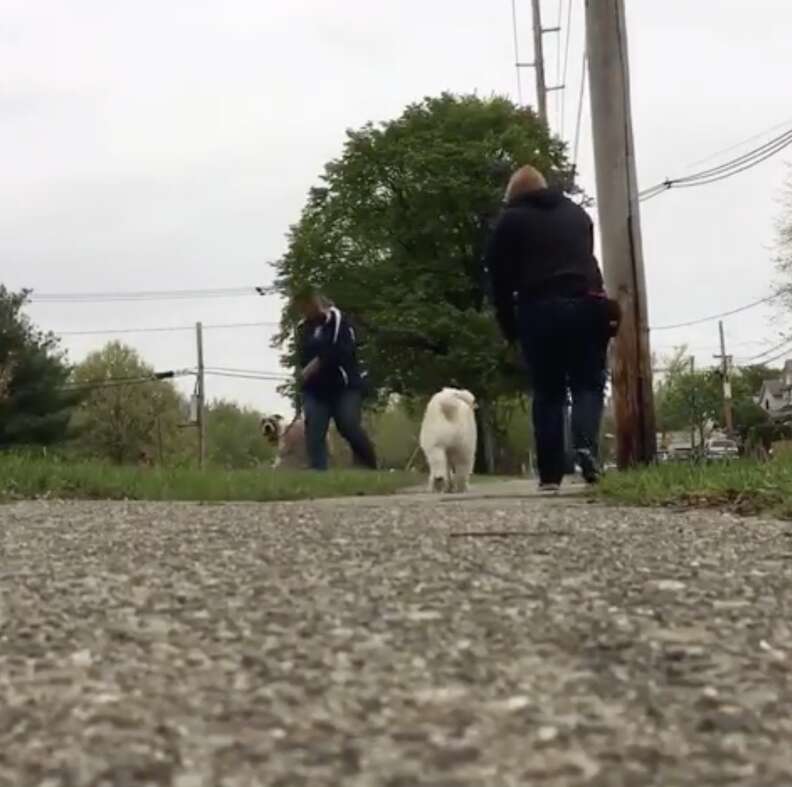 Lily has always loved people more than anything in the whole world, and through her training she's learned that if she just trusts her human, they'll keep her safe, and won't let anything bad happen to her, even around other dogs.
"You can actually see her thinking and making decisions that are hard for her," said Katy Brink, Lily's foster mom, who also works at The Dodo. "She used to see a dog and react immediately. Now she checks in like she's asking, 'Can you tell me what to do?' Sometimes she pulls or barks and you can tell she really wants to react, but she can usually refocus on her person now. You can tell she's trying so hard!"
While the progress Lily has made is wonderful, she will likely still struggle with these issues for the rest of her life, and that's OK. Lily just needs a family who understands that having a special needs dog doesn't always mean wheelchairs and diapers — sometimes it means working through fears and anxieties, every day. And even though it's hard sometimes, in the end it's completely worth it, because despite her struggles, Lily is one of a kind, and will bring so much joy to whoever decides to make her their forever friend.
"She really gets people — I think that her sensitivity is the flip side of being reactive towards dogs," Brink said. "She picks up on everything. More than most dogs, she's in tune with whatever you are doing or feeling and seems to know how silly and funny she is. It's like how some people would rather hang out with dogs than with people. Maybe people make them anxious, but they LOVE dogs. Lily's like that but dogs make her anxious and she's obsessed with people."
If you're someone who struggles with anxiety, Lily will understand you immediately — because she deals with it, too.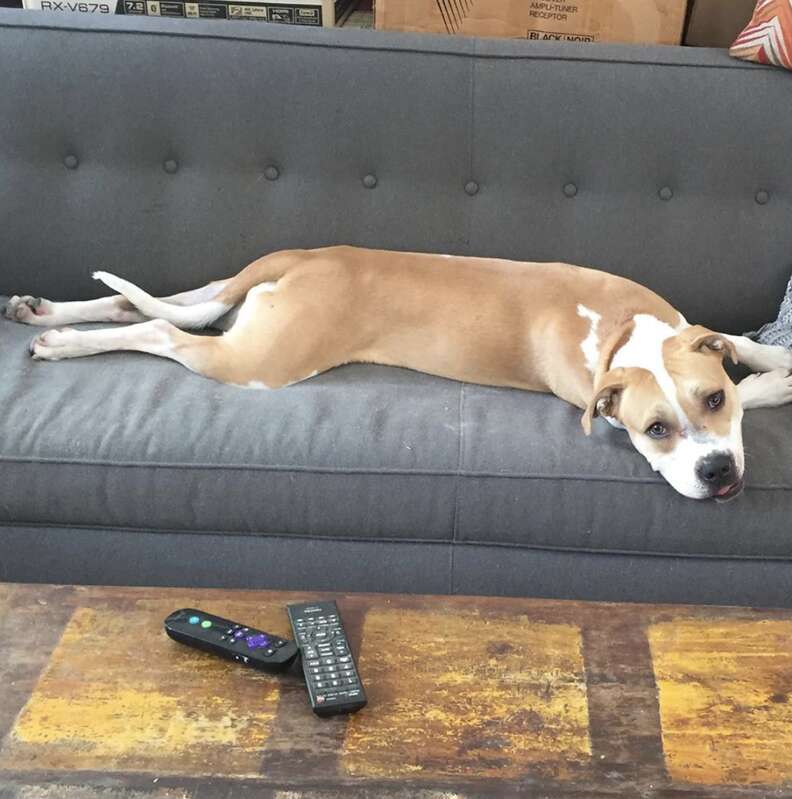 Despite all of the progress she's made, Lily will need to be the only dog in her future new home. Since attending her training program, she's actually become great with cats, and is best friends with her current foster brother cat. Lily still has tons of puppy energy, and would make a great running or jogging partner. Most of all though, Lily just wants a family who will let her love them with lots of cuddles and kisses, every single day for the rest of her life.
"Lily's forever home is going to need to be prepared for lots of slobbery kisses, snuggles and plenty of hilarious photo opportunities," Byleckie said.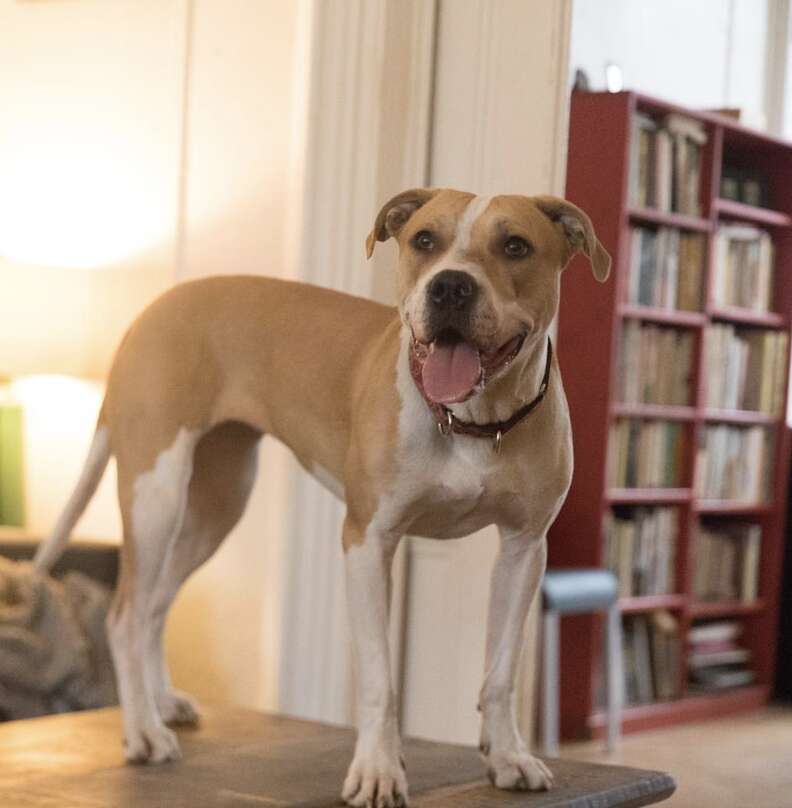 Back in her foster home again, Lily can no longer play with her foster dog siblings, Sasha and Norman, the same way she used to. She has to wear a muzzle whenever she's around them, and her foster parents are eager to find her a new home where she's the only dog, so she can just relax with the people she loves stress-free.