Pit Bull Abandoned In Canyon Survived On Her Own For 2 Whole Weeks
Finally someone stopped to help, and now she needs a home
After Zelda was abandoned in the middle of a remote canyon, she roamed around for two weeks, with no way to escape the dust and heat, just waiting for someone to help her. Finally, some passersby noticed the poor pit bull wandering all alone, and contacted someone who they knew could help.
Hope for Paws got the call about Zelda and immediately drove out to the canyon to look for her. Coyotes, cars and extreme heat are all dangers that poor Zelda faced being on her own, and rescuers knew they had to act fast in order to save her. They found her resting on a tiny strip of dirt next to the road, in a little patch of shade, trying her best to escape the heat. 
Hope for Paws
Having been alone for so long, Zelda was terrified of her rescuers …
Hope for Paws
… but was also very, very hungry, and eagerly accepted the food they offered her.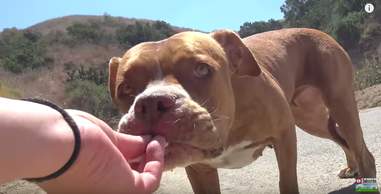 Hope for Paws
Animal control and several Good Samaritans had tried to catch Zelda, but with no success, and so the Hope for Paws rescuers knew they had to move slowly so as not to spook her. Finally, while one rescuer fed Zelda some treats, another slowly crept up behind her …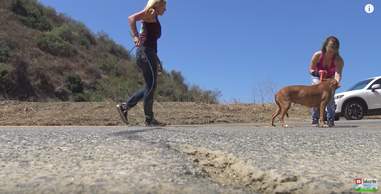 Hope for Paws
… and was able to slip a snare around her neck, ensuring that she was finally safe.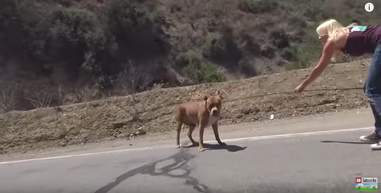 Hope for Paws
The pit bull was still incredibly nervous for a few minutes, but it wasn't long before she began to relax, and accepted lots of pats and love from the women who helped to save her life.
The rescuers loaded Zelda into their car, and she almost seemed to be smiling as she settled into the backseat, relieved to finally be out of the vast canyon.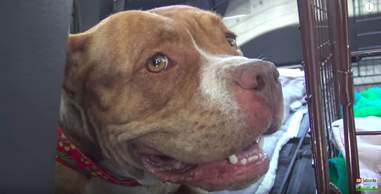 Hope for Paws
Zelda was taken to the vet to get checked out, where she received more love and cuddles, her tail wagging the entire time …
Hope for Paws
… and before long she found her way into the best foster home, where she's currently waiting for her forever family to find her.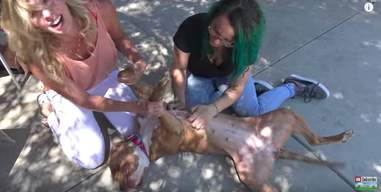 Hope for Paws
Zelda was abandoned in one of the worst places, but now she has so many people rooting for her, and hopefully she'll be adopted into her new family very, very soon.
If you're interested in adopting Zelda, you can contact LA Animal Rescue for more information. 
Watch the full video of Zelda's rescue below: