Pit Bull With Broken Legs Is Saved From Backyard — And Finally Learning To Trust
"Now when we see him his tail starts wagging and he runs to us."
Nereus the pit bull is 9 years old and has spent almost his entire life in a cluttered backyard. He was only brought inside occasionally, and when he was, it was to a dark, filthy basement. While he was in the yard, he mostly lived in a crate, and was chained up all the time. Nereus was pretty much left to fend for himself, and when he hurt his back legs, they were left completely untreated — for two whole years.
Finally, a woman in Nereus' neighborhood who'd seen him limping around decided she couldn't let him live in pain any longer. She called New York Bully Crew's emergency hotline, hoping the rescue would be able to help the poor senior pittie. One of the rescue's volunteers went to the neighborhood with her friend, who is a police officer, found the yard where Nereus was being kept and boldly asked the man living there if he would let her help his dog. He immediately agreed.
Not wanting to get in trouble, the man gave up Nereus to the volunteer and the police officer without any sort of a fight. The pair quickly took Nereus to their car, overjoyed that he would finally get the help he deserved. It was then that they noticed something about Nereus was a little off.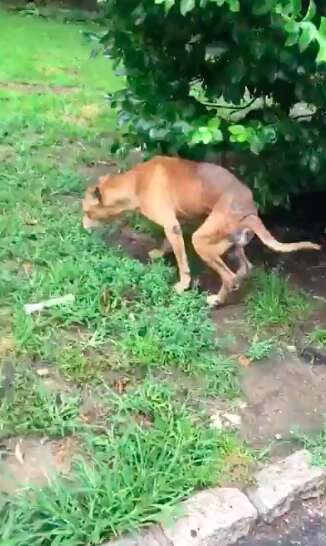 "He was distant; it wasn't like the usual excitement of being rescued," Craig Fields, founder of New York Bully Crew, told The Dodo. "He just wasn't used to physical touch, and he had no desire for human attention."
Poor Nereus had been in that yard without love or attention for so long that he had no idea how to accept it once it was finally being presented to him. His rescuers knew he had a long way to go, and quickly rushed him to the vet to focus on his medical issues first.
After being examined, it was determined that Nereus was extremely emaciated, and had atrophy and arthritis in both his back legs. It's likely that his legs were broken at some point and never treated, causing his current issues. He was also missing a lot of fur on his back and face, and was absolutely covered in fleas. He even had an entire pocket of them living in his back.
Nereus started treatment for all of his issues, but unfortunately, he will likely need to have one of his legs amputated, as there is just too much damage. While Nereus' medical issues could be immediately addressed, rescuers knew his emotional issues would likely take a lot longer to heal — but the resilient dog soon began to surprise them.
"He loves attention now," Fields said. "After only a couple of days he started showing some affection towards us, and it took him a week to seek attention on his own. Now when we see him his tail starts wagging and he runs to us."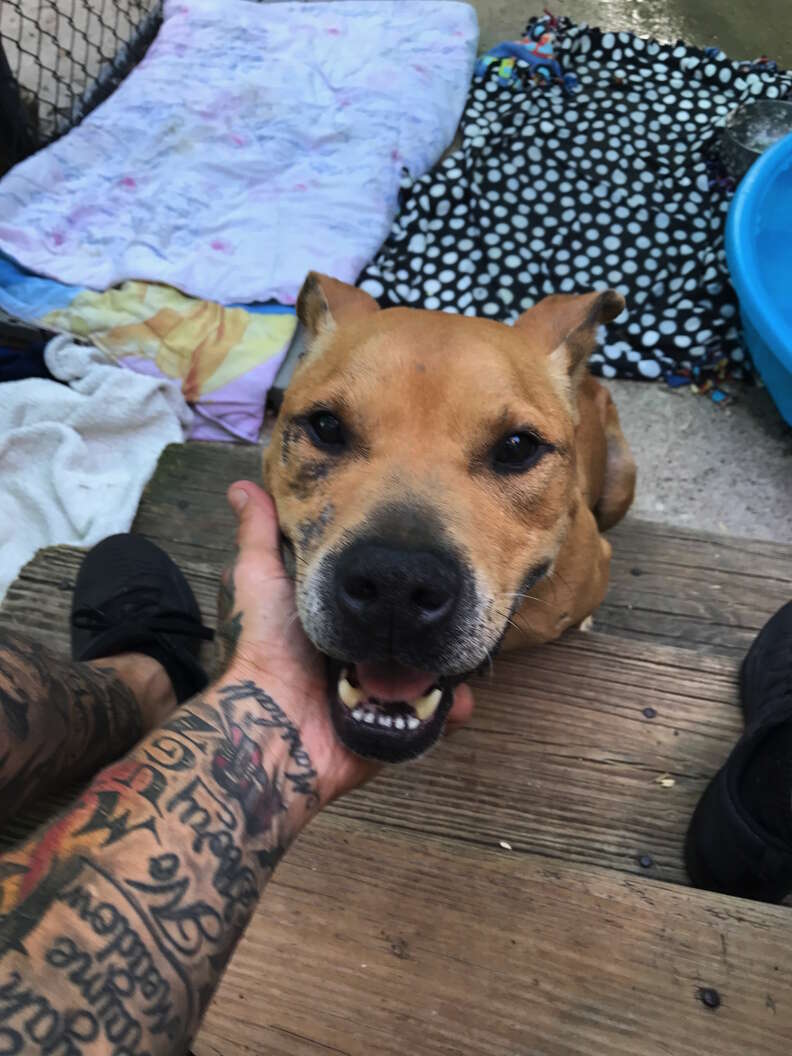 It's only been around two weeks since Nereus was rescued, and he's already made leaps and bounds from where he started. He's learning that there are people who just want to love him and make sure he's happy and healthy, and while he still has a ways to go, he's definitely on his way to making a full recovery.
"He's up for adoption now, but it would have to be someone who understands that he's not done yet," Fields said. "He'll likely stay with us until he's fully ready to go."