Guy Finds A Backpack In His Truck — With A Pit Bull Puppy Inside
"I froze briefly because I couldn't believe what I was seeing."
Just as he does at the end of every work day, U.S. Air Force veteran Jerry Murray climbed into his pickup truck last week and made the 35-minute drive from downtown Tampa, Florida, to the home he shares with his wife, Michelle, and their three dogs.
When he got out of the truck, something moving in the bed of the truck caught his eye. Looking closer, he saw the eyes of a pit bull puppy peeking out of a backpack. The puppy had been stuffed into the backpack along with shredded paper and plastic.
"I froze briefly because I couldn't believe what I was seeing," Murray tells the Dodo. "I felt so bad that he was back there and for how long he was back there. I drove through a lot of turns and traffic lights in the heat."
Murray quickly brought the puppy into his home. Trembling and panting heavily, the frightened puppy drank a lot of water, tucked himself in a corner and fell asleep. "He was so filthy, we thought he was a brown and black dog," Michelle Murray tells The Dodo. "It wasn't until we gave him a bath that we saw he was actually blue and white."
The Murrays took the puppy to a local emergency vet clinic to have him scanned for a microchip. He didn't have one. He was determined to be about 12 weeks old and was diagnosed with internal parasites and an ear infection.
The Murrays have three dogs at home already, but didn't want to turn the puppy over to the county shelter. "He needed freedom and a place where he could stretch his legs out and not be caged up," Michelle says.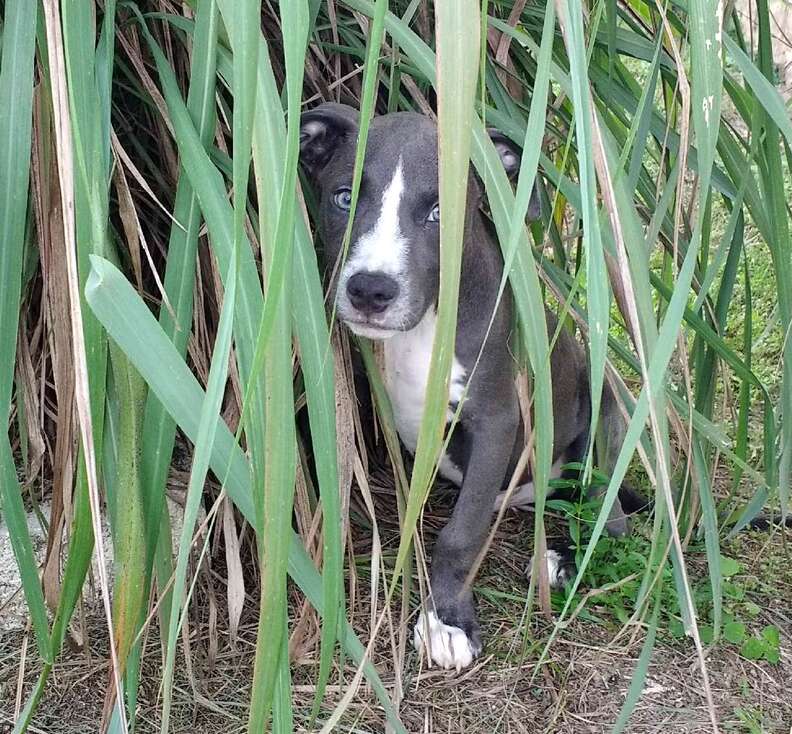 Michelle Murray reached out on Tampa Bay Lost and Found Pets page on Facebook to see if anyone had information about the puppy. She also called Bill Gray, founder of Second Chance Friends, Inc. in Hillsborough County, and he responded right away.
Gray says the Murrays are heroes. "I'm not even sure I would have noticed something in the back of my truck," Gray tells The Dodo. His rescue took in three dogs a week ago — each dog had been dumped on the side of the road.
"Jerry and Michelle could have done that, too, but instead brought this terrified puppy to us in the middle of a rainstorm to keep him safe," he says. Gray's wife Lisa named the puppy Zues. The couple can't understand who would do this and why. Local authorities are looking to see if street cameras caught anything on video.
Gray says more and more dogs are being dumped because the cost of surrendering an animal to the county shelter has increased greatly in the last few years — from $20 to $160. Gray originally started the rescue as a breed-specific rescue for boxers, but with so many pit bulls and pit bull mix dogs being euthanized in the shelter, the rescue has expanded to include any dog in need of rescue. The small nonprofit usually has 30–40 dogs in need of homes at any given time.
"Everyone knows who we are," Gray says. "I never want to say no."
For example, Roxie joined the rescue after a call from a shelter volunteer three years ago. She had been adopted and returned to the shelter twice because her separation anxiety is so acute that she can't be crated and needs someone with her all day, every day. Lisa Gray eases Roxie's fears. Bill Gray calls Roxie a "compassionate peer dog" because she helps welcome new dogs into the rescue, acting like a mama dog to them.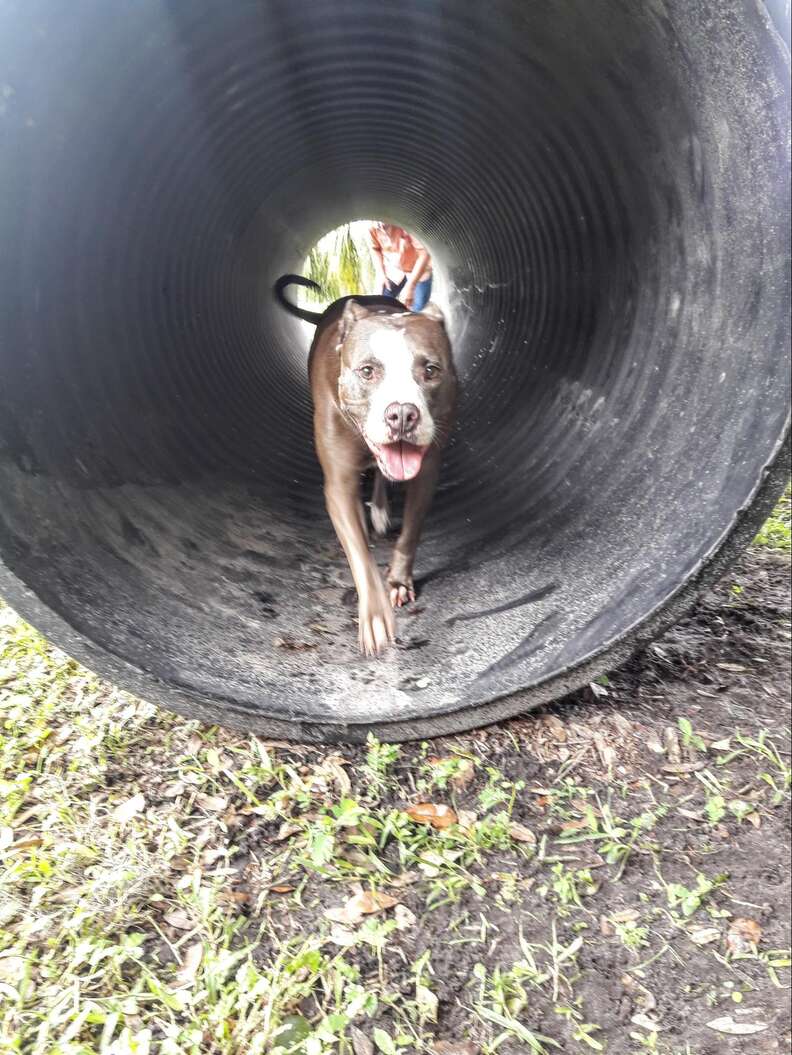 It was Roxie who has helped Zues gain a little confidence. While he normally backs himself into a tiny space, tail tucked, Zues becomes an entirely different puppy with Roxie around.
"We are giving him the time and distance he needs and allowing him to be around the other dogs to gain confidence," Gray says. It wasn't until the third morning with the Grays that Zues started approaching them on his own.
The Murrays visited Zues at the rescue a few days after he was found in the back of Jerry's truck. The couple still can't believe someone randomly left Zues like they did. As they played with Zues and Roxie, they were amazed at the progress he's made already.
Gray said Zues will be about 65 pounds when he's fully grown. Although they've been inundated with emails and calls about adopting Zues, Gray said the person he chooses will be someone who helps Zues become an ambassador for pit bulls.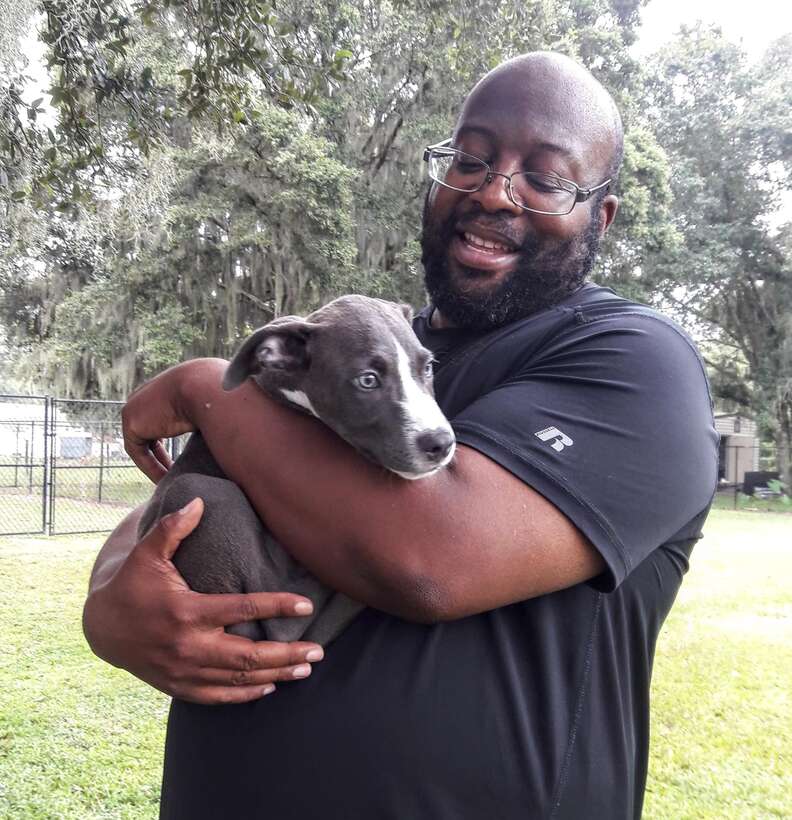 Gray explains that his rescue isn't about a second chance for the dogs, because that would assume they failed their first chance. Instead, it's about giving humans a second chance to provide a safe, healthy and loving home for these dogs. And because of the Murrays and Second Chance Friends, people will be able to do that for Zues.