Tiny Puppy Who Looks Different Finds The Best Big Brother To Help Her Grow Up
"She is a burrito-sized bulldozer and will definitely be the life of any party."
Quigley and her brother Hansel were born to a breeder in Texas and given up almost as soon as they were born — because they both have cleft palates. Puppies with cleft palates can go on to lead healthy, normal lives if cared for correctly when they're little. Luckily, the pair was quickly found and taken in by Mac's Mission, a rescue specializing in special needs dogs, which has a TON of experience with cleft palate puppies.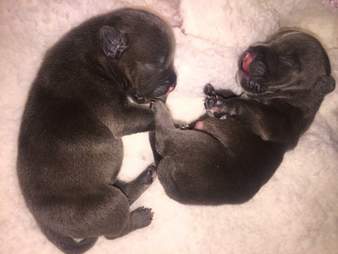 Rochelle Steffen
"Most breeders cull them and most vets push to euthanize because they have this crazy notion they will not live," Rochelle Steffen, founder and director of Mac's Mission, told The Dodo. "We are fighting this mentality because these special babies can live happy lives once they get into experienced hands. Time is typically the big factor here since they can aspirate easily if fed incorrectly."
Rochelle Steffen
Steffen runs Mac's Mission from its headquarters in Missouri, several states away from where little Quigley was staying with her foster mom — but as soon as she saw her picture and learned more about her, she knew this was one rescue she wasn't going to be able to let go of.
Rochelle Steffen
"She is a burrito-sized bulldozer and will definitely be the life of any party growing up," Steffen said. "She makes these wombat gremlin sounds I have never heard before and she just makes me smile! I took her to the lumber store yesterday and every single one of those big strong burly construction guys melted. She just has that ability."
While she has many pets of her own, Steffen also fosters many dogs from her rescue, especially puppies, but as soon as Quigley's sweet little face arrived in her home, it was clear that the special little puppy would be staying for good — and her new big brother, Mac, couldn't be more thrilled about it.
Rochelle Steffen
Steffen adopted Mac shortly after he was rescued at 3 months old, and he is the inspiration for Mac's Mission. He's an incredibly medically challenged dog, and at 7 years old has already had six major surgeries over the course of his life, but his mom wouldn't trade him for anything. As the rescue's namesake, he helps care for a lot of the special puppies who come through — but this time, he actually got to keep one.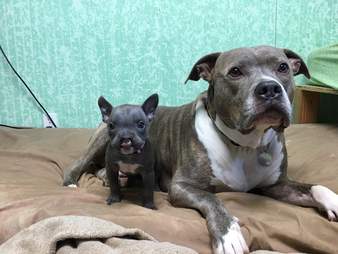 Rochelle Steffen
"Mac is amazing with puppies; it is like he has this sense about them and that they need our help," Steffen said. "We do LOTS of special puppies and he has the patience of a saint. He gets excited to meet new ones and won't leave me alone until he can do the sniff test."
From the moment Mac met Quigley, he already knew he loved her …
Rochelle Steffen
… and the pair are now the absolute best of friends.
Quigley loves her big brother Mac just as much as he loves her, and loves hanging out with all of her new siblings.
Rochelle Steffen
"She follows them around like they all hung the moon," Steffen said.
While Quigley does have some challenges because of her cleft palate, such as eating and drinking, they are all things that she will slowly be able to overcome, and she doesn't seem to realize that she's any different from any other dog. She loves to snuggle and play with anyone who comes her way, and is loving absolutely everything about her new life.
Rochelle Steffen
Most people see a pup like Quigley and assume she won't make a good pet because of her differences — but luckily, Quigley found a family who loves her for exactly who she is, and wouldn't change her for anything in the world.
Rochelle Steffen