Dog Always Walks Alongside Her Grandma To Make Sure She's OK
When Grandma's up, so is Lollipop ❤️️
Lollipop was found when she was 8 months old, wandering around all alone near a car wash. Not wanting her to run into the nearby busy road, some men working there tied her up and proceeded to hang out with her all day, falling more in love with her by the minute. When Cathy Officee stopped by the car wash and went over to pet sweet Lollipop, she asked about her. All of the pit bull's new friends sang her praises, explaining that she appeared to be abandoned or lost, and Officee quickly agreed to take her.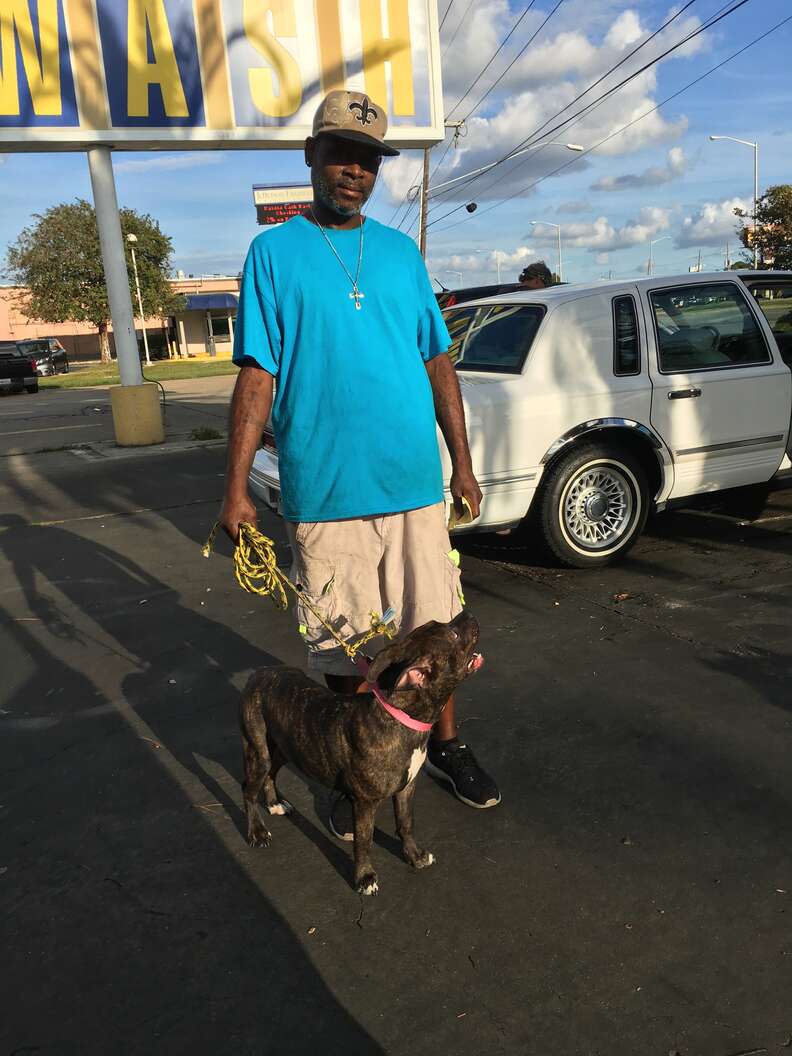 After scanning for a microchip, driving around the neighborhood where she was found, posting all over the internet and putting lost dog notices at local shelters, Officee finally accepted that Lollipop had no one looking for her — and immediately adopted her into her family.
"By the end of five days I was SO in love with her I was happy no one claimed her and there wasn't any question of me finding her a family," Officee told The Dodo.
Lollipop is now 3 years old and so in love with everyone in her family. She follows her dog brother Isaac around constantly, and always needs to be as close to her mom as possible. A while back, Lollipop and her family moved in with Officee's mom and her three dogs, and now Lollipop has even more family members to love — and has become incredibly protective of her grandma in particular.
Officee's mom is 90 years old, and moves very slowly these days. She uses a walker to get around, and often has to take breaks as she goes. Recently, Officee began to notice that whenever her mom is up and walking around, Lollipop is right there beside her …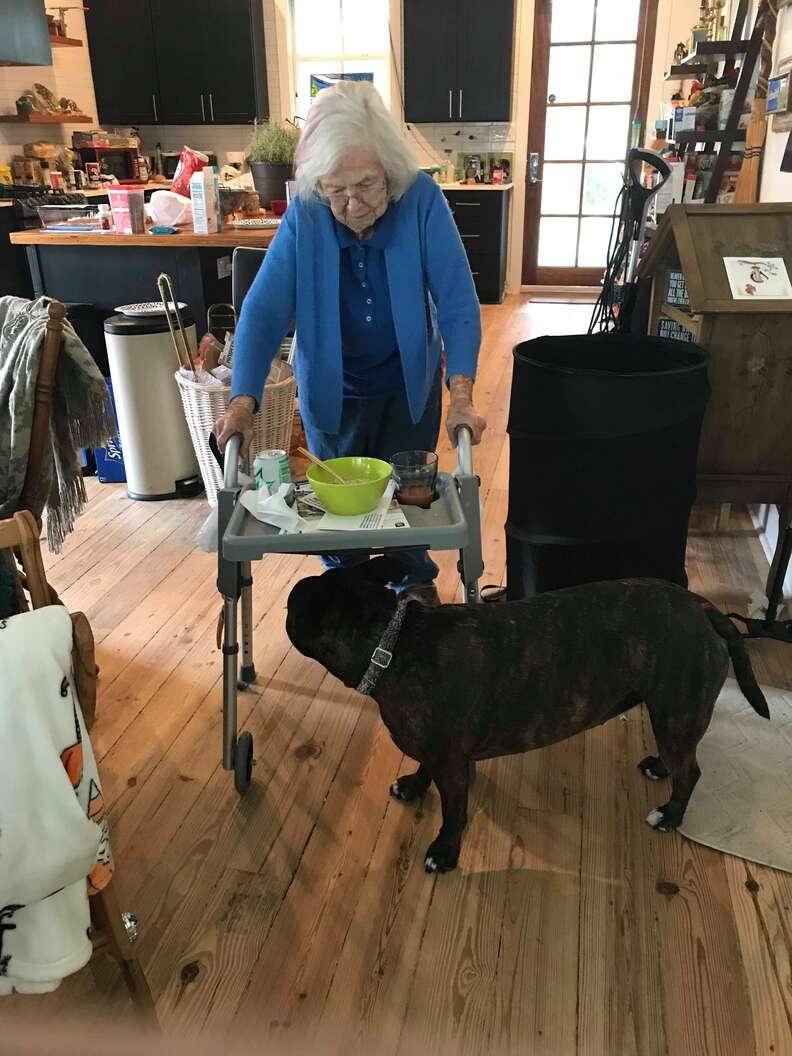 … and will immediately stand or lie down in front of her as soon as she pauses to take a break.
"We can't decide if Lolli wants her to go back and sit down or if she's standing ready in case Mom falls," Officee said.
Whatever the reason, whenever Grandma is on her feet, so is Lollipop, and the two have formed the sweetest friendship because of it.
"Mom has three dogs and I have two so there is always a dog milling around," Officee said. "Lollipop is the only one who gets in Mom's way."
No matter the time of day or where her grandma is going, Lollipop is always right there, protecting her and watching over her to make sure that she makes it to her destination safe and sound.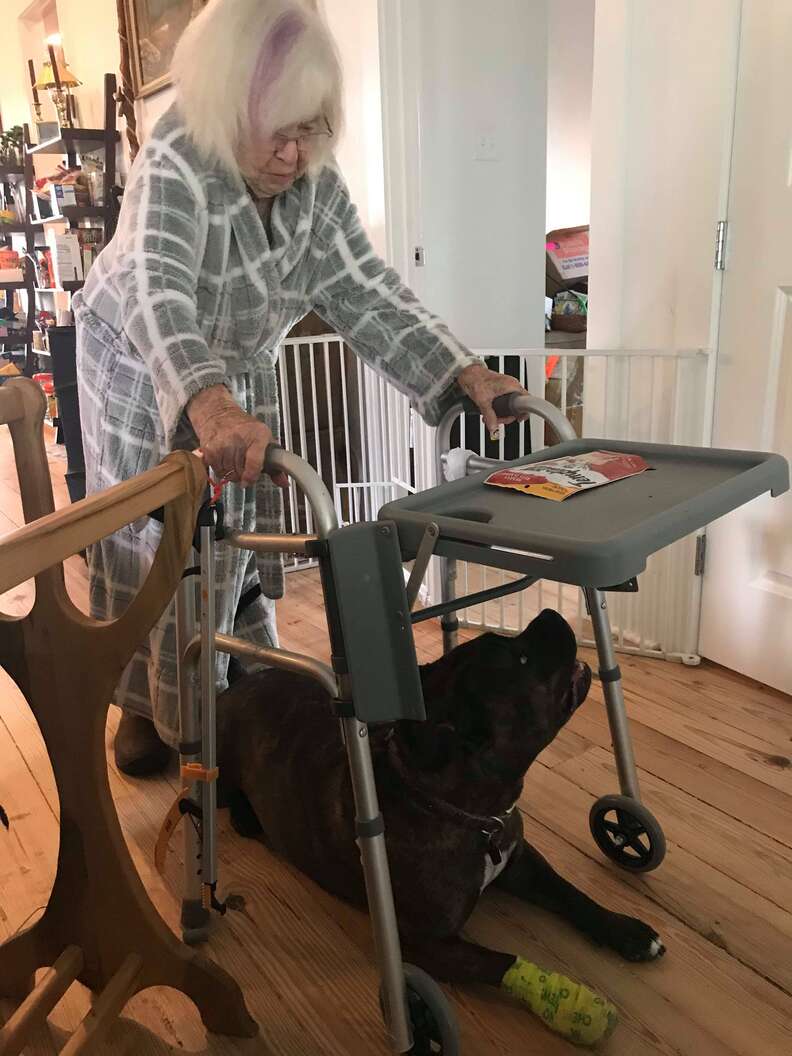 When Lollipop was first found, a whole group of people came together to make sure she was safe — and now it seems that Lollipop is just repaying the favor to the people she loves most.