Pit Bull Wears Pajamas Wherever She Goes To Help Her Feel Safe
Her name is Holiday and she's looking for a forever home
Holiday was rescued from a backyard breeder, where she was abused and forced to have litter after litter of puppies for two years. After being taken to a shelter in North Carolina, the 2-and-a-half-year-old pit bull was found by Mr. Bones and Co., and is now being fostered through its program in New York City.
"She was so scared and quiet when I first met her," Elli Frank, founder of Mr. Bones and Co., told The Dodo. "She had no idea what was happening to her, and she was scared. She came up to me in the yard and pressed her body up against me, and in that moment I was like, 'I got you. It's going to be OK.'"
Despite her past, Holiday is one of the sweetest dogs anyone will ever meet. She absolutely adores people, both adults and kids, and just wants as much love and attention as possible. She's very polite, gently nudging you with her nose until you give her a treat, and always tries her best to be a model dog.
"She's very funny and silly; sometimes she'll just suddenly play like a puppy, other times she just sits in your lap and chills," Frank said. "She matches the energy of whoever she's with. She's the snowman of pit bulls. She just melts into you."
While Holiday absolutely adores all the cuddles and attention she's getting in her new life, the energy and chaos of New York City was a bit much for her at first. She would get very, very nervous every time her foster family took her out for a walk, and seemed to dread having to go outside — until her foster mom got her some pajamas.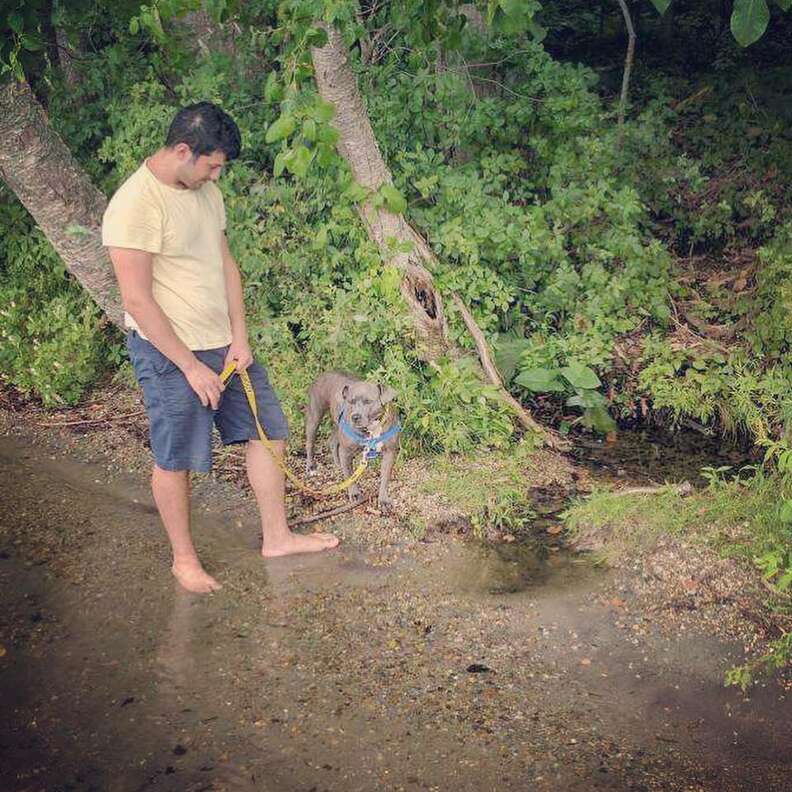 In order to promote Holiday and help her find a forever family, Frank asked Holiday's foster mom to put some pajamas on her and do a photo shoot. After the photo shoot was done, Holiday's foster mom took her for a walk without taking off her pajamas first. As soon as they walked outside, her foster mom could see that something was different. Suddenly, Holiday was calm and confident, and not at all nervous about walking through the world. The pajamas seemed to act as a ThunderShirt for Holiday, helping her to feel safe — so now, she wears them everywhere she goes.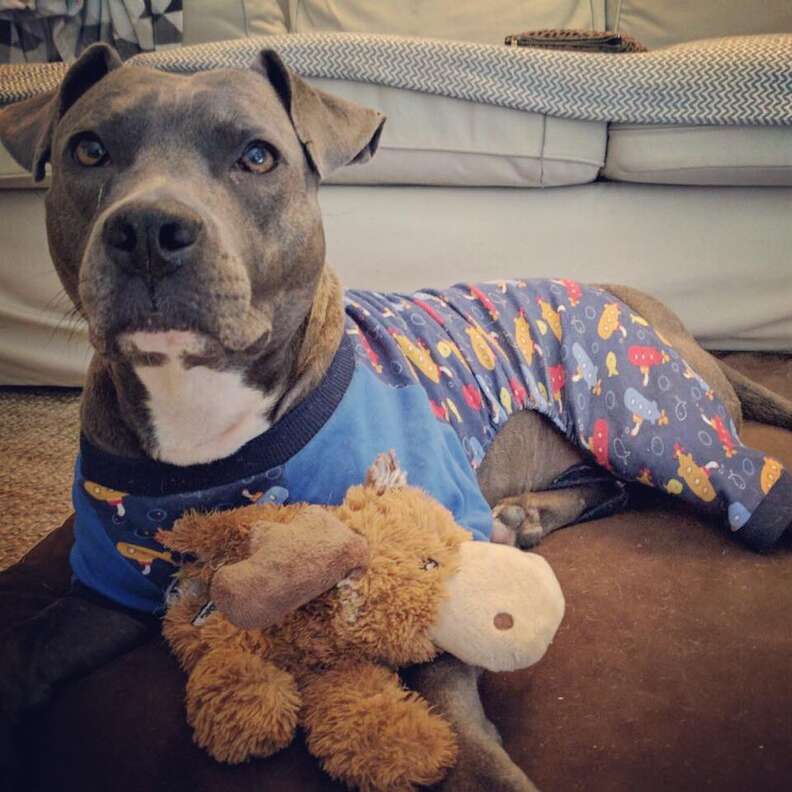 Whenever Holiday has to go for a walk or out on an adventure with her foster parents, she wears her pajamas, and is no longer nervous about traveling through New York City. Recently she and her family took the Metro North train to go hiking, and everyone on board was absolutely delighted at the sight of Holiday in her adorable pajamas.
"Wearing the pajamas did two things," Frank said. "It helped her, but it also made people stop and want to say hi. She's a really easy dog to change someone's perception on what a pit bull is. When you see a dog in pajamas, your first reaction isn't going to be, 'Oh my goodness, that's a scary pit bull.' It's going to be, 'Oh my goodness, look at that dog in pajamas!'"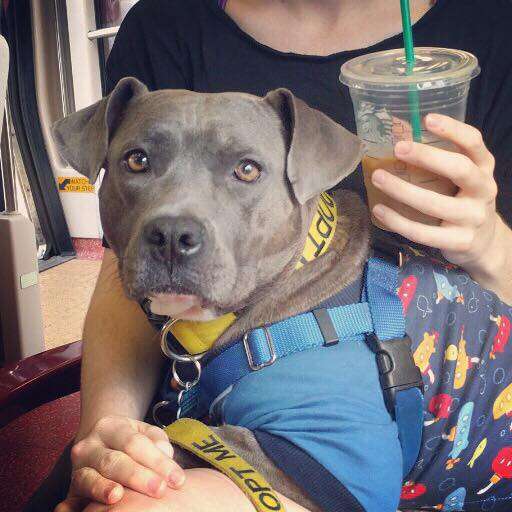 With her pajamas, Holiday has become an ambassador for her breed, and is helping to show the world that pit bulls aren't scary at all. She's got the look and the message — now all she needs is a loving forever home.
Holiday has been with the rescue since February, and no one who knows her can understand why. She's been described as "a giant blueberry muffin," and just wants to be loved by everyone who crosses her path. Holiday even got to do a photo shoot with Sophie Gamand recently, who photographs pit bulls wearing flower crowns to help them get adopted and raise awareness about breed discrimination. But still, Holiday has no home. Unfortunately, she's going to be losing her foster home soon, and is going to be headed to a boarding facility unless she can find a family who can welcome her into their home.
Holiday would do best in a home with no cats and no other dogs. She was adopted out at one point and then returned because the other dog in the home was too much for her, and her rescuers think she'll be most successful as the only pet in her new home.
"She's a little reactive to other dogs at times because I think she's realized she doesn't have to be bred, she doesn't have to have puppies, she doesn't have to interact with other dogs now that she's been rescued," Frank said.
Other than that, all Holiday needs from her future home is lots of love, snuggles, treats and of course, pajamas.
If you're interested in adopting Holiday, you can contact Mr. Bones and Co. for more information.