This Pittie Can't Sleep Without His Little Girl By His Side
"It's always together and that's all that matters to them."
One little girl named Scarlett has discovered the secret to a good night's sleep: her 99-pound rescue pit bull.
The Geiger family adopted Lebowski from Priceless Pet Rescue four years ago, and as soon as Scarlett met the puppy, the connection was instant.
"When Scarlett met Lebowski she was 4 and he was 10 weeks," Jennifer Geiger, Scarlett's mom, told The Dodo. "She was so smitten with his cute face and loved everything about her puppy! I'd say they both took to each other immediately."
Lebowski started following his big sister everywhere, copying whatever she did. The puppy played dress-up, joined tea parties and watched as she did her homework.
But Lebowski's favorite thing to do together was naptime.
"Lebowski has curled up to nap by Scar since we first brought him home," Geiger said. "They've passed out on the couch together countless times."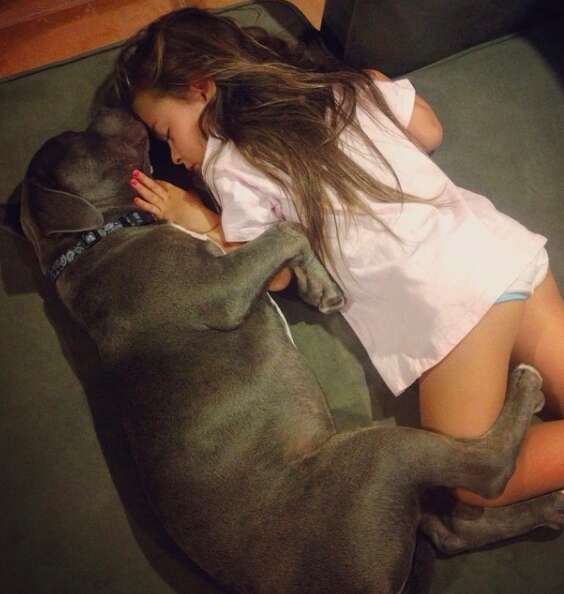 When Lebowski was around 8 months old, he started disappearing at night. "I'd panic because there were times I'd wake up in the middle of the night and could not find him," Geiger said.
Geiger finally found Lebowski hiding under Scarlett's bed, "like a monster," Geiger noted.
Then, one night, Geiger opened the door to Scarlett's room and found Lebowski right beside her, snoring away. "He made himself cozy by her side and he hasn't stopped since," Geiger said.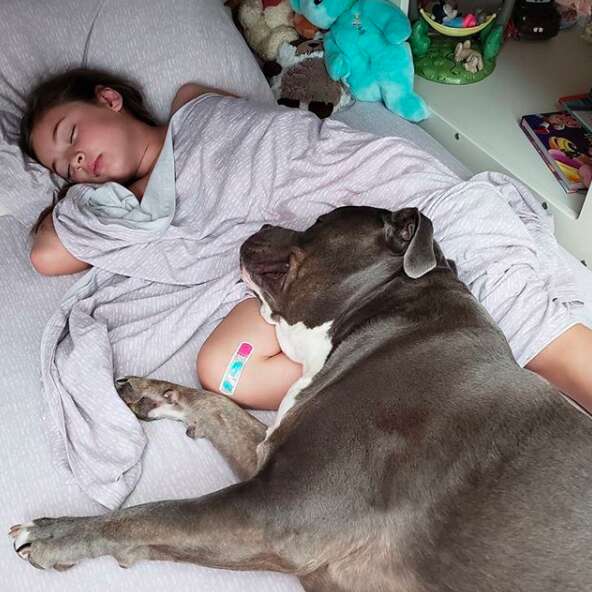 Years later, Scarlett still shares her twin bed with Lebowski. "These two always sleep better together," Geiger wrote on Instagram, "Wherever it is they sleep in this house, it's always together and that's all that matters to them."
Geiger even secretly filmed their sweet snuggles:
Now, it's just expected that Lebowski will find his way to Scarlett's room — provided she's not at a sleepover. "We tell him 'go to bed' and he heads straight to Scar and snuggles up," Geiger said. "It's the sweetest thing."
"He keeps a close eye on his girl and mopes around when they're not together," she added. "Their bond is so very special and we feel blessed to witness this love as they grow together and adventure through life."