Guinea Pigs Won't Stop Cuddling With Their Pit Bull Sister
They don't even mind when she gives them sloppy kisses.
It may seem unusual for a guinea pig to boss around a pit bull, but that's just the way it is for one San Francisco family.
Ever since rescue dog Moki first met her guinea pig sisters, she's never minded taking orders from them — especially when nap time finally rolls around, because they make the perfect pillow.
Kristy Gamayo had never owned a guinea pig before, but after months of online research, she decided to adopt Frida and Pandora. When it came time to add another animal campanion, she and her then-partner decided to visit San Francisco Animal Care and Control hoping to find the perfect dog to fit in with their growing family.
"In the very last kennel, we saw a brindle pit bull dog who was sitting quietly on her cot. [She] didn't run or bark at us, and was looking at us with her sad, innocent eyes, so we asked to see her," Gamayo told The Dodo. "Moki was 5 months old at the time and she was very friendly and playful — we knew we had to adopt her."
Gamayo hoped that Moki would get along with her guinea pigs, but when she introduced the trio, she was shocked by what she saw.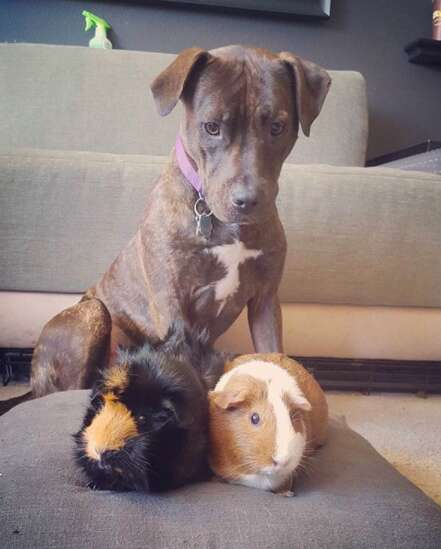 "Moki was really gentle with them from the beginning and the piggies were very curious about Moki," Gamayo said. "The piggies would crawl up to Moki and smell her and Moki would lick them and lay with them. To this day, Moki and the piggies cuddle together and Moki likes to give them kisses."
In the past three years, the interspecies siblings have only gotten closer during their time together (which is supervised by Mom). Moki is always careful and affectionate with her guinea pig sisters, taking cues from them as to when they want to play or have had enough licks.
"The piggies don't mind the kisses and have never tried to bite Moki," Gamayo added. "Frida and Pandora will sniff Moki and never try to run away. When Moki brings them her Nylabone or toys, they will sniff them and sometimes try to nibble on them."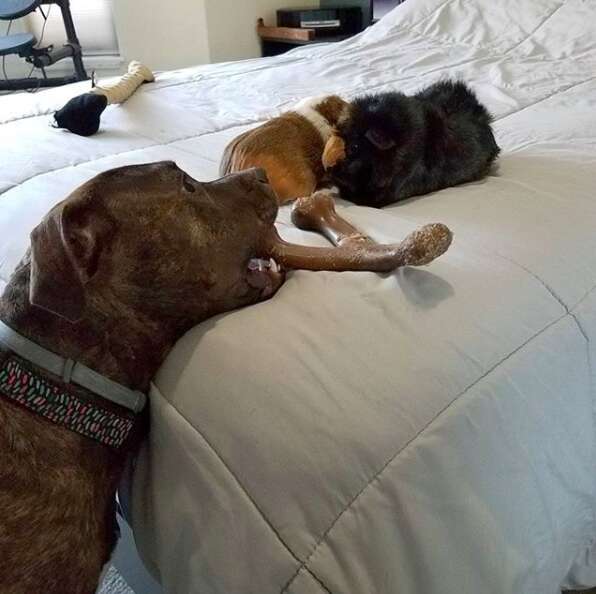 Kristy Gamayo
Kristy Gamayo
Outgoing Pandora is the pack leader, stealing pets from her mom and fresh vegetables away from Frida. Found abandoned in Dolores Park, the outgoing guinea pig has loved being around people and animals since Gamayo first brought her home.
The inseparable trio have supported their mom through the good times and the bad, and are Gamayo's biggest fans.
"If I have a difficult day at work, I like to come home and lay with Moki and pet her, or just hold Frida and Pandora on my lap and pet them," Gamayo said. "They really relax me and always make me laugh or smile … I love hearing their little noises, seeing their individual personalities, and watching them interact with Moki."
The animals have even helped their mom conquer heartbreak when her relationship ended. "All three have helped bring me comfort through the pain," Gamayo added. "Moki's sad eyes and sweet face always help to take any sadness away."
In this fluffy family there's plenty of love to go around.