Dog Who Escaped Fighting Ring Loves Everyone He Meets
He wandered up to someone's house covered in wounds and looking for help 💗
Last Sunday, a man was returning home from church in Laurel, Mississippi, when he noticed a gray dog lying in the dirt next to his house
He thought a neighbor's dog might have strayed over to take a nap — but as he got closer, he realized something was horribly wrong.
(Warning: Disturbing photo below)
The dog was so skinny that his bones were protruding, and he had deep gashes all over his ears and head that were bleeding. His thin body was covered in scars and he almost looked lifeless.
SCAR
The man called police right away, who dispatched the Southern Cross Animal Rescue (SCAR) team to the scene.
"He was curled up in a little ball, just lying there," Savannah Pipkins, vice president of SCAR, told The Dodo. "He looked so weak. He had wounds everywhere."
Those wounds, Pipkins later learned, told the painful story of life in a dogfighting ring. The dog was only around a year old, so it's likely he had spent his whole puppyhood being starved, beaten and attacked.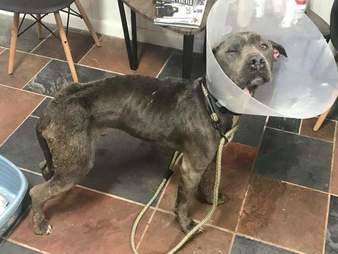 Atlas after being vet-checked

| SCAR
Pipkins named him Atlas, after the Greek mythological figure forced to carry the weight of the world on his shoulders.
"The vet confirmed right away that those were dogfighting injuries, sustained over the course of months," Pipkins said. "He had old scars, old wounds as well as the fresh injuries. It looked like he was maybe on his belly and another dog had jumped onto him, and he didn't try to fight back. Bless his heart."
SCAR
Despite everything Atlas had been through at the hands of people, Pipkins could tell right away that he was very trusting.
"Even when we first got there, he never growled, never showed any sign of aggression," Pipkins said. "We got the leash on him and he just got up and walked right alongside of us to the truck. He knew we were going to get him some help."
At the vet, Atlas got X-rays on one of his back legs, which was very swollen, in addition to a few stitches on the deep bite wounds behind his ears. The vet also rinsed his cuts to get rid of any germs, which Pipkins will have to do multiple times each day to ward off infection.
"All he wants is for us to love on him and rub his head," Pipkins said. "He is super sweet. We love him so much."
Atlas is looking so much better already, and he's even taken a liking to Pipkins' other dog, Channing, who was also rescued from a suspected dogfighting ring.
SCAR
Since Pipkins brought him home to foster, it hasn't taken long for the family to fall in love with him — and it's been the same case for people across the country who have seen his story on social media. The rescue has been overtaken with bags of food, treats, toys and even beds that people have sent in for Atlas.
In the course of a few days, he's gone from unloved to completely spoiled — and he can't get enough.
In the coming weeks and months, Atlas will continue to heal with his foster family at his side — and although there are currently no leads as to where he came from, Pipkins is so thankful that his will to live brought them together.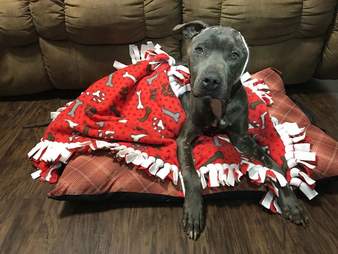 SCAR
"He has absolutely no reason to trust people, but he does anyway," Pipkins said. "He's getting a lot of love and plenty time to rest. But I definitely think he loves food and snacks the most right now. It's the highlight of his day."