Sweetest Dog Has Been Waiting For A Family For Over A Year
Paisley has the cutest smile — but gets so depressed in her kennel 💔
For over a year now, Paisley the pit bull has been waiting at the Hempstead Town Animal Shelter in New York for someone to choose her.
Her owner left her there in March 2017 — and ever since, only one person has ever asked about giving her a home. For the shelter volunteers who know and love her, it's such a surprise she hasn't found a family yet. She's an energetic, smiley and playful 4-year-old who loves going on walks and getting belly rubs.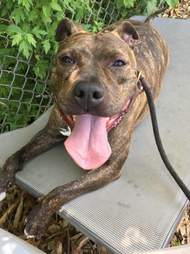 Hempstead Town Animal Shelter
But being at the shelter so long has been hard on her, Cindy Gomez, an adoption coordinator for the rescue, told The Dodo — and the change is so significant that most adopters aren't interested in even meeting her.
"She's very energetic, and loves going on runs with our volunteers," Gomez told The Dodo. "But when she goes back in her cage, she seems depressed. She doesn't really move unless someone walks by her cage. But then she'll bark and move around [if someone passes]."
Hempstead Town Animal Shelter
Due to her habit for barking at shelter visitors, potential adopters simply pass her over. But when people really get to know her they realize how great of a dog she is.
"That's probably what is deterring people — and it's disappointing, because she really is a good dog," Gomez said. "She would come out of her shell if people just gave her a chance."
Hempstead Town Animal Shelter
Gomez said the best home for Paisley would be with an active family with older teenagers or adults. She loves playing and running, so someone who goes for daily jogs would be a perfect fit.
"She really loves being outside," Gomez said. "And she's a really good walker on the leash."
Hempstead Town Animal Shelter
She is also very social toward other dogs, but takes a little time warming up to new people. It would be great, Gomez said, if serious adopters could commit to visiting Paisley frequently at the shelter to help her warm up to them.
Gomez is hopeful the right patient, loving person will come along soon — and that Paisley will never have anything to frown about again.
Hempstead Town Animal Shelter
Until then, the shelter volunteers are working every day to keep her spirits up.
"I know she would make such a great pet, if someone just gave her a chance," Gomez said. "She's been nothing but a great girl to us."