Pit Bull Brothers Left At Shelter Cry Whenever They're Apart
"They sleep together in the same bed even when offered separate beds."
Country and Zeus are two 6-month-old pit bull brothers who were happily living together with their loving family in Virginia — until their owner suddenly had to move, and couldn't take the dogs to the new house. Instead, they were surrendered to the SPCA of Winchester, Frederick and Clarke Counties on July 12, where they've been ever since.
The dogs are incredibly friendly and love everyone they meet, but most of all they love each other, and all they want is to find a new home where they can be together.
SPCA of Winchester, Frederick, & Clarke Counties
"They are very sweet," Lavenda Denney, executive director of the SPCA of Winchester, Frederick and Clarke Counties, told The Dodo. "They give kisses and are very expressive. When you walk to their kennels they quit barking and tilt their heads to the side to check you out. Big happy puppies."
Country and Zeus are handling shelter life fairly well due to their sweet and goofy personalities, and they rarely have any problems — unless someone tries to separate them. As soon as the brothers are apart, even if it's just for a little while, they whine and cry endlessly until they're finally reunited. They love each other so much, and they're not afraid to let everyone know it.
Danniel Martinez
"They prefer to be with each other at all times," Denney said. "They sleep together in the same bed even when offered separate beds. They look for each other even when walking together on separate leashes."
After losing their home and their family, Country and Zeus refuse to lose each other, and will need to be adopted out together. The pit bull brothers have great temperaments and lots of energy, and they love everyone they meet; they just need a family who is willing to take a chance on both of them.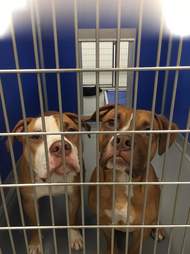 SPCA of Winchester, Frederick, & Clarke Counties
Country and Zeus ideally need a home with an active family and lots of room to run around and play outside. Otherwise, they don't have any specific requirements or needs, as long as they get to stay together.