Pit Bull's Mom Gets Him Room Of Favorite Things For His Birthday
"When I adopted Boyd ... my world changed, and that is the absolute truth."
It was recently Boyd's 4th birthday. His family got him exactly what he wanted: a special peanut butter cake to gobble down, and a room full of balloons to pop.
"We filled about 30 balloons in the basement and just let him loose," Sarah Myers, Boyd's mom, tells The Dodo. "In our household we love celebrating."
Boyd loves balloons. He loves them so much.
Mostly, he loves to pop them with his paws — always supervised, of course, so they won't wind up in his sweet little tummy.
Myers says that her dog's second-most preferred balloon-related activity is "bopping them in the air with his nose."
"But as soon as it's on the ground he pops them," she adds. "It's his favorite thing in the world."
Because Boyd loves balloons, and Myers loves Boyd, she always keeps some balloons on hand "for bop and pop time for Boyd, which is anytime we want really," Myers says.
How did Boyd get this lucky?
"My heart absolutely melted and tears formed when I saw him in his kennel," Myers says. "He was visibly shaking, scared to death and a bit too skinny. I knelt down, told him I loved him, and then rest is history! Hands down, best decision of my life."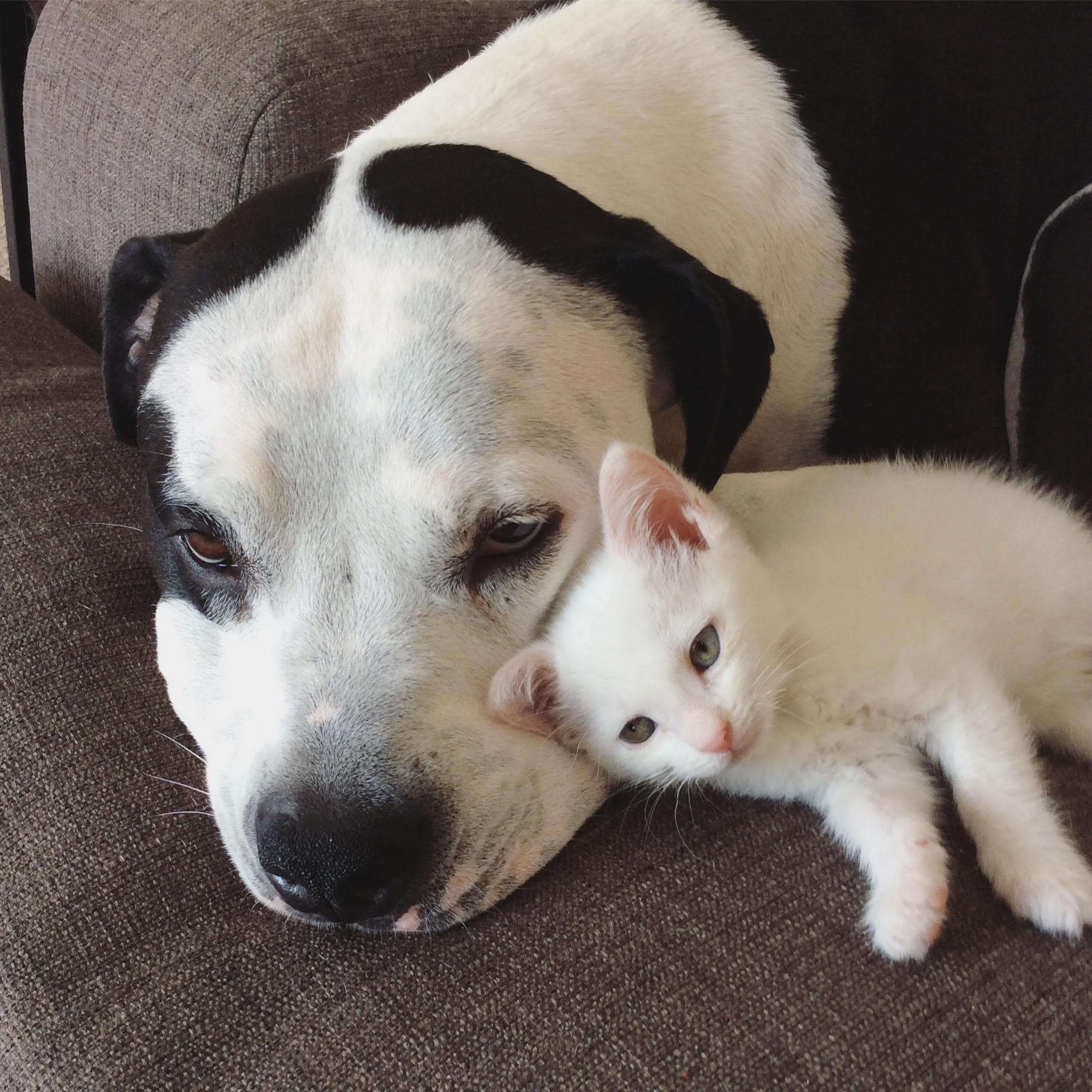 In addition to his love of balloons, Myers has come to adore Boyd's expressive face and his first-class snuggles. She even speaks fondly of his frequent and powerful farts.
Myers raves about Boyd's affectionate nature and his love for the many litters of foster kittens who have spent some time in Myers' Indianapolis home.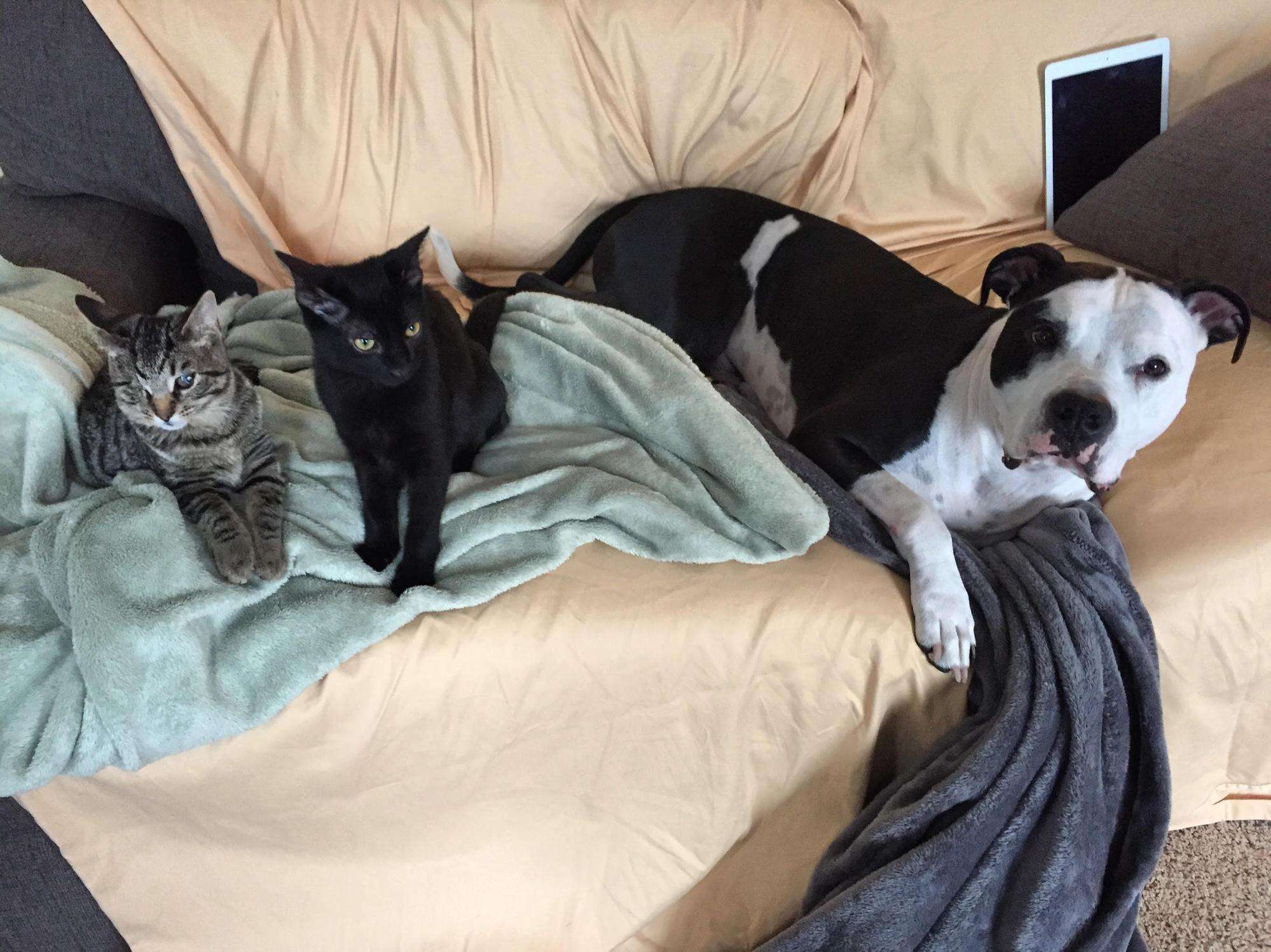 "Boyd is so gentle and loving with them. Any time he hears them cry, he comes and makes sure I heard it too," Myers says. "The kittens see him as a sort of parent, as they feel comfortable walking right up to him and burrowing in close for a snuggle and a snooze."
It's not just the kittens Boyd looks after. Myers says he's helped her, too.
Before adopting Boyd, Myers was going through what she describes as something of an existential crisis. She had a job she loved, a boyfriend she loved — and yet "waking up each morning, I felt disconnected with myself, like I was missing something," she says.
It turns out that something was Boyd. "He was my missing piece," Myers says.
This is not only because he is so perfect and sweet and funny. Boyd's also introduced Myers to the world of animal rescue — a world she eagerly leapt into.
Myers now raises money for animal groups and spends her free time at animal events. She has become a tireless advocate for pit bulls, so that other dogs like Boyd will have a better chance of finding their own adoring people.
The kinds of people who will fill a room full of balloons for their dog to pop, if that's their thing.
"I love Boyd, and I owe my happiness and fulfillment to him," Myers says. "When I adopted Boyd, I told you, my world changed, and that is the absolute truth."