Everyone Wanted This Dog When She Was A Puppy
Her adopter returned her over the holidays and she's been looking for a family for months 💔
When she was around 3 months old, Lily was rescued from a home in Staten Island, New York, where she was being kept outside in the backyard 24/7.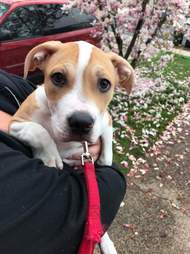 Katy Brink
She was taken in by Fur Friends In Need, who placed her in a foster home, and as soon as they started posting about her, everyone fell in love with her adorable face and silly puppy personality. 
"When I went to pick her up from the rescue on Staten Island, they handed me this little bundle of silky fur and big brown eyes in a blanket," Collin Brink, Lily's foster dad, told The Dodo. "I put her in the front seat and put the seat belt around her, but as I was driving I noticed she was trembling. So at a stoplight I unbuckled her and put her in my lap and she slept there until we got home."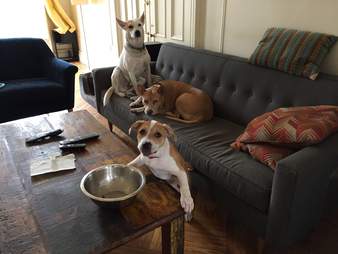 Katy Brink
After receiving tons of applications over the course of a few weeks, Lily was adopted and went off to live with her new forever family.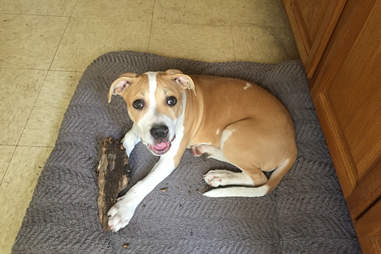 It seemed like the perfect happy ending — but unfortunately, five months later, Lily is now back with her foster family and once again searching for a home.
When Lily's first family initially adopted her, it seemed like the perfect fit. They had another dog who bonded quickly with Lily, and had plenty of time to dedicate to hanging out with both pups. It all seemed to be working out wonderfully — until Lily started showing aggression when thrown into situations with new dogs, and her family didn't know how to handle it.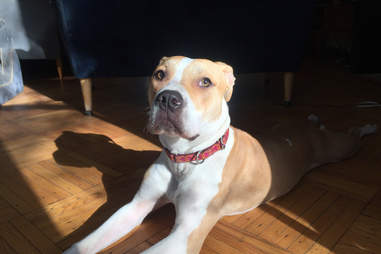 Katy Brink
"They never addressed the problem or involved a trainer," said Katy Brink, Lily's foster mom, who also works at The Dodo. "They continued to let her run loose, and after she got into a scuffle with another dog, they decided to give her up." 
Now Lily is back with her foster family, and while they absolutely adore her, they want to find her a home as soon as possible — one where she's the only dog in the house, so she can settle in and finally have the life she deserves. They're currently raising money for a positive reinforcement intensive training program that will help modify her behavior and set her up for success in a forever home.
Katy Brink
Lily is a year old now, and still has tons of puppy energy. She's the biggest sweetheart in the world, and really just wants to be around people who will love and play with her as much as her heart desires.
Katy Brink
"She bonds very closely with her people — she's a velcro dog who will follow you wherever you go," Katy Brink said. "She waits at the front door when her people leave the house (but she doesn't cry!). She wants to be on your lap whether you're working or eating or watching TV. She's also a total goofball who finds the weirdest places to perch and spy on everything going on around her."
Katy Brink
Lily was great with her foster dog siblings, Sasha and Norman, when she was a puppy, but now she has to wear a muzzle when she's playing or hanging out with them, which is why her foster family is so eager to find her the perfect forever home.
"She's relaxed and playful with her foster siblings while she is wearing the muzzle, and it lets her be a dog in a fail-proof way," Katy Brink said. "But it's not easy being a puppy and having to be crated or muzzled all the time. She needs a home where she's the only pet and can have chew toys and plenty of play sessions and everything that puppies deserve."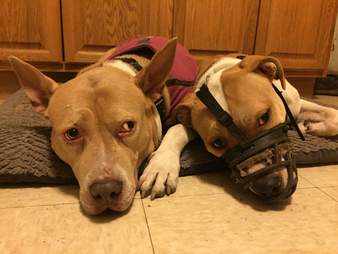 Katy Brink
Lily loves her training sessions and is especially smart and eager to learn. While she has made some progress with being around dogs with the help of her foster family, she still has a ways to go, and needs a family who understands that and is willing to continue her training and give her plenty of exercise. She needs someone who doesn't currently have any pets but is ready to be a hero to a dog in need — maybe even someone who has recently lost their own pit bull, and is ready to open their home and their heart to another one. 
Katy Brink
In return for loving her unconditionally, Lily will be the most loyal pup to her new family and will give them lots of snuggles and cuddles for the rest of her days. Lily is a special girl who will make the perfect addition to her new home — she just needs the right family to realize how worth it she really is.
"She will make a lucky family laugh nonstop for many years," Katy Brink said.