Hero Pit Bulls Save Kids From Poisonous Snake
They both got bitten — but they're OK now
Paco and Slayer were playing in their backyard with their mom's grandkids, watching over the two children as always, when a copperhead snake, known for being poisonous, appeared out of nowhere. The two kids were in immediate danger — until Paco and Slayer jumped up to protect them.
Frankie's Friends
The two pit bulls immediately put themselves between the kids and the snake, barking wildly to try and scare it off. Unfortunately, both dogs ended up getting bitten, Paco once on the leg and Slayer twice on his face and snout. As soon as the family came out and saw what had happened, they rushed the dogs to the vet immediately, as they knew their lives could be at stake. 
The dogs were taken to BluePearl Veterinary Partners Hospital and given antivenom immediately, as well as meds to help ease their pain. Since Paco was only bitten once, he got better very quickly and was able to be discharged — but unfortunately, Slayer's condition worsened. 
Frankie's Friends
The family knew that Slayer would need more antivenom and treatment, but were worried about the hefty costs, until an organization stepped up to help them save their beloved dog. Frankie's Friends, a foundation dedicated to helping pets with life-threatening conditions, heard about the heroic acts of Slayer and Paco and decided to help. 
"The family paid for the antivenom for both Paco and Slayer," Danielle Martin, executive director of Frankie's Friends, told The Dodo. "Paco was discharged but Slayer got worse. That's when Frankie's Friends stepped in to help pay for the second dose of antivenom, fluids, and three days of ICU care."
Frankie's Friends
Thanks to Frankie's Friends, Slayer was given the extra care he needed …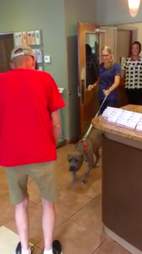 Frankie's Friends
… and before long, he was doing so much better, and ready to head home and rejoin his family.
Frankie's Friends
"He's doing great," Martin said. "He's happy and giving lots and lots of kisses. He's able to eat again and was discharged from the hospital yesterday."
If Paco and Slayer hadn't been around, their human friends likely would have been bitten instead, and may not have made it through the attack. The two pit bulls are true heroes, which is why so many people rallied around them to make sure they got the care and attention they deserved. Both dogs are now back with their family, and will continue to watch out for them for many years to come. 
 
Frankie's Friends