Cat Was Jealous Of Dog Siblings' Adventures — So He Asked To Join Too
"Pistachio always hated being left out, and was always waiting at the door when the dogs came home from walks or the beach."
Pistachio is a cat who loves going on adventures. Not long after he came to live with his mom, Kirrily Hargreaves, in New South Wales, Australia, Pistachio started dropping hints that he wanted to explore the outdoors.
"Pistachio always hated being left out, and was always waiting at the door when the dogs came home from walks or the beach," Hargreaves told The Dodo. "One day he broke out of the house, jumped off the balcony and into the backyard just to eat some grass. He has never been one to follow the rules."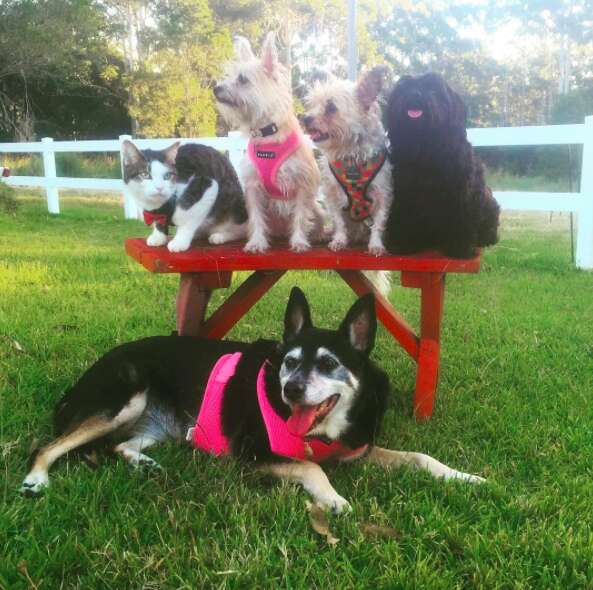 Before being adopted by Hargreaves in 2014, Pistachio was a stray kitten living on the streets of Sydney. Someone picked him up and dropped him at a local shelter, where he got a bad case of cat flu. Thankfully, a rescue group pulled Pistachio from the shelter and nursed him back to health, although he continues to have respiratory issues, Hargreaves explained.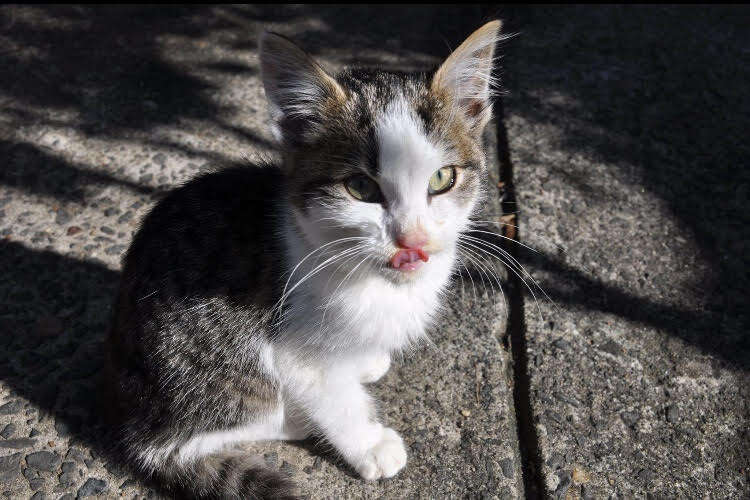 But Pistachio has never let health problems stop him from doing anything. The first time Hargreaves took him to the beach, Pistachio got busy exploring.
"I had all the dogs packed into the car and thought there was no reason he should miss out on all the fun this time, so I attached a lead to his collar and bundled him into the car," Hargreaves said.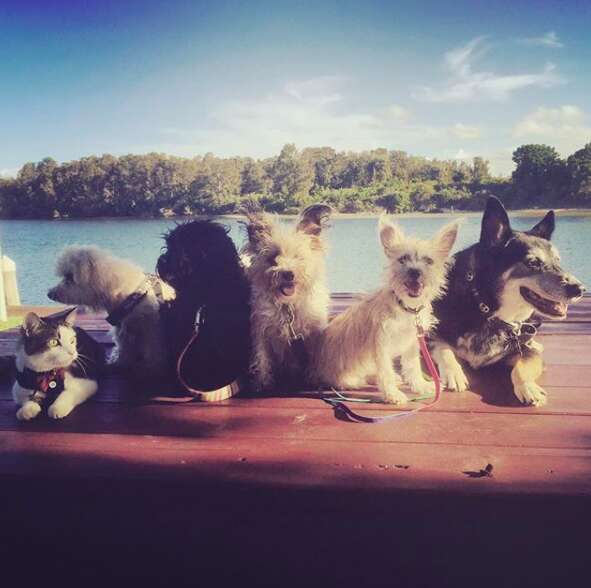 "When we arrived, he leaped out of the car with all the dogs, and followed them down to the sand ready to prove himself," she added. "He spent his first adventure exploring rocks, digging in the sand and chasing after the dogs."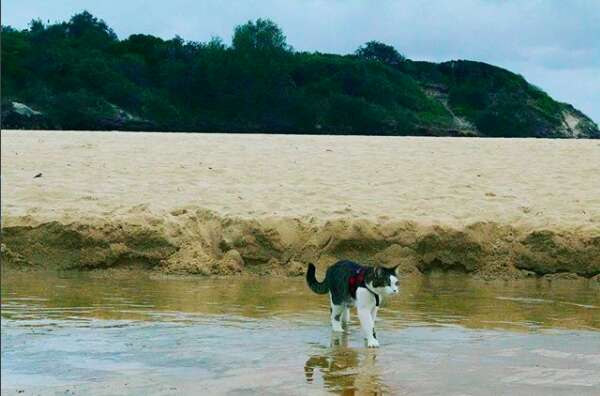 After seeing how well Pistachio did at the beach, Hargreaves started taking him to other places in Australia, including state forests and waterfalls.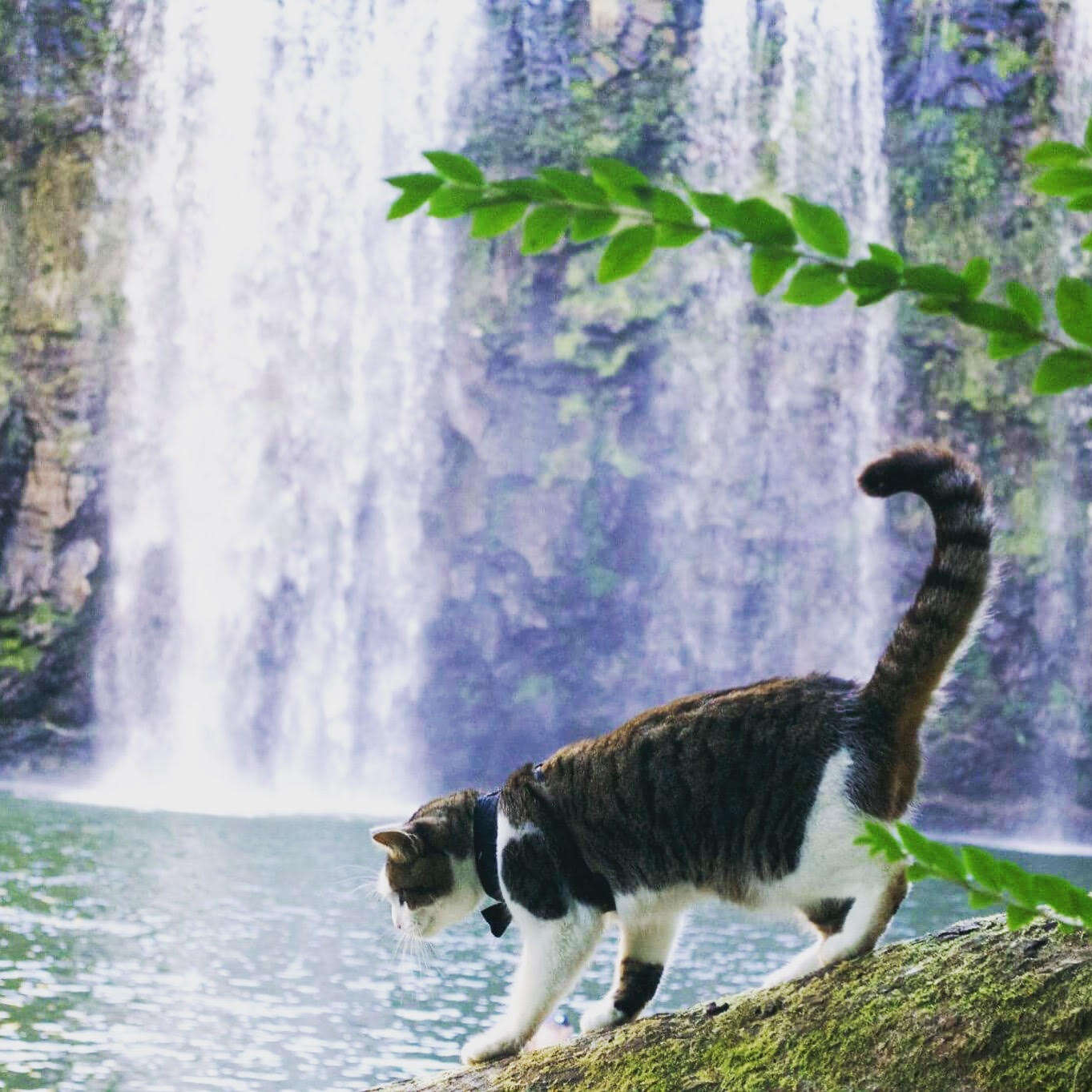 "He loved Dangar Falls when we visited," Hargreaves said. "I was concerned the noise of the falls would bother him, but he was too preoccupied with climbing a fallen tree and grooming himself."
Pistachio likes spending his outdoor time running through leaves, jumping on rocks and digging through sand, Hargreaves said.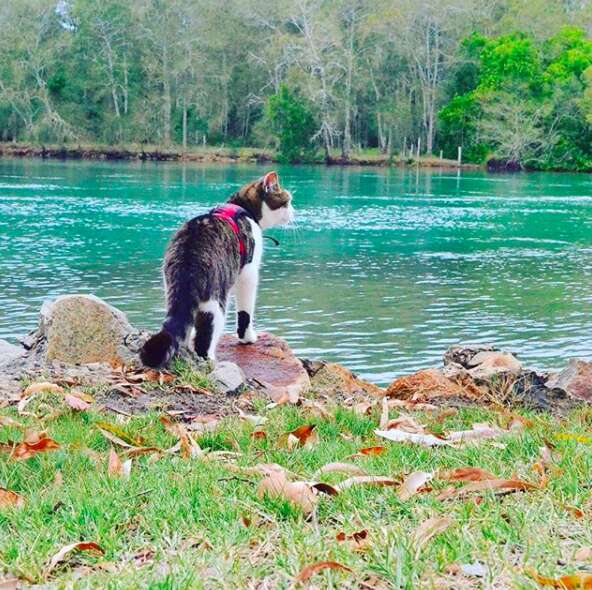 He even swims — sometimes.
"Pistachio isn't a regular swimmer, but he does the occasional kitty-paddle, especially if he feels like he's been left behind," Hargreaves said. "If I am on the other side of the creek, then he will cross the creek either by swimming or a calculated leap to get back to me."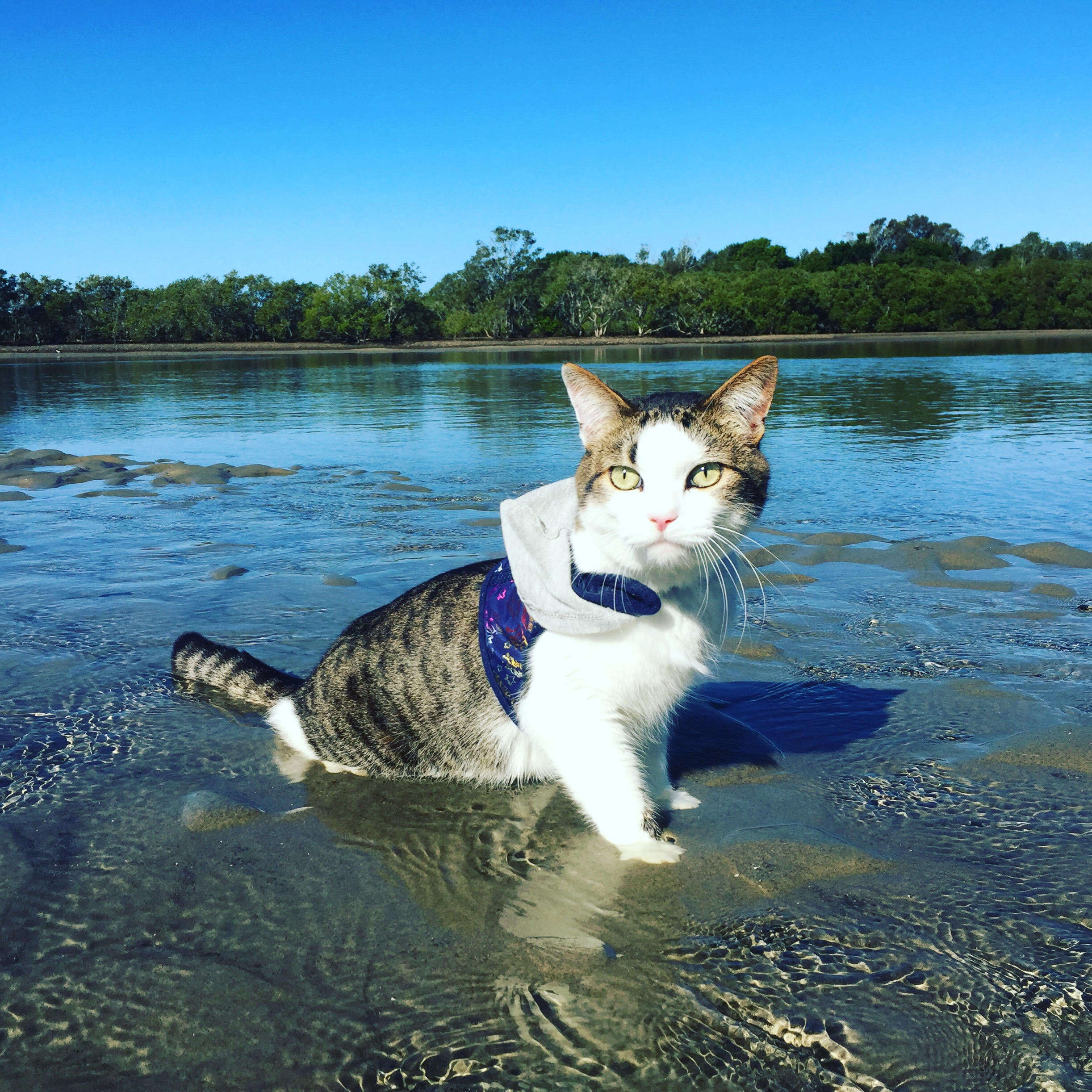 But Pistachio's very favorite thing to do is hang out at the beach.
"He would spend all day there if I would let him," Hargreaves said. "He just loves running along with the dogs and playing in the sand and eating grass. There are also lots of rocks to climb and bugs to chase."
Pistachio may seem like a natural adventure cat, but it did take time for him to get used to walking with a harness and leash, according to Hargreaves.
"Pistachio was terrible in the harness to begin with and would just flop," Hargreaves said. "It took a lot of time and patience to help him get used to it inside before he began wearing it outside."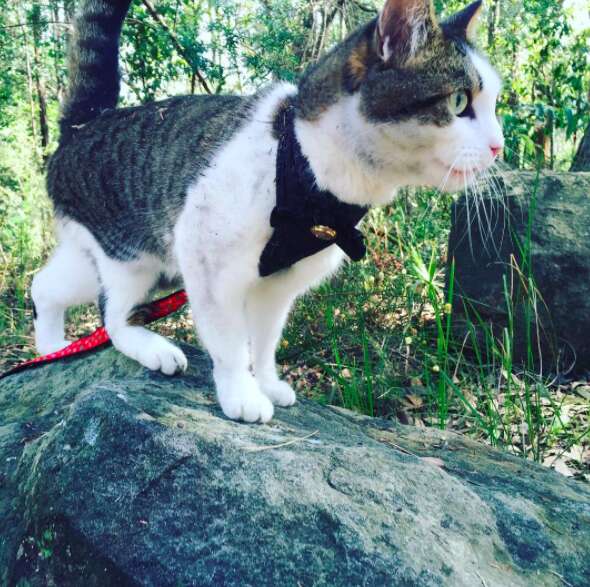 But Hargreaves persevered — and so did Pistachio — and now the two of them can go just about anywhere together.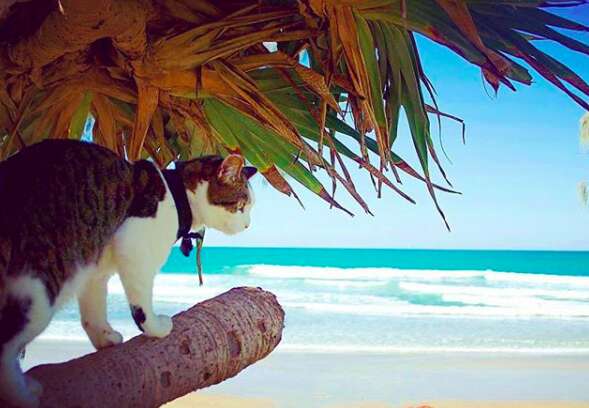 "He's excited to have his harness on because it means it is time to explore," Hargreaves said. "Pistachio is just so ridiculously relaxed, loyal and patient. Nothing ever seems to bother him — from new bouncy puppies in his home or crashing waves at the beach, he just acts like it's a regular day."
"Pistachio is such a joyous little cat and I couldn't imagine my life without him," she added. "I don't think I would have explored anywhere as much, or enjoyed it nearly as much if there wasn't a little kitty bouncing around ready to show me the way."
To see more photos of Pistachio bouncing his way around Australia, you can follow his
Instagram page
.