Pilot Meets A Pit Bull On One Of His Rescue Missions — And Decides To Adopt Her
"She stared at me as I climbed into the cockpit and that's where it all started."
Derek Harbaugh works as a pilot for Wings of Rescue, flying dogs back and forth to help them find their forever homes. So he's used to meeting all different dogs, from every walk of life, every day. He loves all the dogs on his flights but never really bonded with any in particular — until he met Pinky.
Jill Monahan
After Hurricane Irma devastated the island of St. John, Wings of Rescue helped out by flying dogs off the island and to the safety of shelters and rescues in the U.S. One team flew a group of dogs to Fort Lauderdale, where they stopped to refuel and switch crews, which is when Harbaugh joined the flight and met Pinky for the first time.
Derek Harbaugh
"She stared at me as I climbed into the cockpit and that's where it all started," Harbaugh told The Dodo. "Once we arrived at our cruising altitude the other pilot took over and I went into the back to check on Pinky. I stuck my fingers in the crate through the door and she leaned up against the door and my fingers with all her weight. I opened the crate and she crawled into my lap and buried her head in my hands. After a couple minutes, her tail began to wag and we hung out for a little while before it was time for her to go back into her crate."
Derek Harbaugh
When the flight finally landed in New Hampshire, Harbaugh made sure Pinky was the last dog to be unloaded so he could say goodbye. Once she was loaded onto the truck headed to Last Hope K9 Rescue, he climbed on with her to pet her one final time. As the truck drove off, Harbaugh realized he didn't want this to be goodbye.
"It wasn't until I watched her truck drive away that I realized I was going to miss her," Harbaugh said. "She stood out from all of the previous pets that I had met on my previous flights."
In that moment, Harbaugh made a decision. He was going to track Pinky down, and he was going to adopt her.
Derek Harbaugh
"I decided to get in touch with Ric Browde (with Wings of Rescue) and ask how difficult it would be to track down a pet that was dropped off the night before," Harbaugh said. "He asked for her name and said he'd do some checking. That Friday, I got a call from Ric and he told me that he found her and that the shelter agreed to let me adopt her."
Everyone was so touched that this pilot wanted to adopt sweet Pinky, and were more than willing to do whatever they had to do to make it happen. At the time, Pinky was being fostered by one of the rescue's volunteers, Marcia Birnbaum Huston, and she remained in her foster home while Harbaugh began making the arrangements to come and get her. With the help of Matt Montes of Mission: Miracle K9 Rescue Inc. he was able to arrange a flight, and Pinky was then transferred to be fostered by Jessica Teng, who drove her all the way to the airport to be reunited with her friend.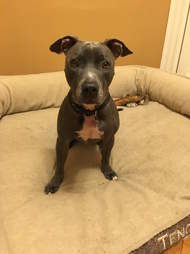 Jessica Teng
"One of our crew flew into Fort Lauderdale out of Saint Croix and I continued that flight into Worcester, which is where Pinky and I were reunited after unloading almost 200 more pets," Harbaugh said.
As soon as Pinky got out of the car and saw Harbaugh again …
Jessica Teng
… everyone knew that this pair was truly meant to be.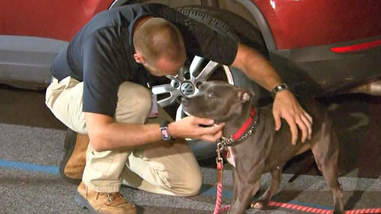 Jessica Teng
That night, Pinky flew with Harbaugh back to Fort Lauderdale, and had the entire plane all to herself. She then spent a few nights with him in a hotel, before finally heading to Texas to settle into her new forever home.
Derek Harbaugh
The moment that Pinky saw Harbaugh on that first flight, she seemed to know that he was meant to be her dad. Thanks to his determination and everyone's willingness to help, Pinky and Harbaugh are now settling into their new life together, and neither one of them could be happier.
Sarah Slade