Pig And His Pit Bull Friend Sneak Out For A Little Adventure — And Then The Cops Show Up
They regret nothing.
The best adventures are those shared with a friend — just ask this little pig named Grizzly and his faithful pal, a playful pit bull named Apollo.
Recently, the unlikely duo struck out on an exciting impromptu journey, making plenty of memories and new friends along the way. But for better or worse, their pleasant trip about town did have a rather abrupt end after their exploits attracted the attention of law enforcement.
Still, they seem to regret nothing.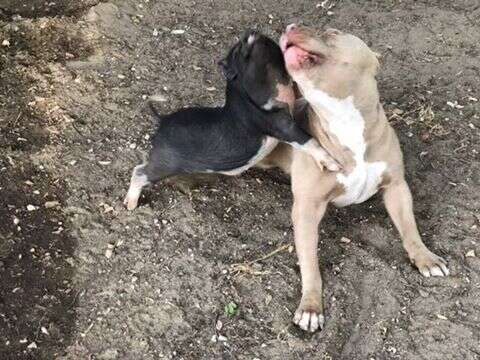 On Tuesday, police in Fontana, California, received multiple reports that a dog and pig were on the loose in a residential area, clearly having a great time together running around. When officers finally arrived to the scene, the pup and pig had settled down to rest on a front lawn, much to the delight of some children walking by on their way to school.
Though it wasn't clear at first where they came from, the police say one thing was never in doubt: "The lil piglet and the pit bull were best buds."
Seeing the cops had been called, Apollo apparently understood the jig was up and surrendered. Grizzly, however, wouldn't be taken into custody so easily (as seen in this video from the homeowner).
Eventually, the spry little pig was apprehended. Perhaps he realized it wouldn't be fair to let his pup pal take the fall alone.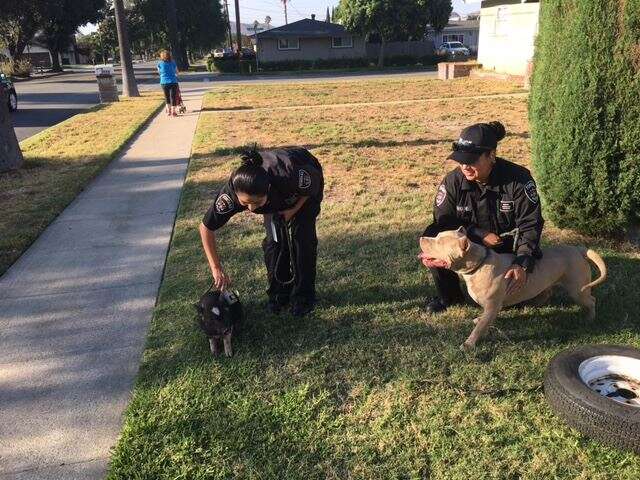 Fortunately, Apollo had been microchipped so his and Grizzly's owner, Michelle Aviña, could be tracked down. She lives just a few blocks away from where the two had been found and had been worried sick about them.
"Someone left our side gate open and they walked out," Aviña told The Dodo. "Usually they'll stay in the yard, but I think they were feeling adventurous that morning."
No one is sure whose idea it was exactly to stray from home, but the fact that they did it together comes as no surprise. Turns out, the 6-month-old pig and 2-year-old pit bull are downright inseparable — true BFFs.
"They eat together, sleep together, dig holes together," Aviña said. "Wherever Apollo goes, Grizzly is right behind him."
Aviña says her family just adores their pig and dog, and that their brief escape came as a real eye-opener, so they'll be taking care to make sure their next adventure around the neighborhood is supervised. After all, people do really seem to appreciate that Apollo could be so loving toward Grizzly, despite stereotypes to the contrary.
"Who would ever think, right? A 'vicious' pit bull and a pig." Aviña said. "But they're best buds."